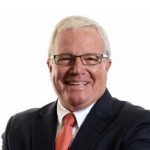 Martinez Mayor Rob Schroder was assaulted Thursday afternoon in front of his insurance business on Main Street in Martinez.
Reached Thursday evening Schroder said, "I'm OK. Just a bit shook, but I'm fine."
At 3:21 p.m., Martinez Police Department officers responded to 653 Main St. on a report of the mayor being accosted by a male subject, later identified as Eli Dominguez from Martinez, according to a statement from MPD Lt. Mike Estanol.
As officers were responding, a passerby intervened. When the officers arrived Dominguez and the unnamed citizen were on the ground in a struggle. Officers attempted to take Dominguez into custody, however he began fighting with the officers.
During the struggle, an MPD sergeant was bitten. Dominguez, who told Schroder he was making a citizen's arrest of the mayor, was taken into custody and later booked into the Martinez Detention Facility with multiple pending charges according to Estanol. The sergeant was treated at a local hospital and his injuries are non-life threatening. The investigation is still ongoing.
On the Gazette Facebook page Ida Carlson said it was her boyfriend, Danny Chappa that was the Good Samaritan who intervened, helping thwart the attack on Schroder. Chappa suffered multiple scratches and was also bit by Dominguez, Carlson said.
Dominguez is regularly in attendance at City Council meetings, frequently speaking at the podium during public comment. At a recent meeting Dominguez told the Council he was going to make a citizen's arrest of councilmembers because he felt his civil rights had been violated.