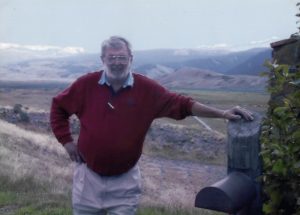 Longtime Martinez resident Allan DeFraga passed away in late May, in Walnut Creek. He was preceded in death by Ann, his wife of 47 years. He is survived by his son, Matt, his grandchildren (Alex, Ryan, and Elizabeth), and his brother, Donald.
Allan was born in Concord, the son of educator and future Martinez mayor Harold DeFraga and teacher Muriel DeFraga (Engel). Allan spent the first part of his childhood in West Pittsburg. When he was eight years old, his parents moved him and Donald to Martinez, where both boys grew up.
Allan was a graduate of Alhambra High School, where he lettered in varsity football and participated in numerous other extra-curricular activities. His excellent academic record earned him admittance to Stanford University, where he walked on to the freshman football team and became a proud member of the Delta Chi fraternity.
After graduation, Allan earned his law degree from Hastings Law School and practiced law in Martinez for 38 years, retiring in 2003. While Allan was at Hastings, he met his future wife, Ann Stark, who was attending Stanford University at the time.
After Ann retired from her position as head librarian at the Orinda Library in 2006, the couple enjoyed their retirement together by travelling to Central America, Australia, New Zealand, Fiji, and to Europe several times. Allan loved to travel; one of his favorite things to do was participate in Road Scholar trips with his grandson, Alex.
Allan was one of the co-founders of the Martinez Bocce Federation (MBF) in the mid-1970's and was one of the organizers of the first United States Bocce Championships to be held in Martinez, in 1981. His team, the Red Hook Red Devils, one of the original MBF teams, won four championships during the MBF's first ten years. Allan was passionate about bocce and played in numerous regional and open tournaments throughout the years. Toward the end of his life, he still captained the Red Devils in both volo and open bocce.
Allan was very fond of the theater and loved to attend plays in San Francisco, Berkeley, Oregon, and Orinda. He was also an avid sports fan, particularly supporting the San Francisco Giants and Stanford Cardinal athletics. Both Allan and Ann were avid bridge players; they both achieved the rank of Life Master.
Allan was known for his sharp intellect and sense of humor, which he loved to display when someone chose to debate him in practically any matter, especially politics.
He was generous to charity, giving annual donations to support the arts and Stanford University. More importantly, he was particularly known for the generosity and affection he continuously showed to his friends and family.
He was an extremely strong and tough individual who fought to stay alive until the very end. To those who knew and loved him, he was larger than life. His irrepressible spirit will be missed forever.
Allan requested that no funeral or memorial services be held for him and that, in lieu of flowers or other gifts, donations may be made to the Friends of the Martinez Library, 740 Court St., Martinez, CA 94553.