Thousand Friends of Martinez press release
by SHERIDA BUSH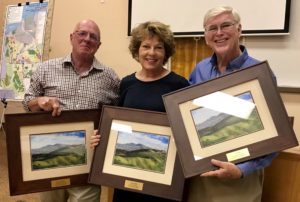 Three Martinez citizens were presented Citizen of the Year awards on August 8 by Thousand Friends of Martinez (TFM) for their work in protecting parks and open space in Martinez. The awardees are Mark Thomson, Kerry Kilmer and Tim Platt. The three were co-signers for the Martinez Open Space and Park Protection Initiative, which became Measure I in the June election. "These well-deserved awards highlight the commitment and service to the community of these three residents. Their courage and hard work to maintain the beauty and health of our community was above and beyond," said Seth Adams, a TFM Board Member. The three organized the circulation of an initiative that required more than 2,400 valid signatures by registered voters to quality for the ballot. Collecting the signatures took several months. Measure I passed in the June election and was certified by Contra Costa County and the City of Martinez.
"Citizen of the Year awards are often chosen by Chambers of Commerce, often with a real business flavor. We think that more important criteria include courage, hard work, overcoming adversity, generosity of spirit, and a real love for the qualities that make the Martinez area special," said Adams. The awards were presented at a TFM community meeting for the general public on August 8. Two of the awardees, Mark Thomson and Tim Platt, are founding Board Members of Thousand Friends of Martinez, but were not involved with the award process.
Awardee Kerry Kilmer has been active in a number of community efforts in Martinez and worked on several Martinez political campaigns. Her two passions are gardening and working with, and advocating for, wildlife. For 12 years, she has been a volunteer with the Lindsay Wildlife Hospital rehabilitating orphaned and injured animals. Now retired, she has worked at the East Bay Times as Circulation Promotion Manager. She also worked for the Contra Costa County Office of Education, first as a Communications/Public Affairs Specialist, then as Executive Assistant to the County School Superintendent. "I feel Measure I is one of the most important things I have achieved in my life and feel proud to have been a part of helping my community," she said.
Awardee Tim Platt has been involved in environmental and other civic issues since the 1980s when he worked with Friends of the Franklin Hills. The group was instrumental in saving the hills running from John Muir's home to the waterfront from overdevelopment. He is a Founding Board Member of the John Muir Land Trust, Thousand Friends of Martinez and of the Main Street Martinez program dedicated to economic development and preservation of the historic nature of our Downtown. Tim has worked on numerous issues centered on open space and park preservation, reasonable development throughout Martinez and preservation of our waterfront for recreation.
Awardee Mark Thomson has been involved with the Martinez community since he moved here in 1981. He also contributed to the mission of Friends of the Franklin Hills and has been involved with open space protection ever since. He is a co-signer of the successful Measure I initiative. He is the Co-President of the John Muir Association and Co-Facilitator of Thousand Friends of Martinez. Mark also serves on the County Ad Hoc Sustainability Commission. In tune with his love of music, Mark is the Entertainment Chair for the Martinez Arts Association's Art in the Park and serves as Musical Chair for the First Congregational Church in Martinez.
Thousand Friends was founded on the idea that important city decisions should be more environmentally sensitive and represent the majority of Martinez residents who want to protect a healthy quality of life in our town, maintain the character of our neighborhoods and defend our beautiful parks, open space and historic elements. The organization advocates for transparency in government and better land-use planning and supports or opposes ballot measures to those ends.
The Mission of Thousand Friends of Martinez is to provide a stable organization which will work with residents to elect informed, conscientious representatives; promote open government; enhance our quality of life by creating a livable city; defend our parks and open spaces, and; conserve natural areas and historic elements in the greater Martinez region.
Our Geographic Focus is: The greater Martinez region, including the city and unincorporated areas, the Briones Bioregion and significant watershed lands.
Our Objectives are to:
· Endorse, support and fund responsible and environmentally supportive leaders
· Promote transparent government
· Promote better land use planning and the development of policies for the public benefit
· Defend parks, creeks, wetlands, open space and historic elements
Thousand Friends of Martinez is a California Fair Political Practices General Purpose Committee, I.D. #1381454.
Visit us on the web and donate at www.thousandfriendsofmartinez.org, and follow us on Facebook at "Thousand Friends of Martinez." Contributions may also be made by sending your check to: Thousand Friends of Martinez, P.O. Box 225 , Martinez , CA 94553.