The Martinez Chamber of Commerce will hold a banquet Saturday night at the Masonic Lodge to honor the citizen of the year award recipients. Here are the bios of each award winner. The Gazette congratulates the winners and their achievements and contributions to Martinez.
Tom Ambercrombie – Man of the Year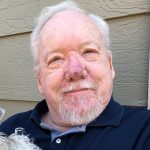 Tom Abercrombie is very active in the Martinez Rotary, the organization he has been a part of the past decade. His level of involvement increased when he became club president in 2015. A portion of his Rotary and non-Rotary volunteerism included the following.
Organizing volunteer drivers for Loaves and Fishes, Meals on Wheels and White Pony Express. Additionally, he delivers meals to house­ bound club members when the need presents itself. Tom is always involved when the club is asked to "run the bar" at the Boys and Girls Club crab feed, the MEF Family Fun Night, Crab Feed and other events at the Shell Clubhouse and various MUSD schools dinner auctions. To help Alhambra High School fundraising, Tom has also volunteered his time to work in the snack shack during football games.
Currently Tom is the President of the Friends of the Library. As president he has been instrumental in organizing the book sales and establishing a summer lunch program for Martinez youth. He also volunteers many hours at the library helping the clients and staff.
As a Rotarian Tom has worked the Martinez Rotarian Bocce Tournament, the wine auction, Christmas in November, and the bike ride all of which are fundraisers that raise over $20,000.00 a year for scholarships at College Park and Alhambra High Schools. Tom has adopted Vincente High School which is Martinez Unified School District's alternative high school. He has attended their graduation each year since his 2015 Rotarian presidency and provided two $1,500 scholarships from Martinez Rotary. Perhaps the most revealing thing that tells us who Tom Abercrombie is the fact that each week he goes out of his way to drive a non-driving senior Rotarian to and from our weekly meetings because that senior Rotarian is a friend and wants to participate.
Gwen Monroe – Woman of the Year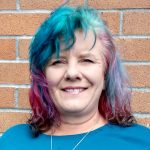 Gwen Monroe has a deep love for Martinez say her nominators.
Gwen is willing to help everyone and very city conscious. She has been working at Attic Child for owner Fred. Gwen is quick to help other Main Street businesses, including Neil of Chars Flower Shoppe. Gwen is always known to say 'yes' to anyone whom needs her.
For years Gwen has volunteered at the Historical Society and with the Bocce league. Gwen has tirelessly promoted charity events and championed the positives of Martinez. Keeping the streets of Martinez clean is a priority of Gwen's, she recently cleaned up Shell Ave. and is always picking up garbage on downtown streets.
Gwen also participates in the Sidewalk Chalk Art festival that happens on Main Street.
Gwen recently helped displaced pets from the Napa and Paradise fires, sheltering countless numbers of animals for their tragically homeless owners.
Gwen's nominators say she is described as a 'wonderful person with a big heart'.
Nick Momaney – Young Man of the Year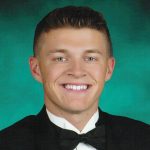 Nick Momaney is described as "a very special young man and one of the top students in both academic accomplishment and character, a combination that also comes together with a fun and creative enthusiasm unique to young men his age" according to a nominator.
Nick has a 'true interest in the problems our world faces, specifically our fragile and changing environment'. To that end, he has expressed an interest in environmental engineering. Nick is also an active member of Alhambra's Key Club and an accomplished track athlete.
Nick has taken challenging classes in high school, including AP Physics, AP Calculus and AP Computer Science
In track Nick was a newcomer to throwing the shot and discus his sophomore season but is on the path to qualify for state this season. 'Throwing the shot put and discus is a technically difficult sport requiring a high level of training and focus. What he accomplished in a relatively short time is usually only seen at an elite level of competition' said one nominator.
Nick has varied talents from starting his own barbershop business to working on cars in his free time. A future entrepreneur for sure.
Nick's successes are a testament to his hard work, determination, and talent.
To round out the portrait of this young man, he is social, outgoing, has a wonderful sense of humor, and is respectful towards his teachers and peers.
Claire Stone – Young Woman of the Year
Claire Stone was lauded as "an outstanding student, athlete, and person. Her service, sportsmanship, and moral character are a role model for others. Claire's involvement in her school and community are a testimony to her dedication and character. I wholeheartedly recommend Claire for Young Woman of the Year, as I cannot imagine another student more worthy," wrote one nominator.
She is currently the AHS Key Club President for her third year. Claire demonstrates excellent leadership abilities and she has done a wide range of volunteer activities in Martinez and as far away as San Francisco. She has built the Key Club to a very active group of fine young men and women.
She continued this leadership to become a captain on the Alhambra High track team. She was awarded the Coach's Award as a Junior. Claire competes in the 100m, 200m, 400m and relay teams. It was her leadership and motivation that lead them to qualify for the North Coast Section Finals and in their last meet of the season, set the record for 9th place all time for the AHS 4×100 relay teams.
An Honor student, Claire has challenged herself in school by taking AP English, AP Chemistry, AP Calculus and AP Computer Science. Claire has done well academically, and she has been very active during her high school career. She is a strong leader and encourages people around her. I am confident Claire will be successful in college when she applies her skills toward her future career.
Marisa Lastrico – Educator of the Year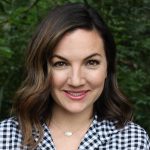 Marisa Lastrico is "one of the very best educators I have seen in my lifetime" according to a nomination letter. Marisa is a second grade teacher at John Swett Elementary.
Marisa has shown an "unrelenting commitment to make learning an activity kids get to be engaged in, not just something they sit and receive". Marisa has "unmatched compassion for the children that she serves. In her eyes, each of them is truly unique, special, and loved".
Marisa also shows "unrivaled creativity when it comes to making meaningful experiences for her students; like completely transforming their entire learning environment to transport students to the depths of the ocean or find dining of restaurants and cafes."
Marisa has given up her time off to travel and attend conferences for professional development. It means seeing Marisa convince her family to put up with hours and hours of extra work, including major projects at home.
Marisa convinced a local movie theater to donate a fifteen-foot billboard of a shark to make it part of a non-fiction lesson on sharks. On the 100th day of school, Marisa shows up in character as an "old woman" and gets her classroom to show up the same way. "Wait until you see a class of kids dressed as "100-year-old" people, grey hair, canes, and pants pulled up around their waist!," wrote a nominator
From the meal worms her classroom raises from eggs to beetles, the butterflies they pupate and release into the wind, to the analyzing of a baby shark for her Shark Week presentation she is passionate about her students and is committed to teaching them.
Marjorie Grubka – Service Without Borders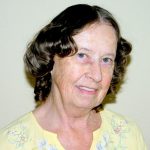 Marjorie Grubka has continued a lifetime of volunteerism when she moved to Mountain View her nominators said.
Marjorie and her husband, John Grubka, moved to the Bay Area three years ago from Arizona to be near their son Steven Grubka.
According to a nominator "Marjorie has been undergoing intensive treatment (including chemotherapy) for cancer. To keep her mind off her health issues, she has been volunteering a great deal in town – together with her husband John."
Last year, Marjorie and her family were instrumental in helping the Martinez Historical Society staff its summer/fall booth at the Farmer's Market. They were always available – even at short notice – when the Society was short of volunteers on any given Sunday. And they were an immense help to the Society with the annual Historic Home Tour.
Marjorie and John also volunteer with both Main Street Martinez and the Martinez Chamber of Commerce.
Marjorie and John participate in the downtown clean-ups, organized by Main Street Martinez.
Laura Febus – Lifetime Achievement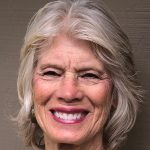 Laura Febus earned the Martinez Chamber of Commerce Lifetime Achievement Award. Laura was hired in the 1970s to teach at John Swett Elementary. Her career in the district included teaching science and the GATE (Gifted and Talented Education) program at John Swett, and science at Martinez Junior High before becoming vice principal at the elementary school level, and director of Curriculum and Instruction. When she retired in 2004, Laura was Assistant Superintendent of Curriculum and Instruction.
Former MUSD School Board member Maury Huguet remembers the thoroughness and high quality of her work no matter what her job was at the time.
"During my years on the MUSD School Board," Maury recalled, "whenever Laura Febus and her colleague, the late Jane Hufft, appeared together as teachers or administrators seeking Board approval of new curriculum, staffing changes, or acquisition of educational materials, their research and presentation was so thorough and well delivered, that they always received Board authorization to proceed."
That standard applied to everything Laura did at every level in the District throughout her career as well as in her community and church work.
Laura and husband Gary raised two boys in Martinez and live here still. Consequently, everything she did for the community in her professional work and everything since then has been of benefit to all of Martinez.
After retirement, she joined Martinez Kiwanis Club as one of the earliest women members and before long became one of the first women to serve as president. As a lover of books, a teacher and a curriculum expert, Laura pitched an idea to the club. Why not, instead of a coffee mug they might not use, give each of our weekly program speakers a certificate of thanks and tell them that a donation label with their name on it will be given to one of the schools to place in a library book at that site? The id ea was put into place immediately.
That morphed into an annual luncheon when the club hosts the school libraries' staff and administrators at lunch and Laura presents sheets of donor stickers and certificates to them. The Club also presents checks for $250 for each librarian to spend on new books at their school. The funds for the grants are derived from the Club's See's Candy Sale proceeds each holiday season.
Laura has also been very active in the First Congregational Church where she has served as Moderator as well as holding other offices. Laura also sings in the choir, has held various leadership positions and has been the coordinator of our Winter Nights participation.
Cold Winter Nights is a program that houses homeless families in tents in a church while they receive support and training to help them move out and become independent. Laura has coordinated our church's response since the program began. At one time we housed it in our church basement, but when there were too many big tents, we support the program housed in a church in Concord. Laura is responsible for food for up to 10 families for a week. She also arranges for tutoring and games for the many children in the program. Laura has been our chairperson for the eight years our church has been a part of this program.
Laura approaches her duties there as she has always done in every other assigned job or volunteer effort with dedication, dependability, organizational skill and a positive attitude that redounds to the benefit of every organization she belongs to.
Citizen of the Year Awards dinner Saturday
The Martinez Chamber of Commerce will announce its Citizen of the Year and other awards at 6 p.m. Saturday at the Martinez Masonic Lodge, 700 Masonic St.
Admission to the event is $55 per person or $500 for a table of 10.
The Citizen of the Year Awards recognizes people and organizations for outstanding volunteerism and commitment to the community.
Those interested may buy tickets through the Chamber by calling 925-228-2345 or by emailing Julie@martinezchamber.com.