Rhea Bennett 
April 22, 1933 – Sep 20, 2023
Martinez, CA native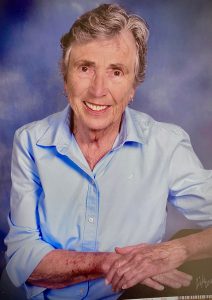 Rhea Lalande Bennett, passed away peacefully on September 20, 2023, at her home surrounded by her family.
She is survived by her children, Trina, Matthew, David, Joseph, Phillip and Daniel; Grandchildren Samantha, Christoper, Luke, and Zachariah and Tristan Hill,  proceeded.
Rhea was born in 1933 in Martinez, Ca. where she was raised by her parents, Armand and Armande Lalande, her uncle John Hartz and older sister Armande Hartz.
She graduated from Alhambra High school and then Gonzaga university with a degree in English, which she taught in France for a year before moving back to San Francisco where she met Peter Bennett. They would marry in 1959 before moving to Walnut Creek to raise a family. Although, Rhea would always call Martinez her true home.
She had great passion, interest and curiosity in many things. She lived and loved to read and learn and continued to do that throughout her life. She was a strong social justice advocate, and she devoted much to contemplative prayer and to the work of love and compassion through serving and helping others.
Rhea was a well-loved and instrumental part of St John Vianney Catholic Church, where throughout the years, she was a dedicated volunteer and was always there to provide her selfless love and support to parishioners and their families. She was a long time volunteer and board member of Loaves and Fishes in Martinez; their mission providing food and nourishment for the needy all around the Bay Area.
She will be missed by many.
Services were held at St John Vianney Catholic Church in Walnut Creek, Ca on October 13
Donations of any amount can be sent to:
Loaves and Fishes of Contra Costa
835 Ferry Street, Martinez CA 94553