Bruno Peter Nardi
Oct. 18, 1921 – April 10, 2018
Resident of Martinez, Calif.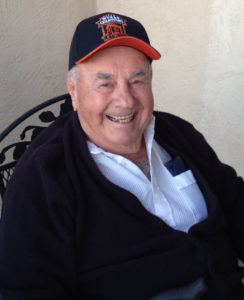 Bruno passed away Tuesday at the home he lived in nearly all his life. He was 96. A Martinez native, he grew up in Vine Hill on the family ranch/winery, graduated from Alhambra High School, and served in WWII. After marrying Mary Meloncelli in 1946, Bruno built the family home evenings after truck driving all day. Eventually, he and his partner owned Diablo Transportation Co.
Retired at age 59, Bruno enjoyed fishing, bocce, camping, growing vegetables, and most importantly 'Famiglia'.
Bruno and Mary had two boys: David (Laura) and John (Claudia). They also had six grandkids and 10 great-grandkids.
Things that he was most thankful for: His wife/marriage, kids/grandkids/great-grandkids, building his home, his garden, citrus trees, his health and ability to see his kids/grandkids grow up. Famiglia, to Bruno, was extended to everyone he met – friends, neighbors and extended family all felt connected to him.
Bru was always known for a humorous quip, a big smile, and of course the best tomatoes on the planet. Always an optimist, he recently said "I've been so lucky!"
No, Bru. We are the lucky ones!
Graveside service on April 20, at Queen of Heaven (Lafayette), 11 a.m., with celebration following at Nardi Ranch.