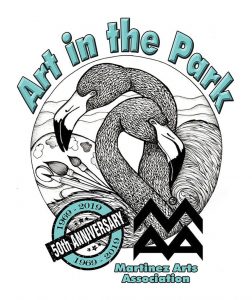 MARTINEZ, Calif. – Discover something delightful, entertaining, amusing, thought-provoking, delicious or just fun at Art in the Park. The 50th annual Martinez Arts Association (MAA) event will be held at Susana Park on Aug. 18, from 10 a.m. to 5:00 p.m., and over 60 local artists are expected this year.
Along with live music, food and beverages including wine and beer, there will be a silent auction to help pay for art supplies and scholarships for budding artists in Martinez schools.
"Last year, someone paid $100 for my Mondingo," artist Dorrie Langley proudly remarked. MAA artists created a flock of painted and decorated garden flamingos to auction off for the cause. Langley painted hers with the markings of a Monarch butterfly. Paintings, gift certificates, and one-of-a-kind whimsical lawn flamingos will be there again this year. Expect the unexpected!
Many artists continue to return because Art In the Park is such a popular event.
"It has a local community feel to it, and this year we're happy to welcome back Martinez's Five Suns Brewing as our beer vendor," says Vernon Sanders, former MAA president. Local wineries and gourmet food trucks will provide sustenance for visitors
Martinez Girl Scouts will be there to provide a fun children's activity, and for those who went to Martinez Junior High School, "Miss (Harriett) Burt" is expected to attend.
Featured Arts
Whether visitors are inspired by fine art or master craftsmanship, the array of metal sculptures glass and leather artworks, candles, jewelry, wood carvings, fabric artistry, ceramics, and even artfully designed paper items, cards, and albums is better than ever.
More than 60 artist's booths include Alhambra High School art students and many MAA members such as Janice Bayou and Peggy O'Farrell. Art aficionados will find landscapes in acrylic, watercolor seascapes, abstracts, impressionists and more at the Park.
Entertainment
Opening the ceremony with the National Anthem is Sienna Coward, who performed the Star-Spangled Banner at the SWAN Festival.
Long-time Art in the Park favorite Thomas Martin is a singer/songwriter with many CDs in his airy, fresh folk/rock style.
UnConcord plays an eclectic mix of Americana music with a hint of British influence. It a nice mix of original songs with a selection of songs by others.
Landbirds is a group of young musicians who play British invasion music including the Beatles, Stones and more with the Landbirds' touch.
Paper Kayak plays a lively set of reggae. With lots of island vibes, imagine the Caribbean.
Tamsen Donner Band is a popular group with blues roots, and some say their originals are best, according to Mark Thomson, who arranged the music program.
Art in the Park is the MAA's biggest fundraiser of the year. Founded in 1968 as a nonprofit organization, the MAA organizes and participates in community events throughout the year. Our goal is to encourage art culture and education for local youth. Fundraising proceeds provide scholarships to graduating seniors as well as art grants for elementary through high school teachers.
Art beyond the Park
After about 10 years, the Martinez Art Association lost a nearly free gallery space provided by the City of Martinez. A space at 613 Main Street became available, but the rent price was not in the non-profit's budget. Some members agreed to share the cost of a gallery at Main Street Arts. Other Martinez Art Association artists, including several Plein Air painters, currently exhibit their work at the Martinez Library (changes every two months), the Campbell Theater and at other locations. MAA recently decided to collaborate with the Concord Art Association (CAA).
Sponsors of Art in the Park include Martinez Shell Refinery, Kiwanis International, Republic Services, Les Schwab Tires, and Martinez Auto Body
For more details about Art in the Park, please visit www.martinezarts.org. Parking is free in downtown Martinez and there will be a round trip golf cart shuttle between Farmer's Market at Main Street Plaza to Susana Park.