Charles Dee 'Papa' Griffin
Dec. 3, 1939 – Aug. 13, 2019
48-year Resident of Martinez, Calif.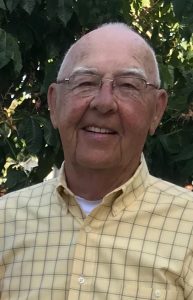 Chuck always greeted everyone with a smile. After a quick conversation, you would be considered a friend. His house, his conversations, and his heart was filled with love and pride for family, his wife of 54 years, Lolita Griffin, sister-in-law, Joan Amavisca, of Martinez, CA, daughter Robin Cicchitto, son Brian Griffin (Marianne), grandchildren – Brianna Griffin, JT Griffin, and Kelli Griffin of Martinez, CA and Madison Cicchitto and Sydney Cicchitto of San Ramon, CA., and extended family in Nevada, New Mexico, Missouri, and Arkansas.
Chuck was born December 3, 1939 to Alta Myrtle Fox Griffin in West Plains, Howell County, Missouri. He is preceded in death by his mother, Alta, and nine siblings, Herbert, Ruth Gene, Virginia, Katherine, Geneva, Leon, Leslie, Leonard, and Mary Lee. Chuck served in the United States Navy from December 17,1957-July 12, 1967. This included assignments at Alameda Naval Air Station in Alameda, CA, Pearl Harbor, Hawaii, and various ships throughout his service which included Vietnam. He retired with 10 years service with the California Highway Patrol. 
Chuck was the patriarch to his family and meant so much to the extended family of his siblings. Bringing together different generations of people who are forever grateful to be connected by his love. He spent the last 18 years helping to care for and cheering on his five grandchildren through every aspect of their childhood. For Papa, it was always about the grandkids.
Chuck's final resting place is Sacramento Valley National Cemetery where he was buried with full military honors. Please join his family and friends on Sunday, September 29 for a Celebration of Life at the Veterans Memorial Building at 930 Ward Street in Martinez, CA at 1:30 p.m. There will be a 21 gun salute in honor of his service and a time for sharing and reminiscing. The grandchildren will forever remember their Papa wearing his trademark flannel shirts and baseball hats. Feel free to wear a flannel or a baseball hat to this casual afternoon of remembrance and love.
In lieu of flowers, the family suggests a donation to Hospice Martinez 200 Muir Road, Martinez, CA 94553 and/or contributions to the Chuck Griffin Scholarship Fund. Donation checks can be mailed or dropped to Alhambra HIgh School, c/o Marianne Griffin 150 E Street Martinez, CA 94553. Chuck spent countless hours supporting his grandchildren watching football, baseball, basketball, volleyball, tennis, soccer, cross country, softball, lacrosse and anything else he could to offer his guidance, and show his unconditional love for his family. The local scholarship will be given to a graduating senior in honor of his spirit and support.
It will never be goodbye for us. In the words of Papa, "See you after a while."