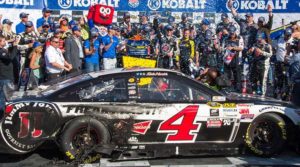 Just as he did the previous week, Bakersfield's Kevin Harvick turned a Monster Energy NASCAR Cup race into a class on how to dominate at a track, cruising across the finish line well ahead of the pack after leading 214 laps.
This time, it was Sunday's Pennzoil 400 presented by Jiffy Lube at Las Vegas, Nev., Motor Speedway, where he won all three stages of the race.
Harvick has back-to-back wins just three races into the season. Last week's victory came at Atlanta Motor Speedway, and Harvick now has a shot at making it three in a row for the first time in his career.
"I'm really proud of everybody," Harvick said. "The last two weeks, we hit on everything."
Sunday also marked his 100th NASCAR victory, spread out among the sanctioning body's three main series. "Winning a hundred races – that's not anything I thought I would do. They're hard to win!"
But Harvick is making it look easy. He swiftly took the lead from pole winner Ryan Blaney two laps into the race.
Periodically, through green flag and the rare caution pit stops in the fairly clean race, Harvick surrendered the lead to a handful of other drivers. But he was poised to charge back.
After winning the second stage, Harvick pitted along with most of the field. Joey Logano beat the rest out of pit road, and Harvick found himself fourth.
The battle for the lead changed hands several times, with reigning champion Martin Truex Jr. leading just as Kurt Busch and Chase Elliott collided.
Both drivers agreed Busch's car got loose, spinning it into Elliott. "I hate it for the Chase Elliott fans and I hate it for the Kurt Busch fans," Elliott said later.
Logano had the lead on the restart after that caution, but by then, Harvick was right behind him, and with 70 laps to go, regained the top spot.
The battles weren't over, though. As the race wound down, Kyle Busch, Kurt's brother, led the pack, but surrendered it during green-flag pit stops. Harvick inherited the lead when Kyle left the track.
He eased his car in the closing laps, and Kyle Busch took advantage to get closer to mount a threat.
But Harvick had plenty in reserve and suddenly extended his lead as he streaked toward the finish line.
Kyle Busch settled for second, but wasn't downbeat. "We were strong the last 100 laps," he said. "We were really fast and rolling good the last 100 laps. We came here prepared well….there was just no catching that 4." That's Harvick, whose car is the Stewart-Haas No. 4. "They were on rails – lights out."
Elk Grove native Kyle Larson finished behind Busch. "We had to fight pretty hard," he said, promising he'd continue battling to get a 2018 win.
Truex was fourth. "We started fourth and finished fourth. It looks easy. But it was hard to pass," he said. "That 4 was in his own zip code again."
Blaney, Brad Keselowski, Logano, Erik Jones, Paul Menard and Aric Almirola rounded out the top 10.
Of other Californians, Jimmie Johnson of El Cajon managed to come in 12th despite having a car battered on both sides; Matt DiBenedetto of Grass Valley was 22nd; Cole Custer, the Ladera Ranch driver making his Monster Energy series debut, was 25th and Cole Whitt of Alpine was 28th.
The top finishing rookie was Darrell "Bubba" Wallace, who finished 21st.
Drivers stay in the western states as they compete next in the TicketGuardian 500 at ISM Raceway in Phoenix, Ariz. Broadcast is 12:30 p.m. Sunday, March 11, on FOX.