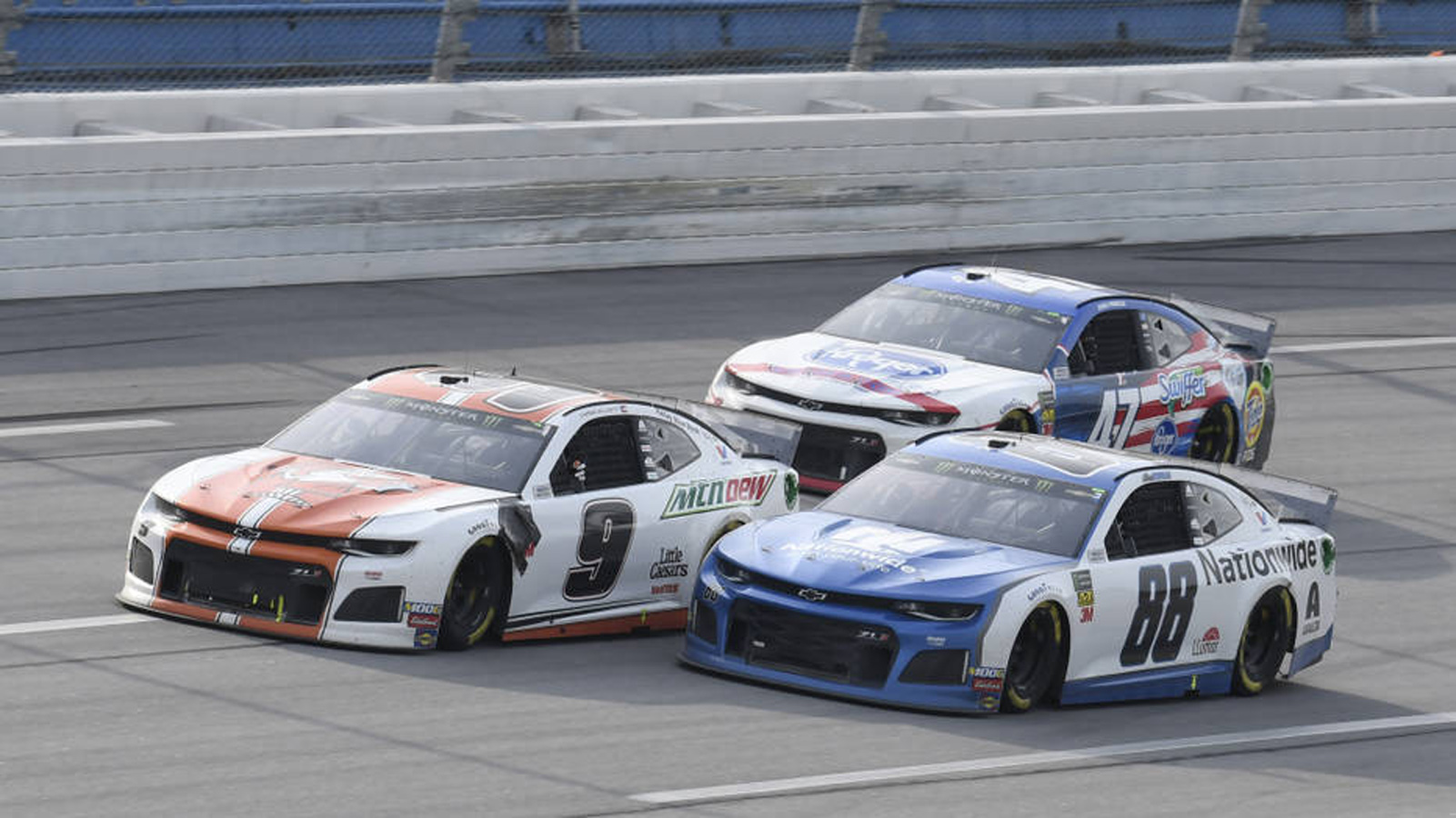 Seven laps from the finish at NASCAR's GEICO 400 at Talladega Superspeedway, Chris Buescher tagged the outside wall, then collected Grass Valley's Matt DiBenedetto with such force it ripped off the hood of the Californian's car, as well as Martin Truex Jr. Justin Haley and Aric Almirola.
That halted the Alabama race for more than eight minutes to let crews clean up the mess of mangled metal from the track.
Chase Elliott took the lead for the final four laps of the race and outdueled his Hendrick Motor Speedway teammate Alex Bowman.
Just as he started the final lap, David Ragan and William Byron crashed, sending Jeffrey Earnhardt and Elk Grove native Kyle Larson sliding. Larson's car went airborne, rotating repeatedly in a barrel roll along the inside wall.
That brought out the caution. Elliot finished the winner under the yellow flag and gave Rick Hendrick his first team win this season.
Elliot credited teamwork, saying his own team had a plan "and we executed really well." In addition, his teammates worked together during the race, even if Bowman said afterwards he had wished the 1-2 finish order had gone his way.
"It was a really crazy day," Elliott said, describing the speedway's crowd as "intense," and he was glad to have entertained them. "Proud of that effort. That last lap was going to get wild. I don't know what Alex had up the sleeve. I know he was coming with something."
"I've got to try," Bowman confirmed. "I knew I could get to his quarter panel." He said he wanted to get even farther. "It would have been fun to try – but happy for Chase," he said. "To come home second – it's not a win, but headed in the right direction."
Two rookies finished in the top five. Ryan Preece was third, behind Bowman. Reigning champion Joey Logano was fourth, just ahead of another rookie, Daniel Hemric. Rounding out the top 1- were Kurt Busch, Ryan Newman, Brendan Gaughan, Almirola and Kyle Busch, who extended his streak of top 10 finishes to 10.
Of other Californians, Larson was 24th after his crash. DiBenedetto finished 31st after his collision. El Cajon native Jimmie Johnson was 33rd; and Bakersfield native Kevin Harvick was 38th, having been involved in a multi-car crash early in the race that ended his day on the 11th lap.
That crash involved several contenders, including Bubba Wallace, Ryan Blaney Clint Bowyer, Michael McDowell and Matt Tifft. Denny Hamlin's car sustained damage, too, but he kept driving until he hit the wall on Lap 83 and went to the garage.
Ricocheting pieces of McDowell's car damaged the nose of Johnson's car. Johnson later struck the Turn 3 wall, but was able to stay in the race.
NASCAR officials said they would be reviewing footage of Larson's crash. "That was probably the longest flip I've ever had. I just didn't know if it would ever stop," Larson said. "It was a little bit scary, but I'm all right."
Next up for Monster Energy NASCAR Cup drivers is the Gander RV 400 in Delaware's Dover International Speedway. Broadcast is at 11 a.m. Pacific time Sunday, May 5, on Fox Sports 1.