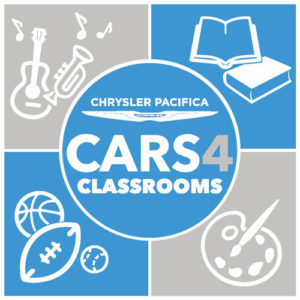 A team-up event Saturday between a Fairfield Chrysler dealership and a Bay Area car club will help raise money for a Martinez elementary school during its annual PTA car show and barbecue.
Chrysler of Fairfield is bringing its parent company's "Cars 4 Classrooms" fundraising program to Las Juntas Elementary School Saturday. Megan Benando, a member of the school's parent-teacher association, called it "an amazing opportunity to raise money for our school."
Licensed drivers will be able to test-drive Chrysler Pacificas provided by the dealership from 10 a.m. to 2 p.m. Saturday at Las Junta's Back to School Barbecue and Car Show, Benando said.
Each participant in Cars 4 Classrooms will earn $10 for the school. "So if two people jump in a car and go for a spin, that would equal $20 for the school," she said. Up to four people will be able to ride in a Pacifica at one time, she said.
The test drives could earn the school up to $2,000 through test drives, and those who share information about their rides, using the hashtag #ljpacificacontest could help the school receive another $1,000, she said.
The dealership is providing between five and 10 Pacificas to the school for test drives.
The Hotrod Hoodlums, a car club that has been a strong ally of Las Juntas Elementary School, is handling the car show.
"They put on a fantastic show, and we have been so lucky that they have done one for LJE (Las Juntas Elementary) for three years now," Benando said.
In addition, the car club will be collecting school supplies and giving them to the school, Benando said. "Anyone who brings school supplies to the car show gets $10 of free raffle tickets," she said.
The drawings will offer prizes for both children and adults. Youngsters get the chance to win toys and a new bicycle, while adult could win a variety of merchandise, including tools.
Children also will be able to enter a coloring contest, with an art kit going to winners.
Benando said the school will use the barbecue, car show and Cars 4 Classrooms revenues for buses and entrance fees for field trips, recess equipment, educational programs and other services for students.
The Las Juntas Elementary School PTA Back to School Car Show and Barbecue will take place at the school, 1405 Pacheco Blvd., from 10 a.m. to 2 p.m. Saturday.