Irene Joyce Minton
Sept. 26, 1934 – July 30, 2019
Resident of Vacaville, Calif.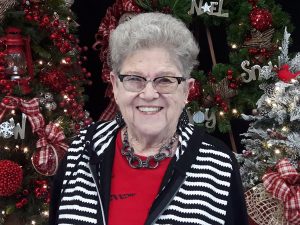 Irene Joyce Minton 84, passed away peacefully with her family by her side Tuesday July 30, 2019, in Vacaville, Calif.
Irene was born on September 26, 1934, in Sanish North Dakota.
She married the love of her life, Bill Minton in 1954. The couple raised their four children in Martinez, Calif. Irene moved to Vacaville, Calif., in 2006 to live with her Daughter Delta Mae.
Irene worked 30 years as a central supply technician at the Contra Costa County Hospital in Martinez, Calif.
Irene enjoyed attending church, playing Bocce Ball, reading and spending time with family and friends. She was a one of a kind woman with a heart of gold. She has always been our angel, but has now gained her heavenly wings.
She will be dearly missed by her daughters Marilyn (Mike) Morgan, Joyce Robinson, Delta Mae (Don) Knepper and son Ricky Minton, 12 loving grandchildren, 18 great grandchildren, five great-great grandchildren and one on the way, Her beloved sister Mary Jane Kilgos and Brother Bill (Jenny) Stedman.
She was preceded in death by her parents Lloyd Stedman and Mary Stetler, stepfather William Stetler, husband Bill Minton, longtime sweetheart Roy Hytholt, brothers Bobby Stedman, Danny Stetler, Shorty Stetler, Jack Stetler, Nephew William "Biz" Stedman, niece Krista Stedman and grandson Jason Morgan.
A celebration of life will be held at Shepherd of the Hills Lutheran Church at the end of September, Date and time to be announced.
I Love You…. "That's the Law!" as you'd always say.