Mary Madrid
March 1, 1935 – June 1, 2023
Martinez resident for 70 years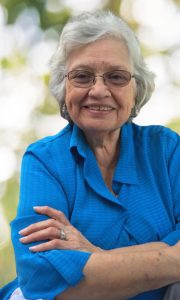 Born in Compton, California to Antonio and Maria Consuelo Valles, Maria Elena "Mary" was the fourth of six children. In her youth she enjoyed roller skating, dancing baile folklórico, sewing, cooking, baking, and being with her siblings. In 1943 her family moved north to Richmond where she later met her sweetheart, Eddie Madrid, at a church dance in 1950. The pair, who affectionately called each other "Feo" and "Fea," married on February 15, 1953 after the conclusion of his service in the Korean War. Mary and Eddie settled in Martinez where they raised their three children, Connie, Mary Ellen, and Michael. Mary relished in being a wife and doting mother, caring for her home, and supporting her husband in their family business, Martinez Upholstery.
As her own children grew up and left home, Mary continued her nurturing ways in caring for and raising her grandchildren who all knew her as "Nana." Mary loved music, watching her telenovelas, going on long drives with Eddie, taking trips with her family members especially her sister Vera, and spending time with her beloved grandchildren. She and Eddie reached their milestone 50th wedding anniversary before his passing in 2003.
Mary was adored by everyone for her charismatic nature and was known to strike up a friendly conversation with anyone who crossed her path, especially when she had the opportunity to connect in her native Spanish language. Radiating love, she naturally saw the goodness in everyone and welcomed all who needed a meal, a safe place, or any small kindness.
Mary passed away peacefully in her home in the early hours of June 1st with family members at her side. She is survived by her siblings Connie Martinez, Tom Valles, Vera Vargs, and Art Valles, her son Michael Madrid (Desiree), 10 grandchildren, 15 great-grandchildren, and numerous loving nieces, nephews, and godchildren. She is preceded in death by her husband, daughters Mary Ellen Lindorf and Connie Miller, both parents, and her sister Marta Corral.
Memorial mass will be held on Friday, June 23rd at 10:30 am at St. Catherine of Siena, 606 Mellus Street in Martinez. Reception to follow at her home. In lieu of flowers, the family asks that you consider a gift to St. Jude's Children's Research Hospital or The American Heart Association in Mary's memory.