Meryle Roque
Nov. 20, 1927 – April 27, 2019
Resident of Vacaville, Calif.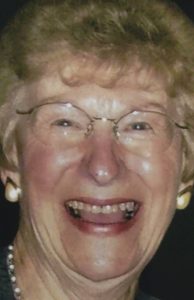 Meryle Irene Roque died at the age of 91 years on April 27, 2019, following a lengthy illness. She was one of seven children born to Thomas Earl and Julia Ann Wilson in Grand Rapids, MI. At 9 years of age, she moved with her family to Martinez, CA where she resided until eight years ago when care requirements brought her to Vacaville. Meryle and her husband Frank Roque had four children, Linda Lewis (David), Deborah Oehrlein, Frank (Patricia) and Leonard (Nancy). She was preceded in death by her parents, six siblings, Frank Joseph and their son Frank Jay.
She is survived by her three children, 11 grandchildren, and nine great grandchildren.
Meryle was a graduate of Alhambra High School, Martinez. She worked as a hair dresser and a bank teller at the Bank of America in Martinez. She was a hospital volunteer at Mt. Diablo Hospital for many years.
A celebration of Meryle's life will be held at 11 a.m. on Sunday, May 19, 2019 at Vaca Hills Chapel Funeral Home 524 Elmira Road in Vacaville.