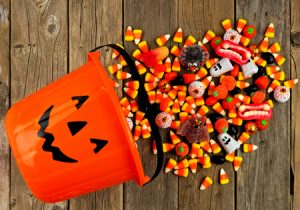 Want to find some chilling and thrilling events to make Halloween frightful fun?
Tonight's Hunter's Moon Cemetery Tour may be exactly the ticket. And it's priced right – admission is free.
Named for the October full moon, the City of Martinez's Hunter's Moon Cemetery Tour starts at 6:30 p.m. today at the Alhambra Cemetery, 211 Foster St.
The Alhambra Pioneer Cemetery was established in 1851 and has both a rich history as well as a site with stunning views of the Carquinez Strait.
The tour will guide visitors to the resting places of families with names both familiar and possibly unfamiliar to residents, as well as those of area war heroes and personalities, politicians and a creative caretaker.
The tour isn't really frightening. But it's tailored to adults, so children aren't admitted. Participants are asked to wear sturdy, comfortable shoes and dress for the weather, since evenings can be cool. Those interested may register at www.cityofmartinez.org, and the tour is limited to 25 adults.
But another city event, the Halloween Candy Hunt at 3:30 p.m. Thursday, is tailored specifically for children.
Limited to 100, the Barbara and Marty's Halloween Candy Hunt will take place at Holiday Highlands Park, Fig Lane off Arnold Drive. Admission is free. The Martinez Recreation Department event is sponsored by Barbara and Marty Ochoa. Parents may register their children for the event through the city's website, www.cityofmartinez.org, or by calling the Martinez Recreation Department, 925-372-3510.
Frankie Friday is another Recreation Department event, starting at 4 p.m. Friday, Oct. 26, at Rankin Aquatic Center, 100 Buckley St. Admission is $5 each for children, and adults will be admitted free.
The event celebrates National Frankenstein Day, honoring the fictional Dr. Frankenstein and his famous monster, and the afternoon will be filled with "Frankie"-inspired activities.
Among the activities are making Frankenstein and Halloweenb crafts, face painting, games, a Frankie hunt and a Frankenstein and Goblin costume contest. Snacks will be available. No swimming will be allowed, however.
Those wanting to attend must register in advance, and may do so by visiting the city website, www.cityofmartinez.org, or by calling the Martinez Recreation Office, 925-372-3510.
Children also are welcome to attend the annual Trunk or Treat Spooktacular, from 10 a.m. to 2 p.m. Sunday, Oct. 28, along Main Street.
Trunk or Treat is a Main Street Martinez event in partnership with area businesses to provide Halloween Trick-or-Treat fun for youngsters.
Instead of walking house to house in neighborhoods, the little ghosts and goblins instead can stroll through the downtown shopping area, visiting decorated car trunks and shops where they can collect candy and other treats.
Trunk or Treat is timed to coincide with the Farmer's Market, in the 500 to 900 blocks of Main Street.
Treat bags and maps will be available at Main Street Plaza, in the 600 block of the street. Martinez Recreational Department employees will offer free face painting during the event.
The Martinez Library's Halloween Party and Costume Contest will take place at 6 p.m. Monday, Oct. 29. This event, done in partnership between the library and Martinez Recreation Department, also will have themed activities, and snacks will be served. The library is at 740 Court St.
Halloween is Wednesday, Oct. 31.