Oscar H. Hanson
Oct. 21, 1923 – Dec. 27, 2018
Resident of Walnut Creek, Calif.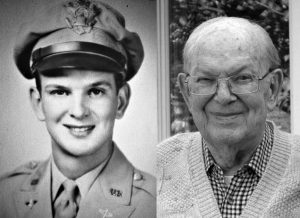 Oscar H. Hanson, age 95, passed away peacefully with family in Walnut Creek on Thursday evening, December 27, 2018, after a Christmas filled with love.
Oscar was born October 21, 1923 in Claresholm, Alberta. The eldest of seven children born to Dora (Johnson) and Reverend Olaf B. Hanson, he was preceded in death by his siblings Anne, Peter, Carl, Inga, Nora and Helmer.
In 1931 Oscar's family moved to Valleyford outside of Spokane, WA, where he grew up. He proudly served his country during WWII from 1943-1946, as a 1st Lieutenant Pilot in the U.S. Army Air Force flying B-17, B-25 & B-29 planes.
He met Annette (Bandomer), his devoted wife of 71 years in Council Bluffs, Iowa, and they married in 1947. Oscar enjoyed a successful, 35-year career with Kaiser Engineers, which took his family to many parts of the U. S., as well as, Montreal, Canada, before settling down in the Lafayette/Martinez area for over 30 years. Oscar and Annette retired in beautiful South Lake Tahoe before returning to the Bay Area in 2014.
Oscar especially valued time with family. He was an avid reader who enjoyed photography, and was always ready for a road trip.
His deep spiritual faith led him to serve the Lord and his fellow man in many capacities, including a 12 year commitment on the Board of Directors of the Lutheran Church Missouri Synod.
Oscar always demonstrated sincere grace, kindness, determination, and a full appreciation for life. He will be deeply missed by his loving wife, Annette, his three beloved children (and their spouses), Lana Daly (Tim), Larry Hanson (fiancé, Karin), and Marsha Hanson Day (Mark), his treasured grandchildren, Andrea, Erin, Brian, Jamie, Matthew and Kaitlyn, and his special great grandchildren Austin and Ryan.
A memorial celebration of Oscar's life will be at 11 a.m. on Saturday, February 9, 2019, at Trinity Lutheran Church, 2317 Buena Vista Avenue, Walnut Creek, CA. His final resting place will be the Sacramento Valley National Cemetery. Memorial contributions may be made to the Lutheran Hour Ministries; https://www.lhm.org/