By HARRIETT BURT
Martinez News-Gazette Contributor
CARTER WILSON
Martinez Historical Society Photographer
Last week this writer thought she'd written the last story about Tucker: The Man and His Dream but then Carter Wilson, photographer of homes on the annual Martinez Historical Society Home Tour, brought over a handful of images of the Saturday's film party and its guests, both human and automotive.
The event featured the second of three preview showings of the restored 1988 film about a maverick car designer who introduced many new safety and convenience features in his Tucker automobile prototypes that impressed the postwar American car buying public and struck fear among the Big Three automakers, General Motors, Ford and Chrysler. For a year in 1948 the small group of Tucker car builders built about 50 cars by hand with many new features such as the instrument panel and all controls close to the steering wheel, shatterproof windshields, doors extended to the roof for easy entrance and exit, glove compartments on the front doors so that the dashboard would become a padded area passengers could use to protect themselves in an accident. Preston Tucker even thought of seat belts. These and other currently used safety protections were scoffed at by other automobile manufacturers at the time.
The film was shot all around the Bay Area, including the 20-second shot of the lower part of the Wakefield Taylor Courthouse stairs taken at an angle from the left bottom front to the right top of the stairs standing for the dramatic trial where Tucker was cleared of securities fraud while still losing most of his fortune. But there was also a surprise five second "Martinez" appearance in the film. I was probably the only one in the audience who would have recognized it.
Because they were afraid he might be successful with his innovative ideas, the Big Three automakers and a powerful Michigan senator targeted Preston Tucker and his company with a variety of harassments including charges of illegal company stock manipulations. In the set up for the trial scenes, a selection of actual newspaper headlines was flashed across the screen to frame the story. One of those was a newspaper from somewhere in New York state. I didn't catch the masthead of the newspaper, but the camera focused long enough for me to look and then look again at the reporter's byline with my eyes wide. Older town residents, particularly those who were News-Gazette subscribers and bocce players in the 1970s, will recognize this name: "R. David Riotto".
A reporter and editor in New York state as a young man, he came to California at some point and became the publisher (fancy name for manager) of the News-Gazette for several years in the 1970s when State Senator Luther Gibson owned it. Dave wrote a lot of editorials, participated in a lot of town activities and was a major supporter of the new Martinez Bocce Federation helping it become the nationally known success it is now.
At the end of the film, the applause was hearty. The story was interesting, and the pace of the film was as frenetic and compelling as Preston Tucker apparently was all his life. Even after losing nearly all his fortune trying to get the car of tomorrow built, he continued to think of new projects. In fact, when he died of lung cancer in 1956 at age 53, he was working with some Argentinians to develop a really fast sports car, the Carioca.One can't help but mention that there was a lot of smoking in the filM, which was appropriate for 1948. Much of the audience would have been smoking as well.
The film will be available on Amazon in blue-ray at the end of August.
All of the $3,000 proceeds will be used by the Historical Society to provide programs and special events.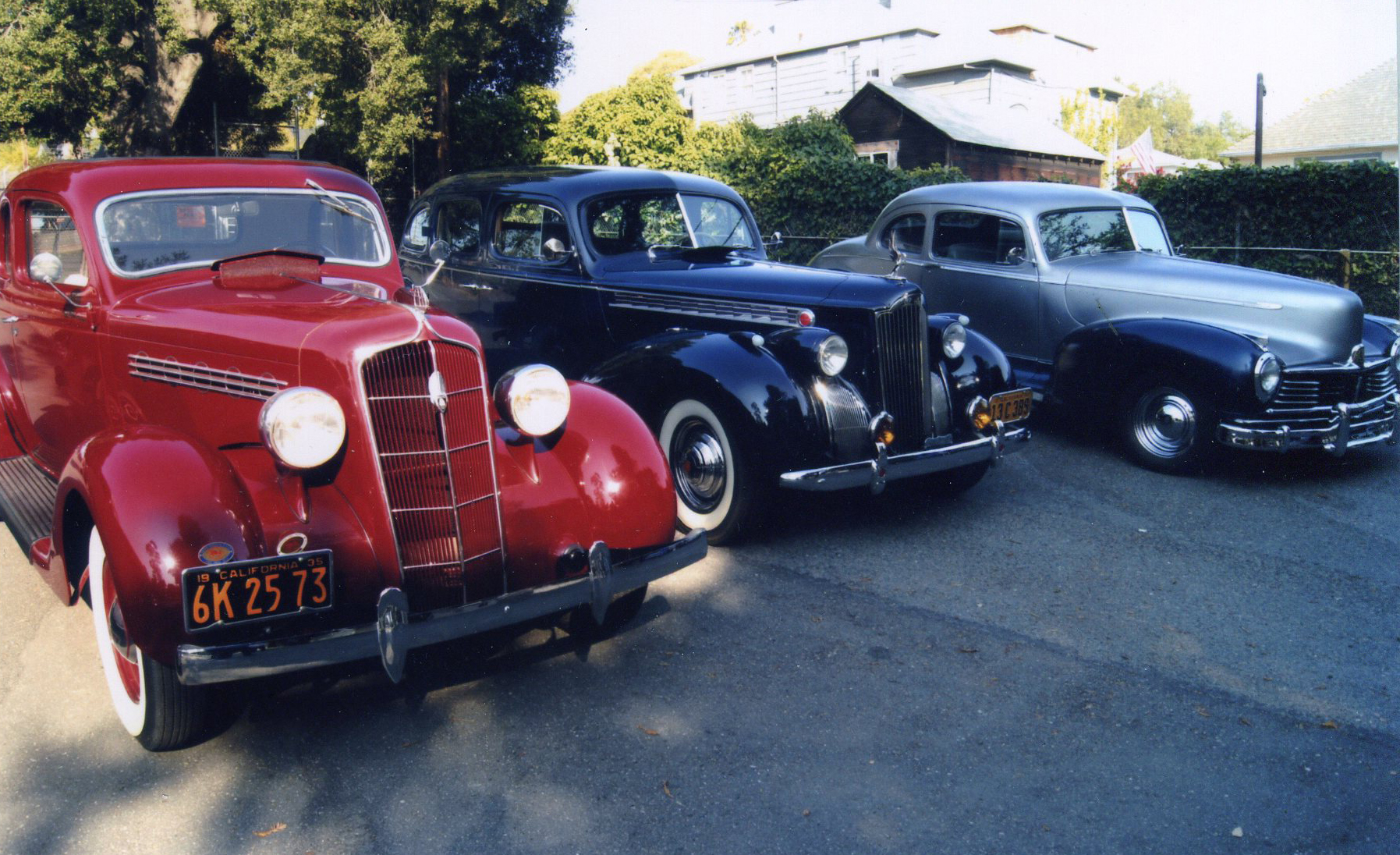 A mini-car show of cars from the period was arranged by MHS member Paul Kraintz. Shown above from left, a Burgundy 1935 Plymouth owned by Bob Galloway of Martinez, a blue 1937 Packard 120 owned by former County Recorder Steve Weir of Concord and Kraintz's own 1935 Packard. He found he had more trouble than usual arranging for display cars. He learned why when he was told that owners were reluctant to supply cars for a night time show and then drove his own 83-year-old car home after the event. The old-fashioned headlights cannot compete with the newer ones, so he had to drive very carefully to reach his home with his car and himself intact.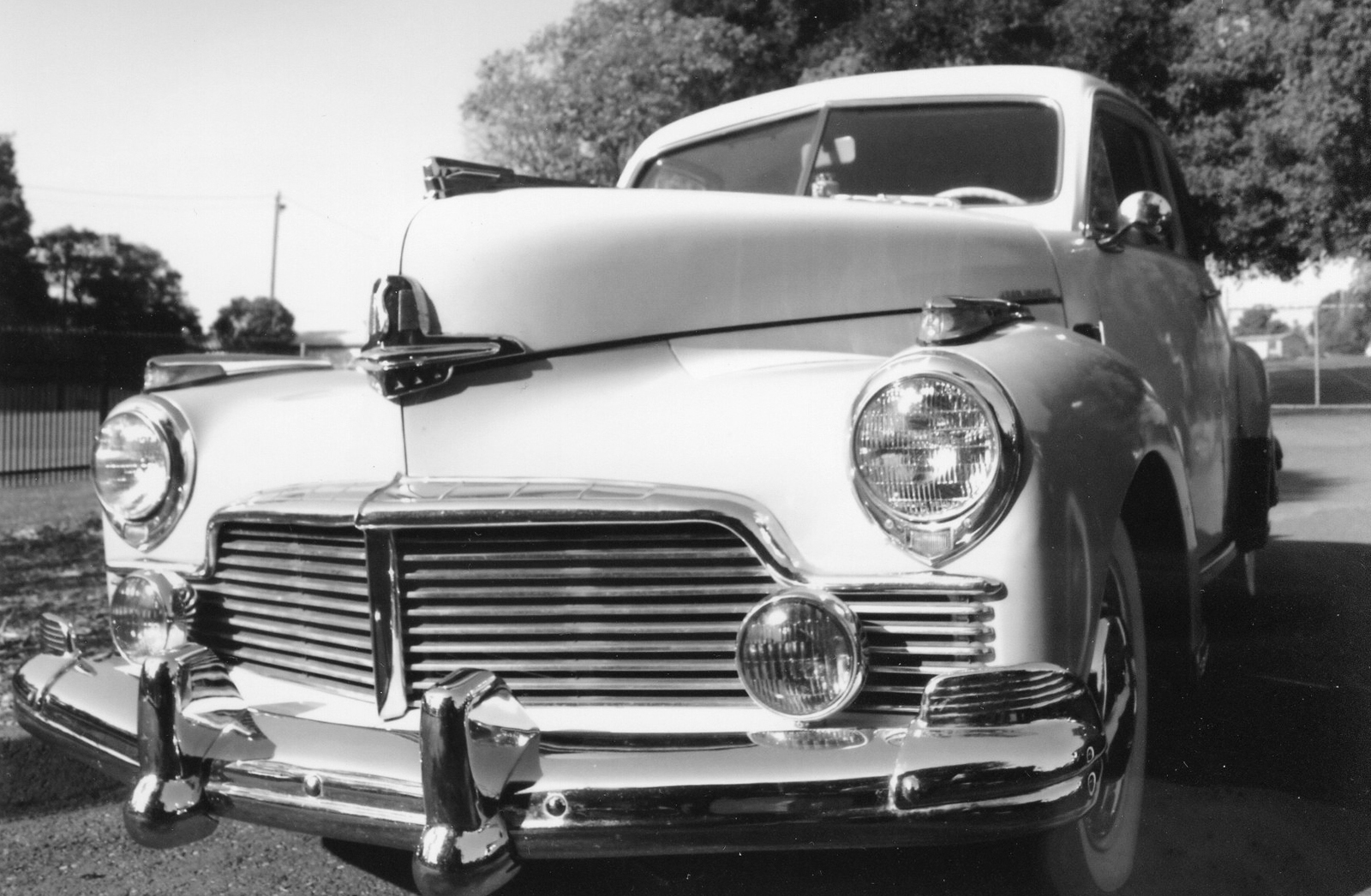 This 1946 Studebaker, owned by John Burgh of Pleasant Hill, helped inspire Preston Tucker to design a new car with new features to capture a large American market who hadn't been able to either replace an old car or buy their first car for several years because of the war. Tucker, an inventor, patent holder and designer of military vehicles, was inspired to develop his namesake car by a score of ideas he had about how automobiles could be made safer and more convenient for drivers – ideas that were being ignored or scoffed at by the big three automakers and some car industry spokesmen.
All photos courtesy of Carter Wilson