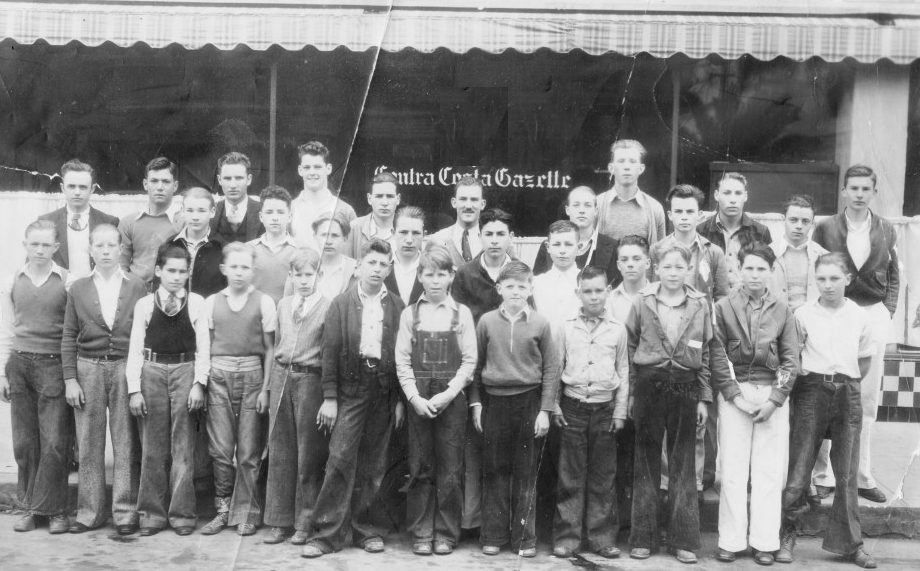 Courtesy Martinez Historical Society
Contra Costa Gazette paper boys are shown in 1933. They covered Martinez, Pittsburg, Concord, Pleasant Hill among other communities receiving $10 a month salary and 10 percent of what they collected from subscribers who paid 50 cents a month for the subscription. Bill Sharkey III, who had a route from Alhambra Way and Alhambra Avenue to the Nancy Boyd Park, had 65 customers to whom he delivered papers in the afternoon 6 days a week. He recalls lots of fog and a variety of dogs who would chase his bike. He also remembers that if a subscriber couldn't pay they would promise to pay the next day and they usually did.
By Harriett Burt
All of us who worked on the Gazette over the years have lots of memories. Some are funny, some are sad, some make us proud, many are of the people on the staff and the people who lived in town and either picked up the paper on their front porch or appeared in it for their weddings, funerals, sports achievements, or city events, community activities and achievements. Following is a list of a few of those memories that popped into my head while realizing that the 161-year-old newspaper is 'transitioning' as they say nowadays into the biggest and longest memory of all in Martinez.
Unfortunately, my memory is not that good so I can't always pinpoint the dates or names of all the people but here are some that stand out for me. They are in no particular order. But they will make readers think of other people and events that I haven't mentioned. I wish I knew what we could do to share those around…. Facebook maybe…. but it won't be the same as being in the Gazoo!
—-The Berkeley Barb was a small news sheet first published in the 60s by young folks who were involved in the issues of the day not covered to their liking in the mainstream newspapers such as how Cal was being run and the Vietnam War and such. It also featured a quite frank ad column for those interested in finding someone to love or to 'hook up with' in today's parlance. Overnight the column became a popular press sensation throughout the Bay Area. The Gazette editorial staff eagerly read each edition. Soon they saw an ad with a Martinez post office address for replies. The only post office in town then was kitty-corner across the street from the newspaper offices on Court Street. Immediately a rotating schedule was set up to watch for whoever opened that post box. Sure enough, soon somebody did. He was a business owner on the outskirts of the downtown. I doubt he was outed in the paper, but his name soon spread all over town. Some 'news' doesn't need a newspaper to get around.
—-Anybody in their 70s or above will remember Winnie Ruth Judd. She was an Arizona woman convicted of murdering her wealthy lover in the 1930s. The trial became a national sensation. She was declared insane and placed in a facility in Arizona. She became a continuing national story as she escaped numerous times from the 1930s to the early 60s. The last escape was her most successful as she wasn't found for quite a few years while she served as a beloved live-in housekeeper in Danville. It was a quiet, late Friday afternoon when all the staff had finished their work. Lotus East Lydick, then managing editor, let all of us go early and did a crossword puzzle while waiting for 5 p.m to lock up for the week. The phone rang somewhere around 4 p.m. A friend in the Sheriff's office told Lotus about Winnie Ruth's being found and on her way to the County Jail, the old one behind what is now the Finance Building. Lotus immediately called the back shop in Vallejo to hold the front page and to be ready for her story as soon as she could get it to them. She raced over to the Sheriff's office, then attached to the then 'new' County building behind the old one. She got the story, raced back, wrote it and got it to Vallejo to be typeset in time for the Saturday edition. I think she still got breathless for the rest of her life just thinking about that afternoon. The story was revived a couple of years ago when interest in preserving the old jail was re-kindled by former resident Dean McLeod.
—-The Birthday Column: Women's Interest editor Pat Perryman had an idea in the early 80s when the Gazette published five days a week. She thought a birthday column would be a fun thing that readers would enjoy. I admit to thinking at the time that it was a hokey idea. But of course, I carried it on whenever I subbed for her and continued it quite happily when I took her page when she retired. She was right….it was fun. It ran a couple of days a week for a decade or so. Families and friends would give us the info by phone or visit. Occasionally a birthday target would call in and ask that their name be removed. However, one day a reader called in to report that her husband was upset that his birthday wasn't in the paper. So, she added him to my list. Another person called once to report a family birthday. It turned out that she had a grievance. It was not about the column, however, but about the fact that she had called in all the family birthdays but hers thinking that someone in the family would do it for her, but they didn't. Bob Osmond wrote a hilarious parody of the Birthday Column which was used on invitations to my 50th birthday party in 1990.
—-A Pulitzer Prize Winner Among Us: This story is not about a News-Gazette photographer but about an Associated Press photographer who grew up in Martinez and graduated from Alhambra. Slava "Sal" Veder came from a Russian family who lived in town until his mother died about 30 years ago. He also lived here before retiring to the Sierras where I believe he still resides. A long time AP photographer in the Bay Area and wherever in Northern California an important story happened, Sal was one of the nicest folks in local journalism and was welcomed whenever journalists gathered at Amato's. In 1973 he was sent to Travis Air Force Base in Fairfield to cover the first airplane load of released American military from the North Vietnam prisons they had been held in, often for years. Later, the Pulitzer Prize for news photography that year was awarded to Sal for his picture of the back of a released US officer on the tarmack as his family runs towards him with glee. The winning Pulitzer photographs and a brief description of the dozens if not hundreds of other news photos are shown in a sizeable hall in the Newspaper Museum in Washington D.C. Besides the honor of the prestigious prize, Sal was further honored at the museum by being one of a dozen or so of the many winners in all categories whose photo and his interview about it is featured at a push of a button by his name.
—- You Gotta Write About Da Nort!!! For several years in the 1980s, the Gazoo featured a special Columbus Day edition featuring family stories and recipes and such from the Italian community. Every year I begged the Portuguese community to share their cultural and immigrant stories as well, but they always politely declined. There would have been no Columbus in 1492 if the Portuguese hadn't begun sailing around Africa ten or 20 years earlier. But I interviewed those who would talk to me, especially the gals I had breakfast with at DiMaggio's each morning before work. They were mostly of Sicilian descent and from fishermen families so that's what I mainly wrote about. The section was always popular, and I learned a lot from working on it. But after the third or fourth edition I learned a lot more. I was aware that there were differences in language and looks not to mention customs and attitudes between Northern and Southern Italy. But the extent of those differences and attitudes was not so clear to me until one Monday in October after another 'Italian' edition had dropped all over town. Mario Georgorino was a short, slight man who moved as fast as he talked. He also had strong opinions on lots of things I suspect but this day he was focused on one thing…. the News-Gazette Columbus Day edition. My desk was next to a counter that divided the business part of the paper from the newsroom part. Before I knew what was happening, he pointed his short, shaking arm straight at me and loudly said "You! You always write about the Sout!!! You never write about the Nort!! You gotta write about the Nort!!" Then he turned around and raced out the door. Tell you what, the next year I wrote about the Nort! and reaped a slew of great stories including Helen Grilli Kessler's memories of working in the field of her family's farm in Northern Italy towards the end of the war when it was strafed by somebody's airplanes. Forty years later she recalled lying flat on the ground terrified with only vegetable plants to shield her. Thank you, Mario, for waking me up.
A 'stop the presses for a sad' story happened in the 1980s when a private airplane crashed into the center of Sun Valley. I can't remember the date, but it may have been the holidays as the mall was crowded in the early evening when it happened. I do remember that Jim Caroompas, the reporter who covered major stories such as this one and the murder of third grader Eric Coy on the junior high's west field around the same time, was badly shaken by those events but bravely carried on to gather the information needed to inform the community. Another sad story was the death 3 or 4 decades ago of Lawrence Miller, an Alhambra '67 grad and football and wrestling star locally and in California who became a wrestling star at the University of Montana. He came home with a new wife and baby to teach PE and coach at the junior high and the high school. At the end of his first year, he and his family including his grandmother and mother, were driving to Georgia to visit his wife's family. Unfortunately, he and his grandmother were killed in an auto accident in west Texas. The town came to a halt in grief as his family are among the most respected and loved families in town. An athletic scholarship is still given at Alhambra each year in his name funded by Bulldog teammate Phil Satre.
One of the glad stories was when the Alhambra High Football team reversed a couple of decades of losing football to win 'it all' in the East Bay in the late 60s. Captained by quarterback Norv Turner and coached by Alhambra graduate Charlie Norville, the team was incredible. Sports Editor Mike Bayne was in seventh heaven covering football that year and so were the subscribers reading his stories. Norv went on to be a respected offensive coach and a head coach of several teams including the Dallas Cowboys and the Raiders in the NFL. I think he may have at least one Super Bowl ring.
Bob! Leave lots of room for obits because Column One is full of lost dogs and cats' items today! I wrote the Gazette's long famous Column One during the 80s. It was started I think years and years ago by long time staffer/editor Jim Ritch, famous for joining the Sierra Club in the 60s using his dog Maggie's name so he could see what the environmental radicals were up to. By the time I was writing it, it was filled with upcoming events and lost pet stories and whatever funny or happy community thing that was happening. Suzanne Fox told me once that if she saw an event appear three times in Column One, she thought she better attend it. The pet stories came in clusters, none one day, two another and sometimes three or four or more at a time. On the three or four days, I would tell the editor, Bob Osmond, to leave lots of room on page 2 because there are lots of lost pets today. He would politely and silently scoff, and one could hear the click of eyes rolling around the newsroom. But I was always right – soon Connolly and Taylor would send three or four obits in to add to whatever had come in from other mortuaries in the area. I have no idea how the number of obituaries related to the number of lost pets, but it did. And stop laughing!
Well, I have nothing more to say or to write except captions for a few pix (copy editing slang for pictures). Thanks to all of you for your kind words to me over the years about my efforts and those of the Gazoo staff as a whole. Thanks also to the folks who told me, the sooner the better, about an error I had made in a story. I always appreciated that because I thought I'd gotten it right when I wrote it. I tried to get it changed right away although I believed everybody read the mistake and hardly anybody read the correction. I still feel guilty about putting the time for well-known contractor Adrian Vanderkous's funeral service at 10:30 a.m. instead of 10 a.m. 30 or more years ago. And thanks to the many colleagues I had over 50 years and all the back-shop folks who took care of my copy as well as several editors who worked on projects with me such as the Columbus Day edition and the 150th anniversary edition. Working on the Gazoo has been an unexpected and most welcome addition to my happy life in Martinez.