Peter Stephen Delevati
June 22, 1969 – Feb. 10, 2019
Resident of Redding, Calif.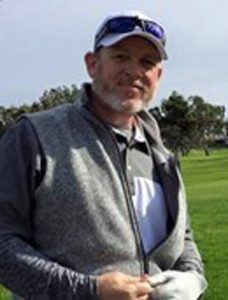 Redding – Peter Stephen Delevati, 49, of Redding passed away peacefully at home with family surrounding him on the morning of February 10th in Redding, California after a valiant three year fight with recurrent colon cancer.
A Memorial Service will be 10:00 AM on Saturday, March 9th at Our Lady of Mercy located at 2600 Shasta View Drive Redding, CA 96002 . Arrangements are made by Allen and Dahl Funeral Home.
A Celebration of Life will follow at Noon on Saturday, March 9th at Gold Hills Golf Course located at 1950 Gold Hills Drive Redding, CA 96003.
Our beloved Peter was born in Martinez, Ca. to Richard and Kathleen Delevati on June 22nd, 1969. He attended grammar school at St. Catherine of Siena and also Anderson High School. He married Katrina Whitacre on August 12th, 2006 in Anderson, California. Peter worked for UPS directly after graduation from High School and retired after 29 years of service. He was an avid golfer with a wickedly good golf swing and incredible short game winning many awards and trophies! Peter met his bride at the golf course and the couple enjoyed numerous tournaments and travels involving golf. Peter also loved the outdoors and fishing. He enjoyed an annual fishing trip with his childhood best friend, Shanon Kelly, and other good friends. He was a devout family man, loving father, and loyal friend. Peter was well known for his quick wit, knack for cooking a perfect steak, and imparting the gift of love and sound advice to all who were blessed in knowing him. He will always be remembered for the countless people he helped throughout his lifetime, both professionally and personally. His sense of humor and loving spirit will be missed and cherished by all.
Peter is preceded in death by father Richard Earl Delevati and brother Paul Thomas Delevati.
Peter is survived by wife Katrina Delevati, daughter Kimberly Delevati, brothers and sisters John Delevati, Kathleen Delevati, Joseph Delevati, Lorraine Delevati, and David Delevati, Mother Kathleen Delevati, and numerous Nieces and Nephews, as well as members of the Delevati and Greerty families in Martinez.
The family of Peter wishes to extend our sincere thanks to UCSF Staff: Dr. Ostroff, Dr. Guzman, Dr. Murad, Dr Atreya and the many nurses of Interventional Radiology, Oncology, and Biliary Teams. You were all amazingly kind to our family and cared for our beloved Peter in the most compassionate and exceptional ways.
In lieu of flowers the family requests that donations in memory of Peter Delevati be made to support Dr. Chloe Atreya's research at UCSF. Please make checks out to the UCSF Foundation and on the memo line or an accompanying piece of paper, write "Dr. Atreya's research (B3273) in memory of Peter Delevati". Contributions can be sent to UCSF, P.O. Box 45339, San Francisco, CA 94145-0339.