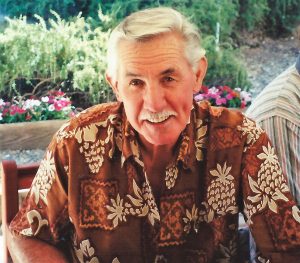 Ramon Leon "Ray" Robbins, age 82 passed peacefully at home with his family on January 26, 2019. Ray was born in Caney, Kansas, and came to Martinez, California in 1941 with his family, where he stayed for the rest of his life, making friends, exploring the town and surroundings, learning and living the history of the growing community, and raising his family. "Why would anyone want to live anywhere else?", he said in family conversations. He loved Martinez, and later in life, Ray wrote several historical articles that appeared in the Martinez Gazette.
Ray is survived by his wife of 64 years, Barbara, and their children: Pamala Stephens, her husband Bill; Greg Robbins, his wife Debbie; and, Mark Robbins, his partner Michele DiMaggio. He is also survived by grandchildren Misty Miguel, her husband, Mark; Christopher Robbins; Jared Robbins; four great-grandchildren; and, his sister, Jeanne Dow; as well as many nieces and nephews. Ray was preceded in death by his parents, Raymond "Shorty" and Opal Robbins, and brothers, Donnie Robbins and Jerry Clayton Robbins.
Ray was a 1954 graduate of Alhambra High, and worked for 39 years for the State of California Department of Transportation, starting as a surveyor and retiring as an Assistant Resident Engineer.
Following his retirement from the State he worked another five years with similar duties for private construction. He was involved in the construction of many of the freeways and highways built in Contra Costa and Alameda Counties. At work he was known for his high standards, accuracy, attention to detail, and fair-mindedness. He had many varied interests and was a life-long reader, especially of history including the Civil War, WWI, and WWII, and biographies of world leaders, but was well read in many other areas. His patriotism was well known to his friends and family, with two American Flags on display daily in the front of his home. Ray was an avid 49er, Warriors, and Giants fan. He loved music of all kinds and eras, from Country to Opera, with something usually playing whenever he was reading or relaxing.
Ray so loved his family and friends, who enjoyed his stories about good times and his many adventures. He was hard-working, generous, intelligent, and enjoyed his life. He will be deeply missed.
A Celebration of Life is being planned by the family. The date & location will be announced when details are finalized.