Salvador Joseph "Tuti" Aiello
May 21, 1930 – Nov. 5, 2017
Resident of Port Townsend, Wash.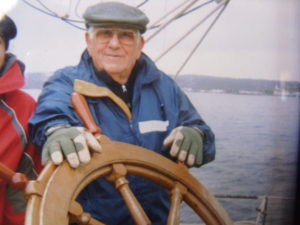 With sadness in our hearts, we share the news of the passing of our beloved Sal "Tuti" Aiello.
He passed peacefully at home into God's care on November 5, 2017
Sal was born in Martinez, CA. and graduated from Alhambra High School. He lived in Martinez for 84 years before moving to Antioch three years ago. He was in the Merchant Marines and worked as a commercial fisherman before becoming a commercial painter. Sal loved painting and was the best in his trade for 39 years. Even after he "retired," he kept painting for friends and family right up until the last year of his life.
Sal also loved fishing, golfing, cooking, singing, gardening and being with his wife, Patricia "Trish" Aiello. Sal and Trish were inseparable since the day they met nearly 18 years ago. They have a home in Port Townsend, Washington, and spent as much time there as possible. Sal always said Port Townsend reminded him of the way Martinez had been when he was growing up and he quickly adopted P.T. as his second hometown. Port Townsend adopted him right back and gave him many good new friends and happy memories.
Sal is survived by his wife Trish, sister-in-law Barbara Fee, his brother Frank Aiello, many nieces and nephews and cousins, several good lifelong friends in Martinez and three children. He was especially close to his niece MaryAnn Balestreiri. He was preceded in death by his parents Joe and Ann, sisters Elizabeth, Clara, Virginia and Jenny, and brother Joe.
There was a beautiful "Celebration of Life" memorial held for Sal in Martinez on May 26, 2018. We love you, Sal. Keep 'em smiling and we'll see you again in that beautiful garden by the sea!