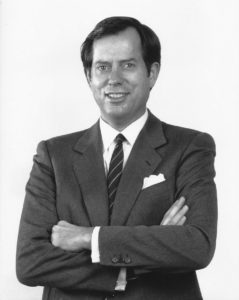 Well-known Martinez resident William H. 'Bill' Wainwright passed away on May 19 at his home after a 15-month battle with brain cancer. He was 75 years-old. A memorial service will be held at Grace Episcopal Church on Saturday, June 2, 2018.
Although Wainwright spent his earliest years away from Martinez, returning with his family to start school here, he always considered himself to be a fourth generation Martinez resident and the city to be his hometown even in adulthood when he and his family lived in Europe.
His great grandfather, James Rankin, had been a county sheriff, businessman and president of the Bank of Martinez around the turn of the 19th and 20th centuries. His grandmother, Janet Rankin Butcher, was the 'janitor' at the bank until she persuaded the officers to appoint her as the first woman bank teller.
In the 1920s, Bill's great grandmother, Sara, was the first woman elected to the Martinez elementary school board and in the 1950s, his mother, Phyllis, was the first woman to be elected to the Alhambra Union High School district board.
Phyllis later partnered with Charlene Perry to save and restore the Alhambra Cemetery where Bill's remains will be interred in the Rankin family plot.
Raised by his parents, Harvey and Phyllis Butcher Wainwright, to value education as well as history, he was a 1960 graduate of Alhambra High School. He graduated from Claremont-McKenna College in southern California with a B. A. in Humanities emphasizing French literature. He earned two master's degrees and later, a Ph.D. at Tufts University's Fletcher School of Law and Diplomacy. He worked for the Bank of America at its San Francisco headquarters in the 1970s.
In 1980, Bill and his wife moved with their two eldest children, Susan and Elizabeth, to Paris where he worked for a French-Arab investment bank using his education and his facility for languages. Two more children, Will and Henry, were born there.
"He loved France," his sister Janet recalls. She took her then four-year-old daughter to Paris to visit. Bill took her on a week-long tour of the wineries in the Loire Valle while her daughter stayed with her sister-in-law and the Wainwright children.
"I hadn't spent that much time with my brother before. It was a most amazing experience," adding that they visited many wineries while he shared his knowledge of wine-making and of the area. "He was such a gracious host," she says. She also mentioned his great sense of humor.
The Wainwrights moved back to Martinez in 1999. For the past 20 years, Bill was a translator in a business and financial communications firm where his educational background and language skills were invaluable. He continued working until this spring when illness forced his retirement.
On his return, Bill's interest in local government and politics was renewed. In the 1970s he had allied closely with Nancy Cardinalli Fahden and her Women for the Waterfront group who were frustrated by both the Martinez City Council's inability to make reasonable decisions about the waterfront and the County Board of Supervisors, then controlled by a small in-group of business and agricultural leaders.
By deciding to run for County Supervisor in 1976, he put in motion a series of events that changed how Contra Costa County was governed. As it turned out, his bosses at the Bank of America asked him at the last minute not to run as it would be a conflict of interest for the bank. Nancy Fahden, who shared his goals, took his place. Her election on the issues she and Bill espoused began a change that led to the end of the 'old boys' stranglehold on county politics and the beginning of action on environmental and social issues of growing importance to the electorate.
He picked up where he had left off when the family returned. After a time, they bought Nancy Fahden's home on the top of Thomas Hill. Bill began to write opinion pieces for the Martinez News-Gazette and articles and talks for the new Martinez Historical Society.
Museum Director Andrea Blachman recalled such a talk about his grandmother, Janet Rankin Butcher. Coincidentally Andrea and her husband had bought the Butcher home on Willow Street in the early 2000s. The family was given permission to take cuttings of their grandmother's heritage roses which were then planted in Bill's mother's backyard. Just a few weeks before he died, Andrea says, "he asked for a bouquet of his grandmother's roses to be brought to him."
"I just liked him," Andrea recalls. "He was kind and gentle and very proud of his family."
From 2002-2006, Bill served on the City Council. Following that, he continued to speak out and write about issues he cared about. He also joined the board of the Martinez Historical Society and continued his participation in community activities. He was a member of Martinez Kiwanis Club for a number of years and a member of the Joaquin Murrieta Chapter of E Clampus Vitus the major goal of which is preservation of California Gold Rush History including Alhambra Cemetery in Martinez.
"Bill was interested in historic preservation in general," Society president John Curtis says. 'And that encompassed putting up bronze plaques, restoring the Old Train Station and supporting the then-new Home Tour to draw attention to the large body of historic residences that are located in Martinez.' He was also interested in the cemetery which his mother, Phyllis Wainwright, and Charlene Perry successfully worked to save and restore. Part of it is currently being developed into 'an outdoor museum' with the Potters Field project.
A lover of nature, Bill was admired by his sister, Judy, "for his love of Martinez, its history and future. I admire my brother for his passion for nature, music, the humanities, arts, fine wine and food."
A favorite memory of hers is hiking 75 miles of the John Muir trail in Yosemite in 1953 with Bill who was 11, her father, Harvey, and her horse. She was 10.
An Eagle Scout himself, he encouraged his son, Will, to become a Boy Scout in part because of the nature aspect. "I embraced nature, thanks to him." Will went on to remark on Bill's passion for Martinez. "He loved the view he had of downtown Martinez from his home (on Thomas Hill)…the trains passing through, the boats on the Strait."
Bill was also a voracious reader. His daughter, Elizabeth, talked about his great knowledge of history. "Anytime I asked him something, he would know the answer. He was very cultured, very intelligent. I most admired his sense of humor and his laugh."
Susan Jane, the eldest of the four, treasures "the great education he gave us when we were growing up in France. He was my role model growing up and taught me to think differently. I wanted to become someone like him.
"I loved spending time with my Dad. Several summers, we used to go hiking, just the two of us, up the mountain of Monte Capanne, the highest mountain on the Italian island of Elba…special moments I will always treasure."
His youngest sister, Nancy, summarized in a way what his other siblings and his children say about Bill. "He set a very high standard for all of us to live up to in terms of intellect and education. He was inspirational in that regard."
Roy Jeans has been a close friend since the 1970s when they both were running for local office. "Bill was a great conversationalist," Jeans observed. "He always brought in both sides in a discussion." What he will miss most, he says, is the camaraderie of their conversations over a bottle of wine.
"He kind of liked my 'everyman' attitude and I liked his worldly opinions." Noting that their mothers had gone to all Martinez schools together, Jeans added "the Wainwrights are part of the fabric of Martinez."
Bill is survived by his children, Susan Jane (Gilles) Kadereit of Martinez, Elizabeth (Frederic) Barre of Concord, Will (Finny Ho) Wainwright of Sunnyvale and Henry Wainwright of Antioch; two grandchildren, Luc and Loic Barre of Concord and nieces and nephews, Morgan Jessee of New Orleans, Nicholas Jessee of Boston, Sara Feldman of Seattle and Scott Mitchell of Santa Barbara.
A Memorial Service will be held at Grace Episcopal Church, 130 Muir Station Road, Martinez at 3 p.m. on Saturday, June 2, 2018. Interment will be private at the Alhambra Cemetery.
Memorial donations may be made to the Martinez Historical Society, P. O. Box 14, Martinez, CA 94553; The John Muir Land Trust, P. O. Box 31, Martinez, CA 94553; Martinez Open Space and Park Protection, 843 Pinon Drive, Martinez, CA; or to Grace Episcopal Church.