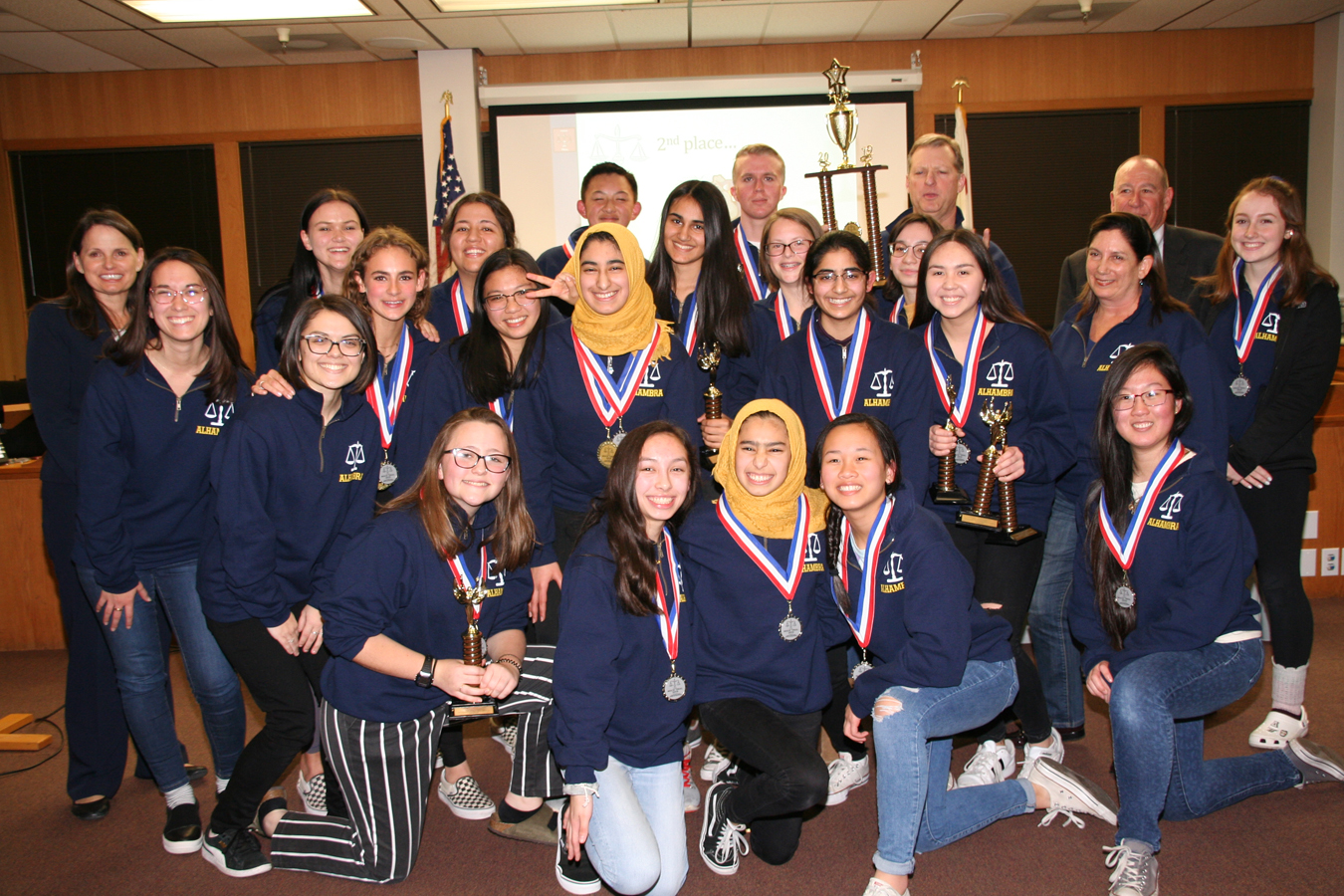 By JONATHAN LANCE
Contra Costa County Office of Education
PLEASANT HILL, Calif. — The 38th Annual Contra Costa County High School Mock Trials Awards Ceremony was held last night at the Contra Costa County Office of Education (CCCOE), in Pleasant Hill. After Contra Costa County Superintendent of Schools Lynn Mackey and Contra Costa County Board of Education President Mike Maxwell welcomed the crowd, and remarks given by Contra Costa County Superior Court Presiding Judge Barry Baskin, the Mock Trial coaches presented individual awards to their exceptional-performing students. This was followed by the individual awards that were recorded by the volunteer judges and attorney scorers during the four opening preliminary rounds. The exciting event concluded with naming of this year' championship team: California High School (San Ramon).
The California High team beat Alhambra High (Martinez), this past Tuesday night in the final round of Mock Trials, inside the Bray Courthouse, in Martinez. The final match was judged and scored by recently retired First District Court of Appeal, Division Five, Justice Terence Bruiniers, along with nine Bay Area attorneys, serving as Mock Trial scorers.
This year's top four teams were ranked in this order:
1) California, 2) Alhambra, 3) Acalanes, 4) Campolindo. California High has now won back-to-back championships.
The honored guest speaker, Judge Barry Baskin, was on hand to address the large crowd with his accounts of this year's Mock Trials. "I can safely speak for a number of my fellow judges when I say, Mock Trials is our favorite time of the year. It is a delight to watch you all master the courtroom, and it's solely due to your dedication and hard work."
After Judge Baskin was appointed to the Contra Costa County Superior Court bench by California Governor Grey Davis, in 2002, he has served continuously through the years as a volunteer judge for numerous high school Mock Trial and Moot Court competitions. "This program is a great tool to ensure that our students understand the workings of the trial courts and thus the importance of an independent judiciary," he continued. Judge Baskin also told the crowd how he has often suggested to attorneys to come in and watch the students prosecute and defend the cases so proficiently during Mock Trials.
For the past four weeks (seven evenings), California High School and the 16 other Contra Costa County high school Mock Trial teams have been battling it out with each other inside the superior courthouse courtrooms of Martinez. Each school alternate, providing a prosecution or defense teams.
As like their fellow Mock Trial Teams throughout the nation, the teams presented the case: People v. Klein. Unlike previous years when the case has involved murder or mayhem, this year's trial centered on social media. A local college student was charged with posting a criminal threat online, and then texting a false report to police – also known as "swatting." "Swatting" is the action of calling the police with report of a fake emergency.
Most of the teams begin their Mock Trial training when they began the new school year. This year, there were more than 300 participating students.
Lead by teacher coach Brian Barr and attorney coaches Ken Mifsud and Larry Lowe, California High School's Mock Trial team will now represent Contra Costa County at the California State Mock Trial Competition, held in Sacramento, Calif., March 22-23. The California state finalist team will then compete in the National Mock Trial Competition, held May 16-18, Athens, Georgia.
Teams from the following 17 Contra Costa County high schools competed:
Acalanes (Lafayette), Alhambra (Martinez), California (San Ramon), Campolindo (Moraga), Carondelet High (Concord), Clayton Valley Charter (Concord), De Anza High (Richmond), Deer Valley Law Academy (Antioch), Dougherty Valley (San Ramon), El Cerrito (El Cerrito), Hercules Middle/High (Hercules), Heritage (Brentwood), Kennedy (Richmond), Las Lomas (Walnut Creek), Miramonte (Orinda), Monte Vista (Danville), and Richmond (Richmond).
Photo credit: Meaghan Krakoff, CCCOE