By JEFF ROUBAL
Martinez News-Gazette Columnist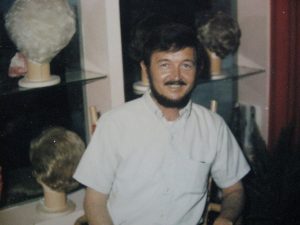 I had a haircut yesterday. The sounds and smells in a beauty shop took me back in time. I spent much of my childhood in beauty shops either helping my parents or just killing time. Both my parents were hairdressers.
Dad grew up on a farm in Nebraska. The farming life was hard work, especially for the second of five children – three girls and two boys. Dad hightailed it to live among the bright lights and glamour of the big city (Omaha) as soon as he graduated high school. While working in a restaurant, Ed attended beauty school to earn his license.
My mother graduated from high school in Maine. Her mother, a widow, arranged for Betty to attend beauty school in Boston, "so she would learn a good trade to support herself." After beauty school, my mother found a job in a hair salon on the Boston Common. During good weather she would eat her lunch in the Common, the oldest city park in the United States — 50 acres of beautiful paths and landscaping built in 1634.
During his 4 years in the Air Force, Dad moonlighted as a hairdresser to supplement his airman's salary of $83.20 per month. After basic training in Texas, he was stationed in New England. My parents met in Boston when Dad came into the shop to buy beauty supplies. After a whirlwind romance, they were married in 1954. The rest is history — my history!
Our family was transferred to Guam in 1955. Dad continued to style ladies' hair at night. This came with an unexpected perk. Among Dad's customers was his commander's wife. When he was assigned to a crew cleaning out caves full of snakes, a quick call to his commander's wife got him excused. My father really did not like snakes.
After the military, we moved to Florida. Dad opened a 13 operator beauty shop in Dunedin in 1956. He and Mom managed the shop until 1965. I remember as a kid that they worked very hard. The shop was open from Tuesday through Saturday. Dad had appointments all day and Mom filled in wherever needed. On Sunday we went to church, had breakfast, then they would do paperwork there for the rest of the day. Dad and Mom had to prepare the payroll for the 13 operators, take inventory, print receipts, and maintain all the taxes for the business. Monday was spent running errands. They pretty much worked 7 days a week.
Us kids would go down to help at the shop whenever he needed. Sometimes we would fold laundry. There were hundreds of shop towels to be washed every night. There were also floors to maintain, sinks and equipment to disinfect. When not working, we would build things with the clippies and the rollers (better than legos). We would give each other rides up and down on the hydraulic chairs and slide across the shiny linoleum floors riding shop towels. It was a great part of my childhood.
Dad always had more than a bit of the Wunderlist. In 1965, he tired of the shop in Florida and decided to move to California. That was where all the movie stars lived and where opportunity awaited. He sold his shop to the lead operator, packed his '56 Ford station wagon, and drove across country to find a new place. Starting in San Diego, he drove north while looking at every town. When Dad got to Santa Cruz, he knew that was the place. He rented a house and called Mom in Florida. "Sell the house, honey, and bring the kids," Dad phoned with excitement. That's how I got to California.
Years later, I even attended Wayne's College of Beauty in Santa Cruz after San Francisco State. Graduating and finishing ROTC in 1976, I was on hold waiting for a date to report for active duty. It made sense that I should do something productive. Why not beauty school? Unfortunately, the military called before I could finish my 2,500 required hours and take the State board exam. You could call me a Beauty School Dropout.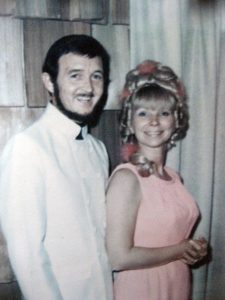 Beauty schools are in interesting place. They put all of us new students in the back where the customers couldn't see us practicing. We attended lectures, studied the textbook, and worked on mannequins. Students worked on each other a lot. We would practice giving each other permanents using only water. That way it wouldn't be actually "permanent" but the practice improved our technique and speed. It gave us practice working on live people. We also did manicures and pedicures and facials on each other. I had a manicure every week! That was the good part of the job. We cut each other's hair over and over until everybody at the salon had short hair.
There were a couple of mishaps at the beauty school which I can mention now because everything happened more than 40 years ago and the statute of limitations has run out. We had a gallon bottle of hydrogen peroxide in the back that was 20% by volume. To use on the customers, we would dilute this to 5% by adding distilled water. Peroxide was an active ingredient in our hair coloring.
One of the students, not me, mistakenly used full strength 20% peroxide in mixing hair color. She put it on a customer then mentioned it to the instructor who immediately washed it off. The chemicals which normally took 30-45 minutes to process, were only on five minutes but the color was exactly right. The customer never found out but all us students got a big lecture after the shop closed for the day. Had it remained on her head 30 minutes, there would have been serious hair damage. After that, the 20% peroxide was kept under lock and key.
One day in class we made lipstick from beeswax, emollients, perfume, and dried, crushed red beetles from Egypt. The color came out a brilliant red but nobody wanted to put dead beetles on their mouth so we presented the lipstick to students not in the class who didn't know the ingredients. We never told them about the beetles …
Another time someone decided to practice hair cutting on one of the mannequins. The haircut came out o.k. but we could never use the mannequin again for practicing permanents which was the main purpose for the mannequin. I remember the instructors were annoyed because the mannequins were expensive. It meant we had to use each other more often for practicing permanents.
I fondly remember my childhood and hours spent in beauty salons. After I retired from the City of Concord last year, I proposed a return to beauty school to finish my license. Vivian reminded me that we have too many travel plans for that to work. I think it is because she enjoys being my longest and only remaining customer.