By JEFF ROUBAL
Martinez News-Gazette Columnist
My wife and I bought a new car a couple months ago. The vehicle is a marvel of electronic gadgetry. We are still discovering features that are delightful and sometimes a bit mysterious. "How does that work?" we wonder when the car does something unexpected.
Some of the thingamajigs that will take getting used to are: Lane Keeping Assist System (LKAS), Adaptive Cruise Control (ACC), Walk Away Auto Lock (WAAL), Collision Mitigation Braking System (CMBS) and Road Departure Mitigation System (RDMS). It is unbelievable the amount of wizardry they can stuff into a car. All this stuff is electronic, silent, invisible, and undetectable until it pops up unexpectedly. Surprise!
One of the systems vastly upgraded from our last car is audio service. When I first started driving, my first two cars had only an AM radio. My next cars had AM/FM radio. Our new car offers choices galore. In addition to AM/FM there is SiriusXM, Apple CarPlay, and Android Auto. It also plays iPod, USB Flash Drive, and Near Field Communication (I have not figured out that one yet). For more music, you can connect devices, like your phone or walkman, with a jack, a USB cable, WiFi or Bluetooth. If you have CD, there is also a CD player.
Once you have chosen an input, there are adjustments including bass, treble, center, subwoofer, left/right balance, front/rear fade, and speed volume compensation. The radio volume is coordinated with the hands-free telephone and the voice-activated navigation. (It is nice to have so many options but I usually just listen to either KCBS or KKDV radio when driving.)
You can broadcast different audio in the rear of the car and in the front. This comes in handy if the people in the back are watching a movie on the 10.5" display screen and the people in the front are listening to their iPod. There are optional headphones and wireless remote control for the movie watchers to make their experience more immersive. Did I mention that this is all happening inside a car barreling down the freeway at 65 mph? Amazing. What will they think of next? There are seven huge speakers, including the subwoofer – a far cry from the "Good old days."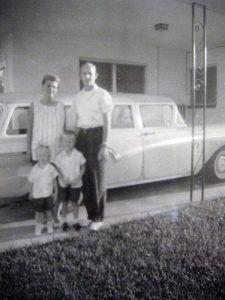 In 1965, dad sold his beauty shop in Florida, packed our '56 Ford station wagon, and drove to California. A few years later, he traded in the wagon for a '67 Mustang fastback. I remember as a kid that the station wagon was so old and tired it could only receive one radio station. We tried everything to get more but it was impossible. The only station that came in was KDON in Santa Cruz. They played Top 40 hits on 1460 AM. The transmitting tower was in the mud flats not far from town and the signal was so strong that I knew people who could pick up the songs with their teeth when they passed on the nearby street!
Just before dad went to sell the station wagon, we kids programmed all five buttons on the radio to KDON. That way, when the appraiser at the car dealership checked the radio, it would work — no matter which button he pushed. Dad came home with the mustang and reported to us that the salesman was so impressed with how well the radio worked, he increased the value of the trade-in. I suspect that dad was just leading us on.
My second car was a 1964 Chevrolet Bel Air. It also had an AM radio with one speaker in the middle of the dashboard… until I discovered eight-track tapes. In the early 70s, a teenager could buy an eight-track player and two speakers for under $50 at Radio Shack.
My first player was attached to the dashboard under the ashtray with sheet metal screws. That was when dash boards were made from sheet metal and cars came with ashtrays. The speakers were mounted in the package shelf behind the rear seat and the speaker wires hidden under the carpet.
That was the hot setup until somebody stole my player. When I bought a second player, I added a slide-out mount for $9.99. That way, the tape player and faux alligator skin vinyl box full of tapes could be hidden in the trunk when parked. I was the cat's meow driving around town with this new stereo system. After my success, several friends had me convert their cars too.
Over the years, I transferred my eight-track player to each of my cars until 1985 when cars came with cassette players. I mounted the eight-track player under my workbench in the basement and continued to enjoy the golden oldies until the mid 90s.
One of the most impressive audio systems I remember was made by Pontiac. My friends Bob and Bill had a '66 Bonneville Brougham. It was huge and luxurious. Their grandfather left it to them in his will. It was blue, 4-door, 389 cubic inch engine with 4 barrel carburetor, Hydra-Matic transmission, electric windows and driver seat.
It had cruise control but we never used that after one time it would not disengage on the freeway! Bob turned the engine off and coasted the car over to the shoulder. We waited a few minutes for our trembling to go away then restarted the car. Luckily, the cruise control did not come back on. Scary.
It was the first car I ever saw with six-speaker stereo, plus reverb. Reverb (reverberation) was an echo effect between the front and the back speakers. You could make the radio sound like you were inside a closet or at the bottom of the Grand Canyon. The music sounded like a concert hall when we cranked it up, as we often did.
Unfortunately, we were all penniless teenagers at the time and they could not afford to keep up with the added maintenance required of an old car. I told you that the cruise control didn't work. Also, one of the electric windows would not go up and down. It needed a new motor. Over time, there were a bunch of little things that stopped working but it was still a great car. The Reverb never failed.
The Bonneville was advertised to get 16 MPG on the Highway but never did. There was no estimate of City MPG given or required. That was at a time when gasoline sold for 32 cent a gallon. The car sold brand new for $3,750 plus tax in 1966.
Vivian's new car cost ten times as much but came with all the electronic gadgetry included. We have not entirely figured out the audio system yet. What I am really looking for is a "reverberation" setting. At least we get 19 MPG City/28 MPG Highway.