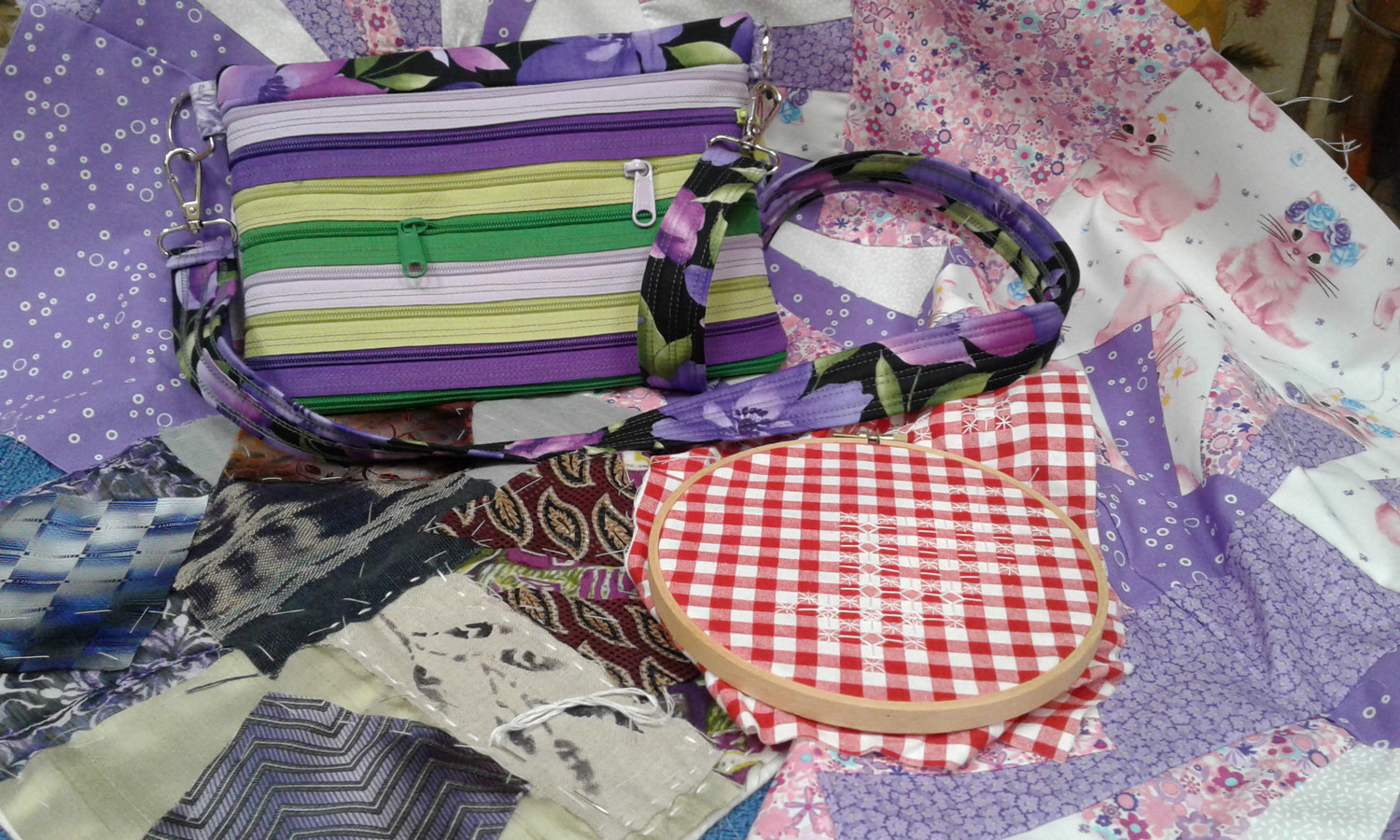 Woo hoo! I have once again returned from the "Sewing & Stitchery Expo" where men and women gaze in awe, squeal with delight, and happily jostle their way through crowded aisles of the exhibition halls. Set in the beautiful Great Northwest, this four-day event is an annual dream vacation for needle artists. Sewing, knitting, embroidery, quilting, doll making, costuming, fabric painting – you name it – it was there. The Sewing & Stitchery Expo celebrated its 35th year last week with over 22,000 enthusiasts from across the world attending.
I'm happy to say this was my tenth year attending the Expo in Puyallup, Washington, thanks to my sister Brenda who has attended every year but the first! For years my sister told me that I needed to go to this event, but it was hard to get away from my job. The year after I retired from teaching high school home economics, Brenda proclaimed that I no longer had any excuses for not joining her at the Expo. She was right. Last weekend was once again a stitchery bliss with Brenda, her daughters, granddaughters and my daughter too!
Although I most enjoy the shopping, more important things happen at the Expo. It's a think tank for the practical artist and a nourishing stew pot for the experienced and novice alike. Sponsored by Washington State University, this revelry is primarily an educational opportunity. With nearly 200 diverse class offerings, the opportunity for expanding sewing and stitchery knowledge is endless.
When the course catalog comes each December, I find a little quiet time to sit down with a cup of tea and peruse the offerings. The last few years at Expo I concentrated on learning to quilt. I took classes on quilt design, paper piecing, applique, 'quilt as you go', tools of the trade, batting, and free motion quilting. I am fairly certain that I could now sew a pretty decent quilt. I have all of the tools, books, fabric, and batting. As soon as I find a vendor that sells time, I will be all set to go.
While wending our way up and down the rows of merchants in the Showplex Hall each year, Brenda and I have remarked to each other how much our mother would have loved this event. My mother was known for her creativity and her stitchery skills. Mama designed and sewed clothes like a pro, embroidered tablecloths, and crocheted like a maniac! She always had a needle of some sort in her hand.
One of the class offerings this year was "Chicken Scratch". I could hardly believe my eyes when I saw the class title. I didn't know it was a real thing! I just remember my mother referring to the decoration on a red and white gingham apron back in the 1950s as such. Brenda and I signed up for the class together. How could we not? It was like Mama was there with us.
If the term "Chicken Scratch" doesn't ring a bell, you may have heard it called by other names such as Amish lace, Depression lace, snowflake embroidery, or Hoover lace. The embroidery embellishment was a very popular style from the 1930s to the 1950s and was most often found on aprons, pillowcases, curtains, and on baby clothes. The stitches are very similar to cross stitch, but the fabric used for chicken scratch is typically a gingham fabric. The stitching creates the fancy look of lace on a very cheap fabric. The term "chicken scratch" is thought to come from the fact that some stitches resemble chicken foot prints. Brenda finished her project. I talked too much in class….
This was my year for studying embroidery. Besides the "chicken scratch" class I also signed up for Kantha Stitching. Kantha is thought to be over 3,000 years old and originates in India. It's a very practical art form. When a sari (women's garment consisting of many yards of light weight draped fabric) becomes too thin from wear, it is salvaged by layering several other worn fabrics and embroidering the pieces together to make light weight blankets or similar objects. Today the style is used to make fashionable clothing such as jackets. The stitching is basically a simple running stitch, not unlike the Japanese Sashiko class I took a few years ago. Not only did I learn new stitching techniques, I got history and cultural lessons too!
My Washington daughter and I signed up for an embroidery class together. She was taught to embroider by her great Aunt Marion and then she inherited my sister Karen's embroidery kit. I love the beautiful embroidered handkerchiefs she's made for me.
Well, we should have read the course description a little closer. It turned out to be a MACHINE embroidery class! It was all good though. Neither of us had used an embroidery machine before so it was fun and challenging. In one weekend I learned about 3,000 years of embroidery – from hand to machine.
My daughter and I both came away with a couple of fun embroidered sampler pieces. I might turn mine into tote bag pockets or maybe a dress for my granddaughter's doll. The possibilities are endless. The embroidery machine was fun, and it was on sale! It was only $4,500. Such a bargain! (No. I did not buy one.)
I took several other classes as well. Brenda and I sewed a cute "Seven Zipper" shoulder bag that actually only had three functioning zippers. I learned how to take a bottle of craft acrylic paint and turn it into a spray paint for fabrics. I also signed up for a class on how to sew on unusual fabrics for 'Cosplay'. Cosplay is costume making for events like a Comicon. I was expecting to see young people with rainbow colored hair in the class but was surprised to see mostly old ladies with streaks of purple, pink, and green in their grey hair instead. I figured they must be sewing for their grandchildren. Why else would we, ahem, they, be there?
And I took another quilt class. Couldn't help myself. I did a seven-blade fan table runner top. Now all I have to do is finish it. Has anyone found that merchant that sells time yet? I really need him this year.
Well, I returned safely from Sewing Expo, but monetarily poorer. Such deals! Such bargains! How can one resist? I don't know how one could possibly resist…. or I would have resisted. I may have a little less spending money, but in the long run I'm a whole lot richer. I came home brimming with new ideas and new skills.
I'm looking forward to the 2020 Sewing Expo. I'm sure there will be something incredibly awesome, clever, new, and exciting to learn! But the best part of going to the Sewing Expo is still spending creative time with my family.
Visit www.sewexpo.com for more information about the Washington Sewing Expo