Before dawn on a Sunday morning, two weeks ago, the Roubal family drove through the cool darkness to the old town of Folsom. As early as it was, no one slept; too much excitement and adrenaline filled the air. My husband Jeff and our son Eddy hopped out of the car when we reached the drop off point. My favorite daughter-in-law Susan, daughter Marion, 18 month old granddaughter Betsy and I waved goodbye to the boys. "See you at the finish line!" we said with smiles, encouragement and a little apprehension. The Roubal men began their run to the steps of our state capitol in Sacramento – just a mere 26.2 miles away.
We ladies went to Denny's for breakfast. When you have a husband who is not a spring chicken anymore and hasn't run long distances in a very long time, dark thoughts infiltrate your mind. Sprained ankle? Broken leg? Heart attack? We went to a craft fair that the waitress recommended. Shopping brings happy thoughts.
In the early 1980s, we were stationed at Travis AFB. Jeff heard about the San Francisco Bay to Breakers at work. The base had a free bus going for servicemen and their families. It sounded like a fun thing to do and a good way to keep in shape. We both ran in 1984 and had a blast. Jeff kept on running; I took a belly dancing class – which is another story to tell someday.
Press the forward button to 1987. One Sunday afternoon in Bayonne, New Jersey, Jeff and his friend Gary were watching the New York City Marathon on TV. One man said, "I could do that." The other man said, "I could do it faster." By the end of the night, the two men had goaded each other into signing up for the 1988 NYC marathon.
So the training began. Jeff went to the library (no internet back in the day) and read up on how to train. He made a training schedule which included long runs on the weekends. During the week he ran up and down the Bayonne Peninsula with the kids riding their bikes alongside. He signed up for 10k races. The kids and I ran the 5k races. Marion said, "I remember meeting Dad at various finish lines and his nose would be dripping with sweat and he'd hug us and we'd pretend to be grossed out. But I always got a hug anyway because I was so excited and proud!"
The kids and I watched the NYC Marathon on television. Thousands of dot-like bodies were running across the Verrazano Bridge from Staten Island to Manhattan. One of those little dots was my husband. My young husband was running a famous marathon! I was so proud. It never occurred to me that he might not finish the race. I cooked a nice victory meal to welcome him home.
That night, Jeff and Gary came triumphantly limping in. During the meal, they regaled us with tales of their journey. They passed people, but more passed them. I learned what "hit the wall" meant, what Vaseline is for, and how hard it is to finish. By the time dessert came around, like Statler and Waldorf from the Muppet show. "I would be faster next time," said one. "I would be faster than you," said the other. And so the training continued for the 1989 marathon. Jeff ran to keep in shape for years after but never ran another marathon. Until he got the "Golden Ticket" for Christmas last year.
In 1992 we were stationed at Travis again. By then our kids were old enough to run the Bay to Breakers. Our family participated (I walked it) every year for more than a decade, until the kids left home. So it wasn't a big surprise to find that Marion and Eddy were running marathons. What made them start such a crazy sport as adults?
Marion said, "I started long distance running when I was stationed in Hawaii with the Navy. It began as a way to stay fit, but I soon realized that so long as I wasn't being pressured to go faster, I could go all day! I especially love to watch the scenery and the people as I saunter by. Endurance is my new super power – I'm not fast, but I can keep putting one foot in front of the other. So far I've finished the Honolulu Marathon, North Shore Marathon, and Lake Tahoe Marathon. All beautiful!"
"I run so I can eat anything I want!" laughed Eddy. He also said it was partly competition with his father. If his father could run a marathon, so could he. Ed has done five marathons, eighteen half marathons, and one ultra-marathon.
Ten years ago, Eddy told his dad that he thought it would be really cool to run a marathon together. Jeff, who hadn't run anything longer than a 10k in twenty-five years, said, "When I retire I'll have more time to train." Jeff kept finding excuses to push his retirement date back. We teased him that he wasn't retiring because he didn't want to run. Finally, he retired last December.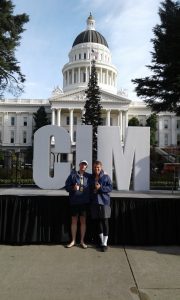 Christmas morning arrived and Jeff opened his gift from Eddy. It was a homemade "Golden Ticket," good for any 2018 marathon in the United States. Jeff was out of excuses. They chose to do the California International Marathon organized by the Sacramento Running Association. Ed trained in Nebraska where he is stationed, Marion and Jeff kept tabs on each other through their Fitbits and long runs together on weekends. It was a year of friendly bantering. Unfortunately, due to a clerical error, Marion didn't get to do the marathon.
The Roubal women arrived at the finish line in Capitol Park a little before Eddy thought he would be finishing. As we walked through the park Betsy saw runners coming around the bend. Her little eyes lit up and she took off down the path with a bouncy toddler scampering run! Her mother took off after her. A family that runs together stays together!
We waited at the finish line along with hundreds of others for loved ones to come in. We cheered as Ed came in. He got his medal and lots of free snacks. We all waited for Dad to come in. And waited. All those dark thoughts mugged my mind until…
I spotted an orange t-shirt come around the corner towards the finish line. Could it be? YES! There he was – running tall with nothing broken and his heart still pumping. I was relieved, excited and proud all at the same time. The old coot made it in a better time than he had anticipated. Woo hoo!! Yay! Sweaty hugs all around.
After the race we celebrated an early Christmas with Eddy and his family. It was an awesome day playing with Betsy. The last gift to be opened was from Eddy to Marion. Guess what was inside. Yup. A "Golden Ticket". We don't know where or when yet, but the Roubals will be training again in 2019. On to Glory!