I met a father and his two daughters from Houston, Texas last weekend at the Golden Gate Recreation Area in Marin County. We were waiting together at Rodeo Beach, near the finish line of the trail runs. He waited for his daughters who were running the marathon (26.2 miles!) and I was waiting for my husband Jeff and our daughter Marion to come across after running the half marathon (13.1 miles!).
If you know anything about long distance running, you know they take hours to complete. The Texan and I had plenty of time to talk. He told me that he was on a road trip planned out by his daughters. When his youngest daughter graduated in June, he asked her what she would like to do before heading off to college. She had run cross country in high school and learned about the SF area marathon from friends. She would like to do it. Her sister, also a runner, liked the idea too. Using their phones, the girls planned the whole trip – San Francisco, Muir Woods, Golden Gate Park, even an Airbnb. That was one very proud dad.
I love road trips. When I was a kid, a road trip meant driving to Reno or Lake Tahoe. When I was in college, a road trip was driving to Washington State to visit my sister. After I married Jeff, I quickly discovered the meaning of a real road trip. Jeff described our honeymoon drive to Sheppard AFB in Wichita Falls, Texas from Antioch as a little road trip. Every couple of years while growing up, Jeff's family spent six weeks on the road driving from one side of our glorious country to the other.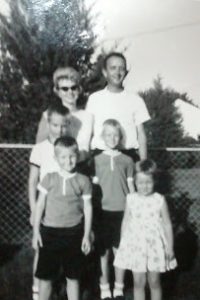 Jeff's dad, Edward, was from Nebraska and his mother was from Maine. They met in a beauty salon in Boston. Long story short, Jeff's dad left the farm, graduated from beauty school, then left Nebraska to see the world by way of the Air Force (and did hair styling on the side). Jeff's mother wanted to live in a big city so she left rural Maine to attend beauty school in Boston, and met Edward when he visited the shop where she worked to buy beauty supplies.
After four years in the Air Force, they settled in Florida where Edward owned a successful beauty salon. Betty looked after the four little Roubals and worked part time in the salon. The family spent alternate summer vacations driving to Maine and Nebraska. Talk about road trips! Twenty four hours of driving and 1,500 miles on the tire treads each direction. But that was nothing compared to the road trip they took to a new life.
By 1964 Edward was ready for a change ("He had itchy feet!" said Betty). Betty was up for change too. They loved living near the ocean, and wanted a place where her children would get the best education possible. Edward was enthusiastic about moving to New Zealand. Lots of ocean there! Betty said that was too far to go. At that time California had the finest education system in the country and college was free.
Edward sold his salon, which by that time employed thirteen beauticians. He drove across country in his green '57 Ford station wagon. Starting in San Diego, he searched north along the ocean until he reached Santa Cruz. He called Betty to say he'd found the perfect place. Edward rented a house, found a job in a small salon and set to work making a new life.
In Florida, alone, Betty sold their house, boxed up the house hold goods, and said goodbye to friends and neighbors – all the while caring for four kids aged four to ten years of age. They loaded a Mayflower truck owned by her brother-in-law Bob.
I have heard family stories of Jeff and his siblings growing up. With three boys and one girl in the house there were many exciting adventures. Some involved blood and stitches, fists through walls, and rolling a sister down a flight of stairs. So when I heard that Jeff's mother drove her children in a '64 blue Ford station wagon, alone, across nine states, nearly 3,000 miles in the August heat, I was duly impressed.
I called Jeff's sister Roxanne in Eugene, Oregon, expecting to hear some pretty exciting tales. She remembered that the car was packed very full and that she was stuck in the backseat between her brothers Greg and Lewis. "I remember getting up early in the mornings to beat the heat of the day and stopping at a hotel/motel by mid to late afternoon. Lunch was usually made while on the road with either peanut and butter jelly sandwiches or a spam sandwich." What? No fights or squabbles? She remembered that the brother sleeping on the motel floor was inevitably stepped on in the middle of the night. Purposefully?
Sounded pretty tame to me so I asked Jeff what he remembered of that trip. As the oldest child, he rode shotgun in the front seat, made the sandwiches every day and was also the navigator. They used one AAA "Trip-Tik," which was a long narrow booklet with a spiral binding at the top. Each page was printed with a section of the map and driving directions. Jeff said it was exciting when it came time to flip the page. The also had AAA books for each state. Jeff read interesting descriptions from the book for each town they passed.
I called Jeff's mom, Betty, who is also called Grammie. "How on earth did you drive all that way without killing yourself or your kids?!" I asked. She laughed. "I trusted my kids to behave and I knew they would do as I asked." Grammie explained that they had traveled so often to visit relatives that the children knew how to behave in the car. "You have to teach your kids to be good travelers," she said.
Grammie told me that her kids each packed a bag of things to play with. When they weren't playing car bingo or the alphabet game together, they played quietly with their toys or slept. The kids slept a lot. There were no seat belts in those days either so they could stretch out.
Sightseeing was not on the agenda for that trip. They got up at 5 a.m. and stopped about 4 p.m. each evening. Roxane remembered "the push to get to California, the routine every day of filling the ice chest with ice, getting the sandwich makings the night before, some type of donut/Danish to eat in the morning, and hamburgers at dinner time from the local restaurant wherever we stopped."
"Back then there were very few rest stops, and mom would rarely stop except to fuel." Roxanne recalled. "At each fueling station we would all jump out and race to the restrooms. Mom kept an old mayonnaise jar with a lid in the back of the car for emergencies in between fueling/restroom stops."
Jeff remembered that back in the day, gas stations offered free road maps. While his mom got gas, the four kids would descend on the rack of free maps like a flock of locusts.
After five days of driving 600 miles a day, the family reached Santa Cruz late in the evening. And what was the first thing they saw? Their dad – standing in the middle of the road into town. When he saw the blue station wagon he started jumping up and down and waving his arms in welcome. What a wonderful way to end the road trip to a new life.