Mmmm…. Lemon sorbet in a waffle cone from the famous Marianne's Ice Cream in Santa Cruz. Can't beat that as a reward for completing a 6.2 mile run/walk!
My husband Jeff, daughter Marion, and I spent a lovely morning going to the beach this past Sunday. We left home at 5am and hit the parking lot in Santa Cruz by 6:30am. From there we caught the shuttle to the Santa Cruz Beach Boardwalk where the 46th annual "Wharf to Wharf" road race began. Did I mention that we had to run/walk 6.2 miles on the "Best Little Road Race in California" to get to the beach in Capitola? I walked, Jeff and Marion ran. The beautiful morning reminded me of another race we'd done for several years, the San Francisco Bay to Breakers.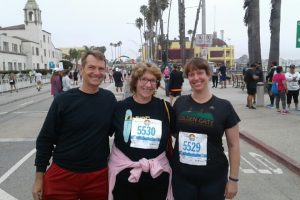 In the mid-90s we were stationed at Travis AFB. My niece Robin encouraged us to run the Bay to Breakers. She and her dad were going to dress up as a chocolate chip cookie and an Oreo, and their friend was going to be a glass of milk. The race was a street party with 100,000 people in attendance. I remembered having a great time back when Jeff and I had done the race in the 1980s. Our kids were teenagers now so I didn't have to worry about losing them in the crowd. Sure. Why not?
Why not? For one thing, I had forgotten about the more questionable forms of 'fun' that happened at that race. Along with rolling tiki huts disseminating free alcoholic beverages, clothes were somewhat optional during the Bay to Breakers. Yup. There were lots of naked people on the streets of San Francisco that day. Sort of like streakers.
Do you remember when streakers were all the rage? I was living in the dormitories at San Francisco State when the streaking fad was at its peak in 1974.
My roommate Katie and I were in our room late one quiet weeknight doing homework when we heard excited voices below. Our 5th floor window faced out over the cafeteria and the common area between the three dormitories. A wide sidewalk path led from the dorms up to the main campus.
I went to the window to investigate the noise and discovered scores of college students lined up on both sides of the pathway, chanting and cheering. The crowd roared as a young man from Verducci Hall streaked by stark naked (except for his sneakers) and disappeared into the shadows of the trees leading to campus. A few minutes later the crowd erupted again as not one, but six more naked guys streaked by! Minutes passed, the cheering died down, but anticipation hung in the air. Someone in the crowd started chanting "Merced! Merced! Merced!" Merced was the name of another dormitory building. The gauntlet had been thrown!
The crowd swelled as the chanting became louder. And then another burst of cheer and the crowd roared again as not only had Merced sent out a full dozen naked students, but some of them were women! From our window, Katie and I watched with excitement as the Merced naked runners streaked by under the street lights. And then there appeared red flashing lights.
Not only had the campus police arrived, but so did the SFPD. The fun was over. Time to hit the books again? Nope. Katie and I watched in fascination as the cops set up a safety zone so the streakers could streak safely. Who'da thunk?
You have to know it wouldn't be long until the crowd started chanting "Mary Ward! Mary Ward!" which was my dormitory. Katie and I looked at each other with daring looks that said "If you do it, I'll do it!" But we both chickened out.
The situation looked dire. As we looked down below, no one was going out our front door. The chanting got louder. Taunting phrases like "chicken" and "under achievers" were being tossed out. Did we not have even one brave student to represent us and run naked through campus?
Whistles! Cheers! Booms of amazement reached our ears as, not just a dozen, but at least two dozen students, men and women, with Howard, Katie's beau, streaked up to Verducci Hall and back down the path and up into the shadows! Woo hoo!!! Well done Mary Ward Hall!!
You'd think that would be the end of it, but it was not. Not to be outdone, Verducci sent out naked guys on skates. Then Merced upped the ante with naked people on synchronized skateboards. The bay fog rolled in. The naked people got tired of being naked and the crowds slowly dispersed. But not before a photographer from the school paper took a picture of smiling policemen together with naked people. It made a great front page story.
San Francisco has always been tolerant of odd and unusual things. Nudity during the Bay to Breakers race is against the rules, but of course, expected. We all met up after that Bay to Breakers run with Robin and Bob and had a lively conversation about what we each saw during our 12K run/walk. We saw people dressed as fairies, unicorns, and frogs. One team dressed as salmon started at the end of the race and ran to the start, upstream, through the crowds. I was passed by a mountain. The mountain was made of pvc pipes and was carried by members of the Mt. Diablo Unified School District. And then there were the naked people. Lots of naked people.
My kids had never seen naked people running through the streets before. They were as amazed as I was when I saw my first streaker. My brother-in-law Bob quipped "Lucky you! You fast runners got to see the ones in good shape!" Bob said that where he walked people were shouting at the old, overweight and saggy naked people "Put your clothes back on!"
For Christmas last year, Eddy gave his dad a marathon. "Now that you are retired, you can start training again," Eddy said. "We can run together!" Oh my. Well, as the saying goes, "use it or lose it" and so the training began for Jeff and Marion. The big race is on December 2. I've got my pompoms ready.
The Santa Cruz Wharf to Wharf race is a family affair not unlike the Brickyard Run and the Shell/MEF Run for Education held here in Martinez. It starts with elite runners and ends with strollers. Everything from professionals to hobbyists fill the space in between. It does not have naked runners, but it does have 52 bands playing along the route! It's always been a wonderful day. (What a streak of luck!) Especially when you know an ice cream from Marianne's awaits you at the end.