By MATT SIEGER
Martinez Gazette Contributor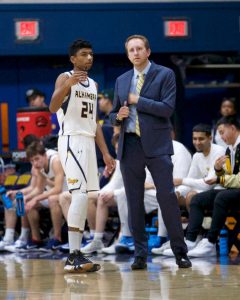 MARTINEZ, Calif. – Ultimately, it was a blowout, as Alhambra defeated Mt. Diablo in Tuesday night's Diablo-Valley league basketball game, 85-51.
But in a fast-paced first quarter, junior guard Trevion Williams was scoring at will for the Red Devils, keeping his team in the game. It was 13-13 when Mt. Diablo took a timeout with 3:12 left.
Enter Lorenzo Fonseca.
As Alhambra coach Chris Petiti put it, "If we need somebody to put the clamps on someone, he's one of the guys to do it."
Did he ever.
Fonseca stopped Williams on a drive, leading to a fastbreak bucket by Wyatt Hammer. After a beautiful Hammer to Jalen Shepard back to Hammer fastbreak for another layup and a Shepard steal for a layup by Joshua Palmer, Fonseca forced Williams into a five-second violation. Before the quarter was over, he had caused two more Williams turnovers, pulled down an offensive rebound which he then fed Jackson Hilton for a layup, and lifted the Dogs to a 21-14 margin at the end of the period,.
Fonseca, a junior and first-year varsity player, said this was his first time facing Williams and that it was a difficult matchup.
"He's a very good player," said Fonseca. "I asked my teammates which is his dominant hand, and they told me that it was his left hand. All my coaches always told me to find [a player's] weakness. His weakness is going to the right hand. So I've got to turn my body for him to go to his right hand, which I did."
He forced two more Williams turnovers in the last minute of the first half, the first leading to two free throws by Brody Eglite, the second to his own three-point play. For good measure, Fonseca tossed in a basket as the half ended, giving the Bulldogs a commanding 42-24 lead.
Williams and Fonseca matched up at different points throughout the game, and it was fun to watch. Sometimes Williams, who led all scorers with 33 points, got the best of him. In the third quarter, he came down court and hoisted and drained a 3-pointer from a few feet beyond the arc before Fonseca could react.
But overall, it was Fonseca's night.
Coach Petiti noted, "You can just tell it in his demeanor, not in an arrogance but in a confidence. I can sense that he's just saying, 'I've got this.' I love watching him play defense because he's just a special defender."
He also chipped in 12 points.
"I try to contribute on offense as much as I can, getting rebounds, anything I can do to help my team" he said. "I just love the game. It runs in my family. My mom [Debbie Fonseca, a point guard in high school and college] taught me from the ground up."
Mt. Diablo (10-11, 1-4 league) got good looks at the basket, many from inside. But the hoop seemed to have a lid on it, as many of their shots hung around the rim and fell off. They fought hard the whole game, but the size and depth of Alhambra was too much. Hammer and Eglite led the Dogs (13-8, 4-1 league) with 16 points each. Hilton had a strong showing around the glass, scoring 12.
"Great contributions all around," said Petiti. "We've been doing that pretty consistently. I love too the sense of togetherness that I'm seeing. They're in it for each other. Make that extra play for your teammates. Lorenzo diving on the floor, even when we're up 30 and there's a minute left in the game. It's a testament to the character of all the guys. They mesh well together, they enjoy being with each other. In practice they have such a good time. They're working hard together. It makes it fun."