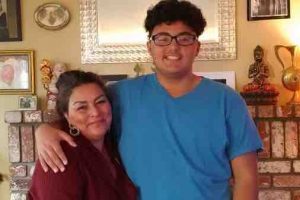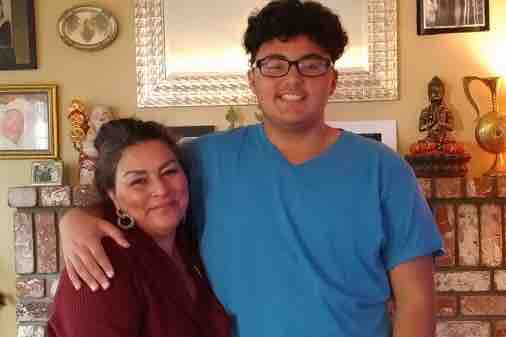 MARTINEZ, Calif. – A 16-year-old Alhambra High School athlete remains hospitalized after being seriously injured in a single-vehicle crash earlier this month near the Martinez Marina.
Meanwhile, community members have started fundraising, not only to help the family with medical expenses but also so the boy's father can spend time at home caring for his son.
The boy has been identified in several reports as Mehdi Ziani, a 10th grader and football and basketball player at Alhambra High School.
According to Martinez Police Chief Manjit Sappal, officers responded Oct. 13 to the Martinez Marina to a report of a single car rollover.
"We did respond to the reckless driving incident involving an Alhambra High School student who was severely injured at the marina," he said. "What we found was that the injured student was a passenger in the car while the driver was 'spinning doughnuts' in a manner consistent with sideshow activity.
He continued, "The student was sitting on the door frame with his body outside the window of the car when he was ejected after the driver lost control of the vehicle; the vehicle eventually rolled onto its passenger side. The student was not wearing a seatbelt and suffered severe injuries."
Zaini was transported to John Muir Medical Center for treatment. The vehicle had three other passengers, but those hurt suffered only minor injuries, he said.
Originally in the hospital's intensive care unit, the boy has been moved to its trauma unit, according to descriptions on fundraising sites.
No charges have been filed in the incident, but the police report has been sent to the Contra Costa County District Attorney's Office for review.
Sappal added, "Our thoughts and prayers are with him and his family during this difficult time."
Zaini himself is trying to use his situation to warn classmates to be mindful about the activities in which they participate, according to one Martinez resident who is helping raise money to help the boy's family address his medical bills and future physical therapy.
"It is very important to Mehdi for him to get the message out to his peers that being unthoughtful and careless about what you do at their age can be very costly, and not to do acts that can lead to destructive and life-changing outcomes," said Dena Derenale Betti, a local woman who learned firsthand how the Martinez community can help a family undergoing tragedy.
Betti has started one of two GoFundMe crowdfunding pages, on which Zaini's extensive injures are described: The boy has undergone some operations and faces more surgeries and multiple blood transfusions, she wrote.
The account lists his injuries as a crushed pelvis, internal bleeding, torn urethra, broken tailbone and right leg nerve damage. So far, the boy has a new bed that lets him move his upper body. He still is struggling to move his legs, which are swollen and abraded, the description said.
Betti is known in Martinez for starting #HerSmile to help parents whose children are victims of tragedies. Her own daughter, Jenna, died after being struck by a train in 2014.
In addition to #HerSmile, Betti also launched a campaign that created a mural by Colleen Gianatiempo at Main Street Plaza as thanks to residents of Martinez, described in the artwork as "The Small Town With a Big Heart."
Betti said she was asked by a Martinez resident, Lynn Tallaferro, whether the Zaini family would be eligible for a #HerSmile grant. But they normally go to a family that lost a child or to dependent children of a deceased parent.
Instead, Betti opened the GoFundMe account.
Based on what medical staff told Zaini's family, she said, "Mehdi will have to undergo extensive physical therapy as a result of his injuries. The long-term prognosis for his torn urethra and nerve damage in his right leg is yet to play out."
A social worker recommended Zaini's father take a leave from work, saying the boy's mother would be unable to care for him by herself.
"We are hoping to raise enough funds to help support the family 's loss of work and to subsidize Mehdi's medical bills," her fundraising page said. "All funds raised through this campaign have been set up for the Ziani family to have exclusive use of the funds for the family."
That GoFundMe account is at https://www.gofundme.com/mehdi-ziani-medical-fund, and the fund is more than a quarter way to its goal of $30,000.
Betti's #HerSmile Facebook page, www.facebook.com/hashtaghersmile/
Another GoFundMe account, started by Amina Ban, has a goal of $50,000. Ban's account said Ziani's sister also was in the vehicle when it turned over, and her arm was broken.
Ban's description of the situation said Ziani is "a kind, goofy and respectful young man. He participated in plenty of sports like football and basketball, a real student-athlete!"
But recuperating from a broken pelvis will take time and difficult rehabilitation, the account's description said.
In addition, a benefit for the teenager is taking place from 1 p.m. to 10 p.m. Thursday at CREAM Concord, an ice cream shop at 2070 Salvio St., that is giving 20 percent of the proceeds from sales during those hours to Ziani's medical fund.
That event also has a Facebook page, www.facebook.com/events/1738996946228221/.
In addition, Stacie Primer has launched a T-shirt sales fundraiser on Custom Ink. These light blue shirts have the logo #MehdiStrong, and money raised from shirt sales will be paid to Souad Zaini Paredes for Zaini's medical fund and recovery. Its webpage is www.customink.com/fundraising/mehdistronglfn.
Alhambra High School Principal Matt Chamberlin has issued a statement on the matter, saying, "I wanted to reach out regarding a local car accident this past weekend that involved some of our students. The family has asked that I share that students make mistakes, accidents happen and, most importantly, the facts of the accident do not match the rumors out in the community.
"Now is the time for support, healing and care, as it will be a long recovery for one student involved," Chamberlin said. "Please keep the student and family in your thoughts."
Meanwhile, Zaini himself has said, "…[T]o all young teenagers, life is very delicate and precious. You have to treat life with respect and think about what you are about to do."