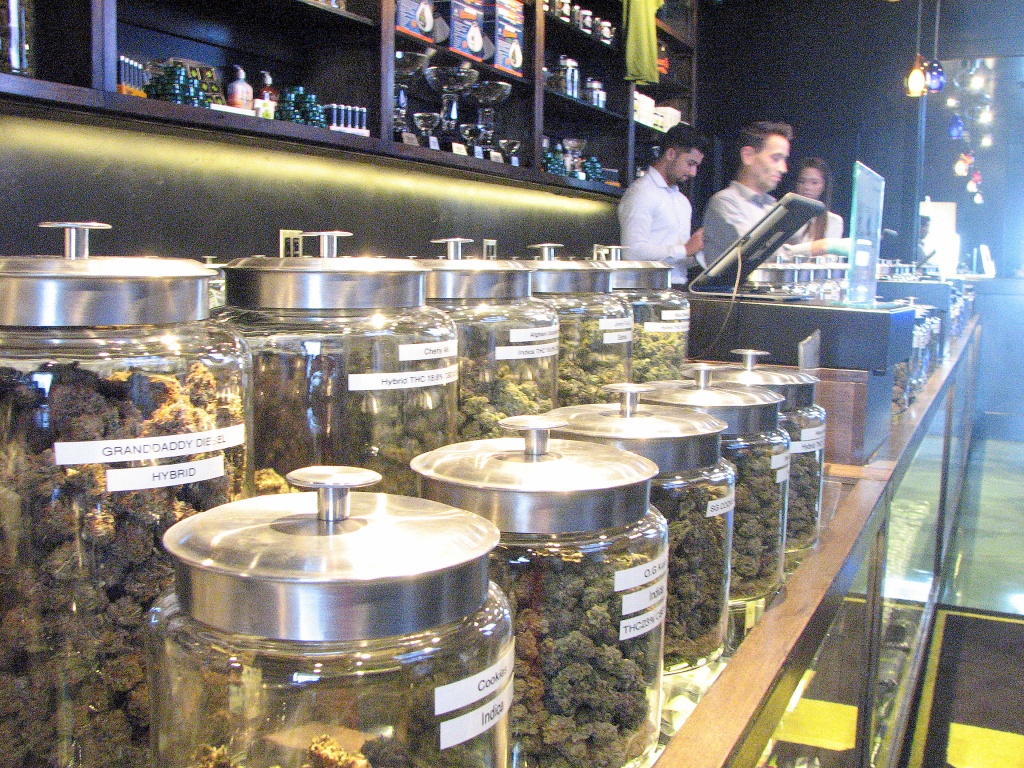 Martinez City Council will take public comment tonight during the first airing of a proposed commercial cannabis ordinance and the related amendment of the zoning code.
The law has been in development for some time, with the Council giving its staff direction Sept. 5, 2018, about the number and types of cannabis businesses that should be allowed in the city, and where those businesses should be situated.
The Planning Commission, after its own review, recommended the Council add non-storefront retail operations as an additional use, which would increase the number of permitted companies to six, according to a report by City Planner Margaret Kavanaugh-Lynch and Community and Economic Director Christina Ratcliffe.
The ordinance draft would provide for two retail or dispensary operations; two delivery licenses associated with the retail cannabis stores, one manufacturing business, one distributor, one testing laboratory and, based on the Planning Commission's recommendation, one non-storefront retail business, that would sell and deliver cannabis or cannabis products to customers from a place not open to the public but instead would be sales consummated by delivery, their report said.
The two wrote that if the Council disagrees with adding the non-storefront retail business, that portion could be dropped from the ordinance.
Martinez also could have an unlimited number of out-of-city licensee deliveries, although permission to operate in Martinez must be granted by delivery permit issued by the chief of police, they wrote. That is because California has amended its own regulations to require cities allow delivery services. There are no limits on the number of those permits.
An ordinance needs to be in place prior to the expiration of the current moratorium on cannabis businesses. That moratorium was adopted to give city staff time to craft the proposed law.
The moratorium makes an exception for the sole business, Firefly, that previously had applied to open a medicinal marijuana dispensary in the city.
Martinez already has a personal cultivation ordinance that became effective Feb. 16.
The report acknowledged that regulating commercial cannabis operations "is a complex issue," and the city's proposed ordinance represents a collaboration of the Planning Division staff, the Martinez Police Department, the City Attorney's Office and HdL, a private consultant and cannabis regulation specialist.
"The ordinance is a document that creates a framework for the selection of highly qualified operators and the regulation of the operation of different types of businesses," they wrote.
Tonight's presentation on the law will include a flow chart that illustrates the selection process for potential cannabis companies as well as maps showing where various types of businesses could open.
Most of the zoning changes would allow cannabis businesses to open where similar non-cannabis businesses are allowed by right. However, no commercial cannabis company would be allowed in residential zones or on Main or Ferry streets.
In general, the permitted areas are Pacheco Boulevard, parts of Arnold Drive, areas south of California Highway 4 along Muir Road, portions of Howe Road, northern portions of the downtown business area excepting Main and Ferry streets and north of the downtown area and Union Pacific railroad tracks.
In addition, the city has agreed with the state's default 600-foot buffer between cannabis businesses and "sensitive receptors" – schools providing instruction in kindergarten or any grades 1 through 12, day care centers or youth centers that were open before the cannabis license is issued.
Unlike the state law, Martinez's ordinance provides definitions for those sensitive receptor terms, especially "youth center." That term became a sticking point to Firefly's application to open a dispensary next to a gym that said minors make up a significant portion of its clientele.
That application has been put on hold while the city works on its ordinance, and Firefly's principals have asked that they not be sent "back to square one" in seeking to open their business here.
In other matters, the Council may modify the bylaws of the Measure D Oversight Committee and make appointments to the committees overseeing revenues from Measure D, Measure H and Measure X.
City Treasurer Carolyn Robinson recommended allowing Measure D committee members to serve up to eight years rather than two two-year terms, because the state lagged in transmitting the sales tax revenues and members did not meet before July 19, 2018.
She said the change would let members better understand and fulfill their obligations. Satinder Malhi and Stephen Fretz would be appointed to two-year terms ending in 2020, and Marta Van Loan would be appointed to a two-year term ending in 2021.
The Citizens' Bond Measure H Oversight Committee appointments would be John Stevens, Brianne Zorn, Jonathan Bash, Peggy Huston and Brian Eychner, for terms ending in 2021, and one standing member to be nominated by the Parks, Recreation, Marina and Cultural Commission from its membership.
The Measure X Oversight Committee appointments are Dennis Horack, Susan Gustofson, Paul Borenstein, James Fleisher, Marshall Cochrane and Cindy Mosser, who would serve three or four year terms to be determined by lots at the Committee's first meeting.
Measure D is a half-cent tax with revenues exclusively for city roadway maintenance and repairs. Measure H is a bond measure benefitting city parks. Measure X, sometimes called the "quality of life" tax, is a half-cent general sales tax with revenues to be spent on city services, to assure keeping them at least at current levels despite rising costs.
The various committees review revenues and expenditures and provide the city with annual reports on their findings. They also may make recommendations about certain aspects of how the money is used, but do not choose projects or contractors.
Robinson also will give the city the Measure D Citizens' Oversight Committee annual report on revenues and expenditures tonight.
Among the items on tonight's consent calendar, which can be approved by single vote, are consideration of an all-way stop at the intersection of Willow and Mellus streets; a request for the Contra Costa County Flood Control and Water Conservation District to adopts an annual parcel assessment for the National Pollutant Discharge Elimination System; a resolution for improvements and changes to the assessment for the Muir Street Park, Creekside, Brittany Hills, Vista Oaks, Center Martinez, Terra Vista, Village Oaks Terrace and Alhambra Estates  Land and Lighting Assessment Districts; adopting a program to manage polychlorinated Biphenyls (PCBs) in building materials during building demolition; receipt of the annual General Plan and Housing Element implementation report; receipt of the Public Works Assessment Implementation Plan update; and accepting a list of roadway projects that would be funding with Senate Bill 1 revenue.
The Council will meet at 6 p.m. today in a closed session to discuss labor matters. The regular meeting will start at 7 p.m. today in the Council Chamber of Martinez City Hall, 525 Henrietta St.