MARTINEZ, Calif. – A longtime problem that began in the 1970s when Martinez and Pleasant Hill made an agreement to buy computer equipment that was far more expensive in that era is over, the Martinez City Council heard after voting on a legal procedure Wednesday night.
On second reading, the Council unanimously amended its contract with the California Public Employees Retirement System (CalPERS) to provide for the merger of the Pleasant Hill-Martinez Joint Facilities Agency (JFA)
The JFA was formed in hopes of allowing the two cities to share the cost of computer equipment. But the agreement didn't work out as intended, becoming complicated when employees were described as working for the JFA, not the city. Pleasant Hill backed out of the agreement early on.
Martinez said 92 workers were JFA employees. But in 2015, an audit indicated the JFA employees actually worked for Martinez. CalPers told the city the employees must start paying into Social Security.
Martinez negotiated a settlement, borrowing $4 million to make the Social Security obligations and terminated the JFA in 2018. The contract agreement and the resulting merger combines two pre-existing plans.
"This has been going on for decades," Mayor Rob Schroder said.
One matter raised Wednesday by members of the audience, but that wasn't on the formal agenda, was concern about behavior by Martinez Unified School District (MUSD) students, both on school campuses and in one described case, at Susana Park.
The MUSD Board of Education has been hearing complaints by parents for two meetings in a row, and received its first staff report on the topic about a week ago.
Last year, the Board adopted the three-part Sandy Hook Promise program that intends to reduce school violence through a combination of interaction with isolated students and observing and reporting behavior that could be precursors of violence.
In addition, some schools have welcomed Fight Kore's Feet First program that incorporates certain boxing principles in training students to have more confidence and better self-control.
But those programs haven't stopped some students from acting improperly, parents told the Council.
Craig Lazzaretti has been speaking to the MUSD Board repeatedly about violence in the schools, urging both the schools and the Council help provide school resource officers as part of a solution. He told the Council that other neighboring cities, including Pleasant Hill, have returned armed officers to schools.
He acknowledged the police department's staffing shortages – it's down by about 11, including vacancies, leaves and other absences – but said the safety of Martinez's youth needs to be a priority. He chided the Council for spending more time on baseball and the development of a golf course than on students.
While some parents have focused on Martinez Junior High School, he said Alhambra High School also has problems. Restrooms are being closed because students were occupying them while using electronic cigarettes.
Yazmin Llamas-Morales said one of her children, an MUSD student, was assaulted by another student at Susana Park. She called for funding not only of an officer but more mental health workers.
Courtney Masella-O'Brien described an on-campus fight involving two girls who became bloodied during the conflict. An administrator tried to interfere, and was pushed to the ground. Neither children nor school staff should have to deal with such behavior, she said.
Other parents expressed concern for special-needs children and whether various types of conflict resolution approaches might be instituted.
Since the subject wasn't on the Council's formal agenda, the Council couldn't address the situation Wednesday. However, under the scheduled period for Councilmember comments, Debbie McKillop said the topic affected her personally, since one of her own children experienced troubles while a student.
Her own experience, which she didn't describe but said should have ended in an arrest and charges, paved the way for her career in criminal evidence processing.
A school resource officer isn't enough, she said. She appreciated the call for more work with students' mental health, and she asked more adults to model the type of behavior they would want students to copy. She urged not just the Council but the entire community to seek out answers. "We can do better."
The Council took no action on a report about an advisory that Star Construction of San Bruno, lowest bidder for 2018 Measure H improvements to several Martinez Parks, had not paid prevailing wages in some prior contracts with other agencies.
Finance Director David Glasser and Interim City Engineer Randy Leptien explained that Star had submitted the lowest bid, at $1,585,025.55 for improvement to Alhambra Park, Golden Hills Park, Highland Park and John Muir Park, which was similar to an engineer's estimate.
The contract was awarded April 17 after finding Star a "responsive and responsible" bidder.
The Foundation for Fair Contracting (FFC) later asked staff members not to award the contract to Star, citing concerns about wages and apprenticeships in work performed for other agencies.
Leptien wrote FFC, explaining that the city's contract required Star to pay prevailing wage and provide reports to the Department of Industrial Relations as required by state law. Those requirements would be enforced, he wrote.
Both Leptien and Glasser explained the advisory came past the time for the Council to address objections, and none of the other bidders filed a protest.
While the panel took no action, Councilmembers urged its staff to be more diligent in seeking bids and writing contracts, agreeing with Assistant City Attorney Veronica Nebb that documents could include points the city considers important.
Resident John Stevens urged the Council to consider adopting a project labor agreement, which would require contractors to pay appropriate wages to those working on city projects. That matter will be coming before the Council in a few weeks, he was assured.
The Council awarded a $2,096,512.45 contract to American Paving Systems for the next Measure D sales tax revenue paving rehabilitation project and a $58,000 agreement with Jacobs Engineers to provide construction support services for that work.
However, Vice Mayor Noralea Gipner said she had heard some complaints and read more on the Facebook Page Martinez Rants and Raves about pavement coming loose shortly after chip seals are put down.
City Manager Eric Figueroa said chip sealing can extend the life of roads, and inspectors can determine whether a job wasn't done correctly.
Stevens also spoke on this topic, saying in his neighborhood in Virginia Hills, people initially complained about the resurfacing treatment. Some damage was caused by garbage trucks and other pavement was damaged when motorists turned their tires on newly-repaired areas. However, most of the work was done three years ago and is lasting well.
Figueroa said those who are having problems with paving repairs should call Martinez City Hall. "Call on any issue," he said. "Let us know."
The panel approved the lease and sublease amendments to the city's agreement to use the Campbell Theater, 636 Ward St.
Gipner and McKillop said they both wanted more information about attendance at OnStage Repertory Theater productions there.
Councilmember Mark Ross suggested asking the Parks, Recreation, Marina and Cultural Commission to look at the arts components of Martinez's downtown area, which would include the California Magic Club and Armando's, the live music venue, and come up with a way to promote them.
Martinez has a commercial lease agreement with JaBa LLC, successor to the Bisio Trust, to use the building, and in turn subleases the theater to Onstage Repertory Theater.
With the latest amendments, which ends Aug. 31, 2020, Martinez rents the building for $5,045 a month and rents it to Onstage for $1,500 a month.
The Council ratified Mayor Rob Schroder's nomination of Julia Dozier to the Contra Costa County Library Commission and the reappointments of Michael Menesini, Charles Martin and Ingemar Olsson to the Veterans Commission.
City Treasurer Carolyn Robinson presented the annual report on Measure H park bond revenue spending submitted by the Citizens Measure H Bond Oversight Committee, affirming the expenditures had been made appropriately.
The panel also received an update to the Water System Priority Projects.
The Council from Bay Church on its Clean Start Program, which started with a clothes-washing service for homeless people, and which the church wants to expand to provide showers and haircuts to the same clients. The Council presented a $500 check to help fund College Park Grad Night and issued proclamations announcing Public Service Week and recognizing June as LGBTQ+ Pride Month.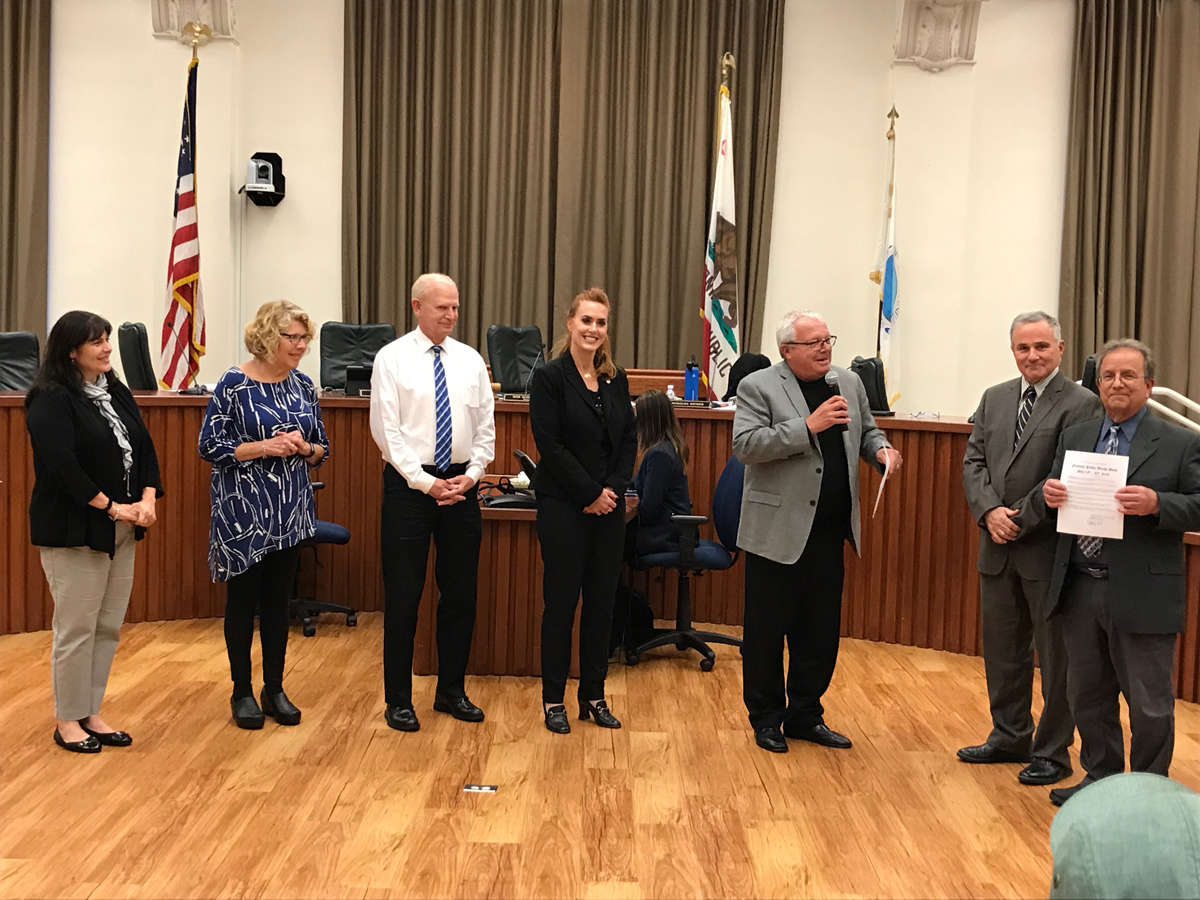 Proclamation recognizing Public Service Week. From left are Councilmember Debbie McKillop, Vice Mayor Noralea Gipner, Councilmember Mark Ross, Councilmember Lara DeLaney, Mayor Rob Schroder, Finance Director David Glasser and Public Works Director David Scola. (DONNA BETH WEILENMAN / MARTINEZ NEWS-GAZETTE)