By Donna Beth Weilenman
Special to the Martinez News-Gazette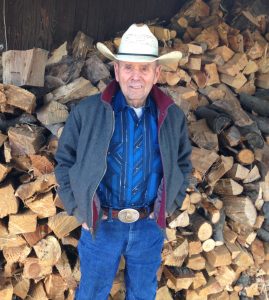 Joe Matta, who as a World War II Marine was a member of the decorated "Striking Sixth" Division that singlehandedly captured two thirds of Okinawa after a fierce battle, has died at 94 after a short illness.
Matta also lived a rich life after the war, returning to Contra Costa County to resume working at C&H Sugar and to play semi-pro football in his native town of Crockett, to buy a 144-acre cattle ranch east of Martinez, and to marry and to rear four children.
He attended John Swett High School, Crockett, and was just 18 when he was drafted before graduation in 1943. That was two years after the bombing of Pearl Harbor that marked the United States entry into World War II.
Since the Army had no openings, he was assigned to the Marine Corps. That surprised Matta, he said in a past interview. "I didn't even know what the Marine Corps was." Later, though, Matta would have encyclopedic knowledge of his Marine division, the famed "Striking Sixth."
During boot camp in San Diego, Matta learned about the Marines and how to fire a gun for the first time, starting with the military issue M1 rifle.
He was sent on the aircraft carrier USS Wasp to Pearl Harbor, on O'ahu Island, but that was just a stop before heading to Guadalcanal in the Solomon Islands in the Southwestern Pacific.
That's where the Army and the Marines were forming the new Sixth Division, made up of the Fourth, 22nd and 29th Marines and multiple other battalions, and where Matta and other servicemen trained for five months, preparing for the Battle of Okinawa.
The fighting was expected to be fierce. The military already had experienced massive losses on Guadalcanal before it was secured in 1943.
Before the Sixth Division was deployed, a shipboard Catholic priest gave Matta and the others last rites. "They knew some of us were going to die," Matta said in a past interview. What he didn't know at the time was "some" would end up being "most."
The Sixth Division made an amphibious landing April 1, 1945, Easter Sunday. Matta was trained in field artillery, which put him behind the soldiers and Marines who made up the front line against the worst of the Japanese assaults.
Behind them, Matta was firing 105 Howitzers that shot out a variety of projectiles, some bursting in air to rain shrapnel, others exploding on contact, and still more that waited until they plowed into the ground before they blew up. The Howitzers had a range of seven miles.
As part of the First Battalion of the 15th Marine Regiment, Matta and his companions were handling four guns they kept firing day in and day out. For that engagement, the Marines had issued no ear protection, and Matta lost some of his hearing as he stood and fired his booming gun.
As determined as the Allied forces were to take the island, the Japanese were just as determined to keep it. They capitalized on its rough terrain and plentiful caves and returned fire. Matta would tell stories about being surrounded by dead soldiers, of trying to rest despite growing swarms of flies. He kept other stories to himself.
He would describe seeing for himself the bravery of the Japanese, whom he learned were ready to die for their emperor and would sign up for suicide missions as kamikaze pilots.
"A lot of the planes the Japanese sent to sink ships were shot down before they could hit the ships, but they did sink 32 ships and damaged more than 300 in the three months we fought there," he once said. But some also chose to surrender, he noted.
Bit by bit, the "Striking Sixth," as the division became called, routed out the Japanese from Okinawa.
The division reached Ishikawa in three days and took the entire Ishikawa peninsula, reaching 55 miles inland, by April 14, 1945, far shorter than expectations.
They defeated the Kunigama detachment led by Col. Takehiko Udo, who was charged with defending Motobu Peninsula. Driving on, the division liberated most of Northern Okinawa from Japanese hold, then went south to fight another Japanese defense called the Shuri Line.
Then the Sixth Division was ordered to take Sugar Loaf Hill, a complex of three hills on the western end of the Shuri Line. They came under heavy artillery fire and mortars. But in a week, Sugar Loaf Hill was captured.
The division took aim on Naha, home of a major airfield and harbor that would be key to the Allied victory. That nine-day battle has been called the bitterest of the Okinawa campaign.
Both sides suffered heavy losses – the Sixth lost 576 fighters in a single day. Night pictures of the battle show a sky crosshatched with tracers' white lines. "It was day after day after day," Matta recalled.
The Marines were credited with capturing or killing nearly 24,000 of the Japanese. By the time Matta reached Naha, he said, "There was nothing but dead people."
The Sixth Division is credited with capturing two-thirds of Okinawa for Allied forces. Five other divisions took the rest of the island. The battle on Okinawa ended officially June 21, 1945.
For its courage and accomplishments, the "Striking Sixth" received the Presidential Citation, the highest award a military unit can receive.
The citation, by Secretary of the Navy James Forrestal, recognizes the division for "extraordinary heroism in action against the enemy Japanese forces during the assault and capture of Okinawa, April 1 to June 21, 1945." The document summarizes the Sixth's accomplishments and praises them for withstanding "overwhelming artillery and mortar barrages."
Forrestal also lauded the division's "valor and tenacity," saying, "their gallantry in overcoming a fanatic enemy in the face of extraordinary danger and difficulty adds new luster to Marine Corps history and to the traditions of the United States Naval Service."
But Matta also had memories of a tender side to the war, when he and his fellow Marines took care of civilians, including a small child.
"The Okinawans are small people," he said. The civilians were devastated by the war. "We would feed them, 200,000 of them. And we took care of their wounds."
In another remembrance, Matta recalled seeing a house and well on Motobu Peninsula. "I hadn't had a bath in a month," Matta said. He and another Marine received permission to take a shower at the well while others stood guard.
As the men bathed, Matta spotted a little Okinawan girl, about 4 or 5, in one of the nearby caves. "She was watching us, and she had flies on her face," he said. The girl made no move, not even against the flies.
"I said, 'Let's give this kid a bath.' She didn't make a move." Under the watch of an older Okinawan man, the Marines cleaned up the little girl and gave her a kimono they had. "It fit her perfectly," Matta said. Touched by the situation, Matta gave the child a hug.
The elderly man offered them some of his chickens in repayment for the garment. But the little girl never said a word, not even when the Marines left. "It just broke my heart," Matta said.
Before he left Okinawa, Matta visited the cemetery that held the bodies of his former battle mates, including Lt. Gen. Simon Bolivar Buckner Jr., the 10th Army commander who was the highest-ranking U.S. officer killed by enemy fire during that war. "Three months ago, they were alive," Matta recalled.
The Sixth Division began training to invade Japan itself. But on Matta's 19th birthday, the United States dropped an atomic bomb on Hiroshima. Days later, it also would drop a second atomic bomb on Nagasaki. The Japanese surrendered shortly afterwards, and the invasion was called off.
Matta was deployed to occupy Japan as part of Task Force 31, and later would go to a portion of China that had been under Japanese control.
From China, Matta returned to San Diego, and as soon as he was discharged with the rank of corporal, he took a bus back home to the Bay Area.
"I left home at 18 and didn't come home until I was 21," he said.
Once back in Crockett, Matta returned to the C&H Sugar plant, where he would work 45 years.
He also had another Crockett credit. For a few years, he was right guard, No. 28, for the Crockett Rockets semi-pro football team that played against Martinez, Pittsburg, Concord, Petaluma and Oakland.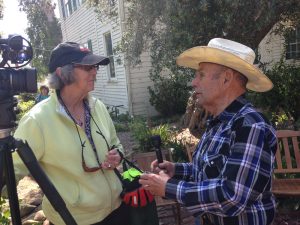 He used his military pay to buy his 144-acre ranch southeast of Martinez and stock it with Angus cattle. He also raised and trained Quarter horses, which he used to round up and drive his cattle.
In 1957, he married his wife, Lorraine, and together they reared three daughters, Sherry, Verna and Lori, and one son, Joe. Lorraine preceded him in death.
Like many cowboys, Matta began writing poetry, rhymes about ranch life and a few self-deprecating ones that showed his humor about getting old, often recited them with a sly grin and a twinkle in his eye.
Among his survivors are his four children and their spouses, Joe, and Laura Matta, Lori and Robert Jenkins, Sherry and Steve Shimel and Verna Finau; grandchildren Vanessa Finau, Lia Finau, Melissa Ornelas, Wade Jenkins; and three  great-grandchildren.
The family is planning a remembrance of Matta's life at 11:30 a.m. Dec. 14, at St. Rose's Church, 555 Third Ave., Crockett, and a celebration of his life afterwards at the church's parish hall.