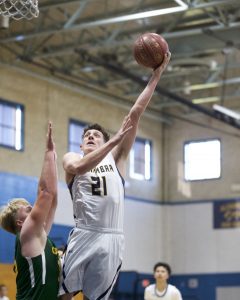 The Alhambra Bulldogs basketball team took third place in the annual Alhambra Winter Tourna-ment on Saturday afternoon, defeating the Capuchino Mustangs (Millbrae) 58-52.
The first quarter was a seesaw offensive battle. The Dogs (3-1) took a 16-14 lead on a three-point play by Brody Eglite, but the Mustangs (0-3) tied it at 16-all on a bucket by Anthony Contreras. Alhambra's Anthony Wong broke the tie with his fourth three-pointer of the period. Alhambra led 21-18 and held the lead the rest of the way.
But Capuchino never let up.
"They play hard, they're scrappy, and they made it tough for us," said Alhambra coach Chris Petiti. "We did enough to pull it out. We had 13 turnovers, which is better, but it's not where we want it to be. It's a good test for us, especially to play against a well-coached team like Capuchino. They are very similar to some of the teams we are going to see in our league."
Mustangs coach Marty Ruiz was only able to suit ten players, as two were out with injuries. The Dogs wore Capuchino down a bit in the second quarter, with layups by Eglite and Jalen Shepard opening up a 25-18 advantage and forcing Ruiz to call a timeout. It was 40-29 in favor of Alhambra at the half.
But Capuchino was tireless and locked down hard on defense in the third quarter, limiting Alhambra to just six points and closing the period trailing by just five, 46-41.
A key point in the game was the beginning of the final quarter. The Bulldogs' Wyatt Hammer hit a two-point shot from the left corner and followed with a three-pointer from almost the same spot, just a few inches further back, on a nice feed from Thomas Major.
That gave the Dogs a 52-41 lead with 5:05 left to play. They held on the rest of the way in a battle of fouls and foul shots. Jalen Shepard's free throw shooting was crucial for Alhambra, as he went 8-for-11 from the line. He and Wong both finished with 12 points to lead the Dogs.
Also critical was the work of Eglite on the boards. He grabbed 16 rebounds, six on the offensive glass. Just as importantly, his teammates were able to get the ball to him inside to draw the defense.
"They're sending three or four guys at him every time," said Petite, "and he is such a team player. If he has an opportunity, he'll take the shot. If not, he's eager to pass it to his teammates. And he owns up to his mistakes. When you have a player like that, it's huge. He's averaging 13.5 rebounds. We challenged him at the beginning of the year to see if he can get 15 rebounds per game. He can do it."
Lorenzo Fonseca impressed on defense again for the Dogs, his quickness and long wingspan tipping a couple of balls. He made a spectacular headlong dive on one of them to keep the ball in play.
Eglite scored eleven and Hammer chipped in 10. Cruise Thompson led the Mustangs with 15 points, including three treys, and Zarian Martin added 12.
Shepard and Eglite were named to the All-Tournament team.
Alhambra's next game is Wednesday, December 5, at 7 p.m. at home against Casa Grande.