Edgar (Nodge) Kemp Irwin
Resident of Martinez, Calif.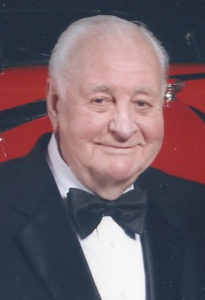 Edgar (Nodge) Kemp Irwin, age 86, passed away April 16, 2018, after a brief illness.
Nodge spent a lifetime helping others. He was a Lafayette Firefighter, a union Business Agent for Local 1, a Correctional Officer at San Quentin for twenty years, and a Reserve Deputy for the Contra Costa County Sheriff's Office, working in courts and transportation.
Nodge was a founding board member of the Micki Rainey Scholarship Fund, and a founding member of the Contra Costa County Retiree Support Group. He was a proud supporter of the Alhambra High School Athletics Department, and was a contributor to the football team's senior hat program.
Nodge was also a member of many fraternal organizations. He was a Freemason, Martinez Lodge #41, an Aahmes Shriner, and a member of the following: Oakland Scottish Rite, Royal Order of Jesters – Oakland, Martinez Sportsman's Club, and the Martinez Moose organization. He also belonged to the Contra Costa County Sheriff's Posse.
Nodge had many favorite pastimes. His cooking was enjoyed by all, whether it was while he volunteered with the Sheriff's Posse BBQ Crew, or was cooking pounds of spaghetti and meatballs for the Alhambra High School football teams. He was often found watching the Oakland A's baseball games with his grandsons, Justin and Donovan, but most enjoyed attending their high school and college football games. He constantly bragged about his granddaughter, Victoria, and how she is currently attending law school. He also enjoyed watching his youngest granddaughter, Camilla, learn how to swim.
Nodge had a great sense of humor and would spend hours telling grand tales to his children and grandchildren. From Harvey the rabbit to the great turkey hunt, Nodge's stories would entertain all who heard them.
Nodge is survived by his wife of 53 years, Donna, who was always found by his side; his five children, Kathleen, Kristina, Susan, Scott, and Steven; nine grandchildren; and many great grandchildren. Nodge will be truly missed by all who knew and loved him.
Per Nodge's request, no services will be held. In lieu of flowers, please feel free to donate to the Shriners Hospitals for children donate.lovetotherescue.org.