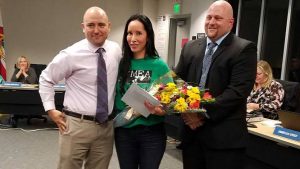 MARTINEZ, Calif. – Andrea Salas, who has been an Alhambra High School teacher for 19 years, is among the four finalists for Contra Costa County Teacher of the Year.
Another finalist, Shanna Gagnon, is a former teacher in the Martinez Unified School District. The four were chosen from 22 nominees.
A native of Los Angeles, Salas grew up with a love of school, and during summer breaks would teach "classes" for neighborhood friends who met on her front lawn. After college, she started her teaching career with Teach For America, which brought her north to the Oakland Unified School District for five years.
From there, she was hired to teach mathematics, statistics and computer science at Alhambra High School.
Gagnon, of San Ramon Valley Unified School District, originally entered a business career as an accountant and purchaser, then switched to education. She taught in both Martinez and the Acalanes districts before changing five years ago to California High School in San Ramon, where she is a history and iQuest teacher.
Other finalists are from Mount Diablo Unified School District.
Kelly Perkins is a life skills, and remedial mathematics and language arts teacher of special education classes at Ygnacio Valley High School, Concord, and adjunct professor for the Education Specialist Program at St. Mary's College, Moraga.
Rosie Reid is an educator for 16 years who is English and English Language Development teacher at Northgate High School in Walnut Creek.
The Contra Costa County Teacher of the Year program is directed by the county's Office of Education, and has a three-stage selection process to determine final candidates. Initially, a 10-judge committee screens applicants and narrows the field to four finalists.
After that, a small committee of education specialists and business partners observe the finalists and their students in visits that conclude May 25. The finalists also will be interviewed so they can explain their teaching philosophies and techniques.
The finalists will give short speeches July 24 to a different panel of educators and representatives of businesses and the public sector.
At the Contra Costa County Teacher of the Year Dinner Celebration Sept. 27 at the Concord Hilton, County Superintendent of Schools Karen Sakata will introduce each of the 22 nominees, after which the finalists will give the speeches they gave in July. Then the 2018-19 teacher of the year will be announced.