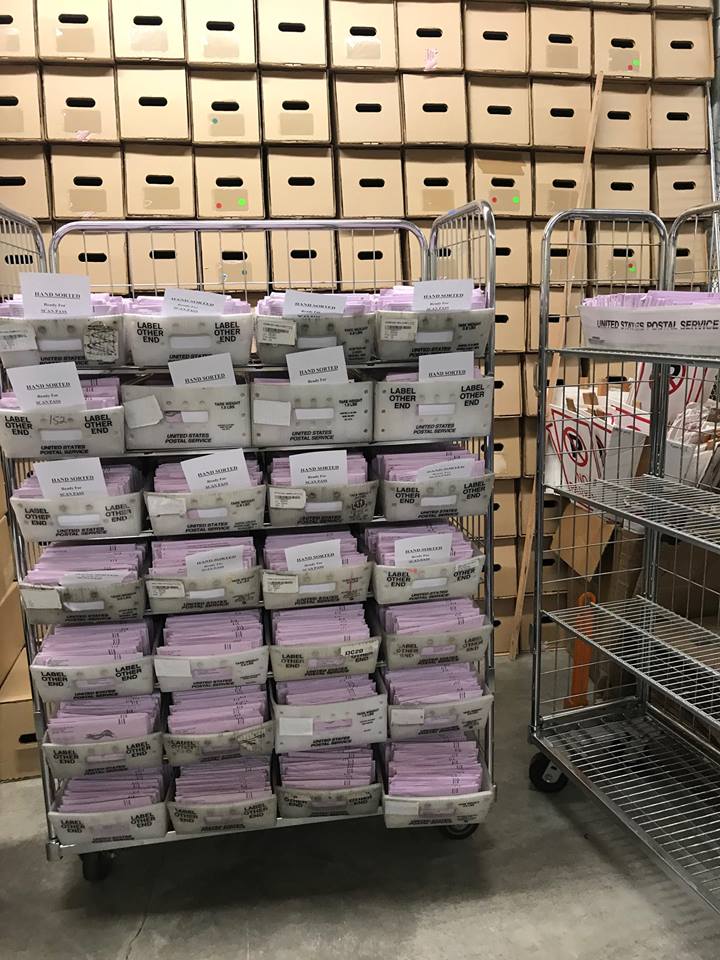 Concerned that some voters might be confused whether to vote by mail or in person and try to do both, Contra Costa County Elections Division has updated its procedures for Tuesday's mid-term election.
In a statement issued Wednesday, the Division said California law lets voters who are issued a vote-by-mail ballot to turn it in and vote at polls during Election Day.
"Besides being a waster of taxpayer dollars, it has resulted in the possibility of a voter casting more than one ballot without immediate detection," the statement said.
In addition, the Division has received what it called "many recent reports" of California voters receiving multiple ballots, the statement said. In response, the Division reviewed its processes at polling places and updated its practices to ensure election integrity and to prevent multiple voting, the statement said.
While each election more Californians have shown a preference for vote-by-mail rather than going to polls, a portion of voters still prefer to cast their ballots in person, statistics have shown.
In this election, more Martinez area residents will be voting by mail because of by-district voting adopted by both the Martinez City Council as well as the Martinez Unified School District Board of Education.
Those changes were motivated by the two panels' reluctance to fight lawsuit threats by Malibu Attorney Kevin Shenkman, who accused both agencies of diluting "protected group" or minority registered voters' impact through at-large elections.
In his letters sent in 2017, he accused both agencies of violating the California Voting Rights Act and of having racist attitudes and procedures in place that reduce the ability of minorities to see their chosen candidates succeed.
Both panels vehemently denied his accusations, but acknowledged that no city or other elected district panel that had fought Shenkman's accusations had succeeded. Those failed efforts have cost those agencies hundreds of thousands of dollars to several millions.
Neither the Council nor the Board of Education was willing to risk that much in revenues. Instead they reluctantly drew area maps designed to comply with both federal and state voting law requirements,
Because the boundaries of the city of Martinez and the Martinez Unified School District are not identical, and because of other provisions of the voting rights' laws, the new voting areas, caused some precincts to be reduced in population, the Elections Division announced earlier this year.
As a result, many Martinez voters discovered they no longer had a polling place and would need to vote by a mail-in ballot. However, that ballot could be dropped off at the Elections Division, the Martinez Senior Center or the Contra Costa County Administration Building, according to the Division's previous announcements.
"We encourage all voters who have been sent a vote-by-mail ballot to vote and return that ballot either through the mail, using one of our 23 drop boxes or at any polling place on Election Day," said Joe Canciamilla, Contra Costa Clerk-Recorder-Registrar of Voters, in his announcement.
"Requesting a second ballot on election Day contributes to lines, delays, unnecessary costs as well as security concerns," he said.
In the Division's statement, it said vote-by-mail voters who show up at their home polling place to vote need to bring the ballot return envelop addressed to them as well as all six cards that comprise the ballot. That applies to voters in precincts that still have physical polling places.
Once it's confirmed that the voter is in the right location and the envelope and the ballot cards are verified, the voter signs a declaration card and is offered a non-provisional ballot.
However, if the vote-by-mail voter is in the wrong place or can't provide all those items, the voter will be issued a provisional ballot, the statement said.
The voter will be issued a provisional ballot, which the Elections Division statement said is the same as a non-provisional ballot.
However, the difference is the Election Division will need to verify the voter hasn't voted elsewhere before the ballot is counted, the statement said, adding that in June 2018, 90 percent of the provisional ballots that were cast wee counted after being reviewed.
Those voters who have requested to be mailed a ballot who decide they prefer to vote at the polls on Election Day are being asked to cancel their permanent vote-by-mail status by calling the Elections Division, 925-335-7800 or by re-registering.
Tuesday Election Day, when all ballots are due.
Polls are open from 7 a.m. to 8 p.m. Any voter who believes voting rights are being denied may call the Secretary of State confidential toll-free voter hotline, 800-345-VOTE (8683).
Because of new districts adopted by Martinez and MUSD, many precincts no longer have physical polling places, but those interested can vote in person at the Clerk-Recorder-Elections Department at 555 Escobar St.
Vote-by-mail ballots will require 92 cents if returned by mail. They also can be delivered to the Elections Department at 555 Escobar St., the Martinez Senior Center, 818 Green St., and the Contra Costa County Administration Building, 651 Pine St.
Those interested in viewing voting options may visit www.cocovote.us.