The equestrian arena formerly used by the Martinez Horsemen's Association is being reopened today by its new user, Tri-Cities Horsemen.
The Martinez Horseme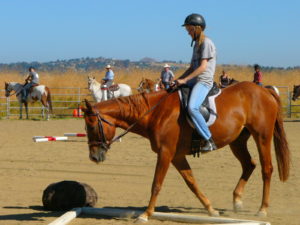 n's Association disbanded last year after 70 years of rodeos, parades and other riding activities.
It maintained and used the arena, at the end of Joe DiMaggio Drive, under an agreement with the East Bay Regional Park District. Tri-Cities has the new agreement with the park district.
Based in El Sobrante, the club has 60 individual and family members in the East Bay who are involved in gymkhanas, play days, trail riding, barbecues and other get-togethers. The club is part of the California State Horsemen's Association.
The reopening will be a celebration with Girl Scouts raising a flag, demonstrations of equestrian events, a showcase of various horse breeds and a chance for people to interact with a horse. Information about the arena and the club will be available at booths.
Food and beverages will be available for purchase. The event is open to the public, and those attending are invited to bring chairs.
Those interested may call 510-304-1025.