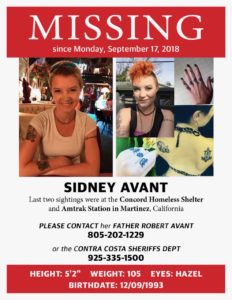 MARTINEZ, Calif. ­­– Robert Avant and his 24-year-old daughter, Sidney, have had a long-standing agreement that no matter what she's doing, she would keep in touch with her father.
But the last word he has about Sidney was Sept. 17, when she told a friend she was leaving the Contra Costa Regional Medical Center in Martinez and was at the Martinez Amtrak Station, in need of shoes and money.
Despite his frantic searches, Avant has not found Sidney. Nor has he found anyone who knows what has happened to her.
"I live in Pismo Beach, but I grew up in Benicia. She did, too," Avant said. Both went to Benicia High School, and both have spent many years in the San Francisco Bay Area.
But Sidney has had a troubled life in recent years, Avant said. She had been living in Sacramento with a boyfriend, a relationship that was marked by fighting, Avant said. Later she moved to Davis to live with Avant's mother.
Sidney has been in and out of treatment for substance abuse. During her trips to hospitals, she was described as dealing with depression, bipolar disorder and schizophrenia.
Fortunately, Sidney has not ignored her problems, Avant said. "She wants help," he said, adding that she has entered detoxifying and other rehabilitation programs.
Avant understands what his daughter is going through. He has undergone treatment himself and entered recovery when Sidney was a teenager. He said he has been clean and sober for the past seven years.
Even though his daughter has not experienced his success with treatment, Avant said the pair still has had a good relationship.  Sidney had kept her end of their commitment to reach out to her father every few days, no matter what condition she was in, he said.
Sidney recently sought rehabilitation in San Francisco, but was sent to the Contra Costa Regional Medical Center, where she also was being observed after the threatened suicide, Avant said.
When she was released Sept. 17, she called a friend, saying she had no shoes or money, and she asked the friend for help. Sidney said she was at the Martinez Amtrak station, but the call was traced to the hospital, Avant said.
The friend gathered some supplies, but when she got to the train station, Sidney wasn't there.
"Now, nobody's certain where she is," Avant said.
He has been searching extensively for his daughter, traveling to every stop on the BART system, checking in hospitals, homeless shelters and encampments in Antioch and Concord, where she was reported to have been seen.
He's checked out tips that Sidney might be in the Tenderloin district of San Francisco and other neighborhoods. "I've gone to each corner of the Bay Area," Avant said.
Avant has been posting flyers with photographs of Sidney, including her distinctive tattoos. She's described as 5 foot 2 weighing about 105 pounds and having hazel eyes. She has several piercings, a barbed wire armband tattoo below her left shoulder, a bulldog and an anchor image on her back shoulders and more illustrations on her right shoulder and left and.
The father said he is worried. Not only has this been the longest time he has gone without hearing from Sidney, he said she isn't self-sufficient. "She thinks she's street-smart," he said, but likely wouldn't be able to manage on her own in Martinez.
Part of Avant's problem in finding his daugher is that doctors and hospitals are restricted about what they must release about adult patients, even to the patients' parents. Most hospitals abide by the Health Insurance Portability and Accountability Act Privacy Rule (HIPAA) that specifies when patient consent is required before information can be disclosed.
Another complication in his search is that Sidney is an adult. Unless foul play is suspected, law enforcement is limited in what it can do to help family members find missing adult children. Avant said Contra Costa County Sheriff's Office has been as helpful as it can be, but that hasn't ended his frustration or worry.
Martinez Police Chief Manjit Sappal said if his department is notified in a case such as this, his officers will be aware the adult is missing, and if the person is found or encountered in an encampment, officers would be aware the person is being sought.
"Generally, police agencies will conduct searches for missing kids or people at risk or conduct follow up," he said. "Usually with adults, unless there are circumstances that indicate foul play, we do not usually do an active search. That's more than likely why the family is out looking for her."
Anyone with information about Sidney Avant may call the Contra Costa County Sheriff's Office at 925-335-1500 or Avant at 805-202-1229.