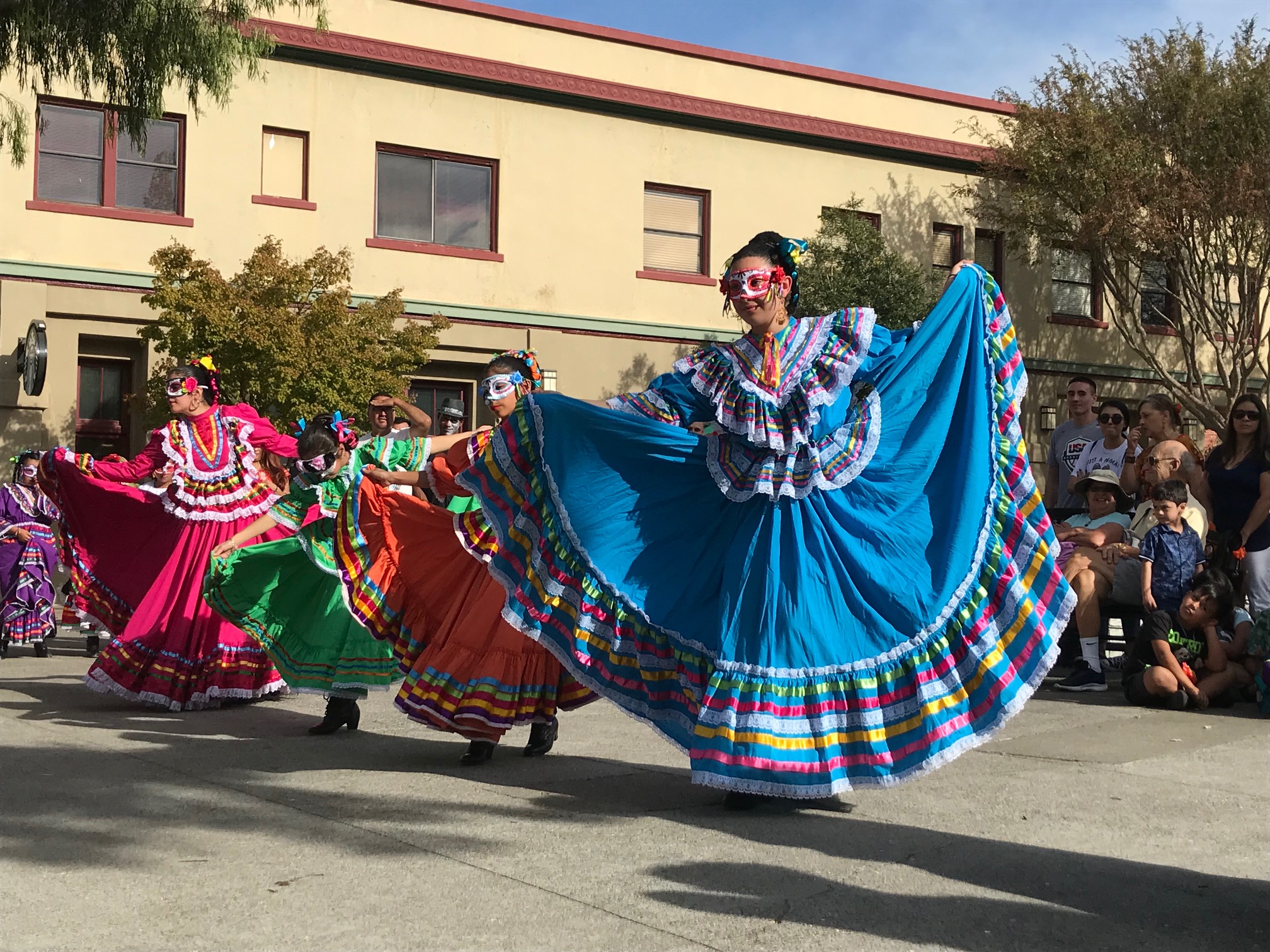 MARTINEZ, Calif. – Sugar skulls, cigar-box nichos, large displays and a plaza filled with dancers turned Main Street into a Central American festival Saturday during the Dia de Los Muertos Festival of Altars.
Under spreading black wings, which gained paper feathers decorated in colored chalk by children, residents set up small remembrances of lost loved ones in a community altar.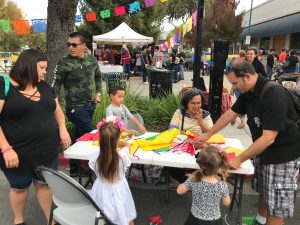 Some of the nichos were created earlier at a crafts workshop at Martinez Library, where Dorrie Langley and Lorena Castillo guided participants in assembling the themed shadowboxes and dressed skeletal Catrinas, an iconic Dia de Los Muertos female figure with a sugar skull face and usually seen wearing a fancy hat.
Other people brought their own displays as remembrances of loved ones. Those included Langley and Julie Christopher of the Martinez Arts Association, which has joined with Artcelerator and Castillo to encourage participation, not just attendance to the event.
Castillo served as the emcee for much of the festival as well as a guide for those new to the celebration. As she spent time explaining, Dia de Los Muertos is not somber, nor is it associated with Halloween.
Instead, the festival is based on a 3,000-year-old Central American tradition of celebrating the lives of those who have died and of keeping their memories alive.
During Saturday's event, several tables were set up so children as well as adults could try their hand turning wine corks into sugar skull images. Others used recycled materials to make pendants. Some, guided by Ana Gosney, learned to fold and open tissue paper to make colorful flowers.
Ometekpatl Aztec Dancers demonstrated their cultural dances to the rhythm of a large upright drum played not only to keep time but also to represent a heartbeat for the performers.
Also dancing was Martha Gutierrez's Baile Folkloria, which has classes Thursdays at Las Juntas Elementary School. The troupe filled the Main Street Plaza in colorful dresses with flowing skirts.
Soloist Sienna Coward tapped into the songs that were loved by her grandfather, which she sang for the crowds.
Langley became reflective as she watched people write names on yellow paper butterflies which they attached to a ribbon tree in her Monarch Forest.
"One youngster asked, 'Does it have to be a person?' We said that a pet would do!" she said.
In its fifth year, the Dia de Los Muertos Festival of Altars has been attracting more and more people with each event.
"I think the spectator crowd grew three-fold this year, as I counted rows of people watching the Aztec dancers!" Langley said. "Many folks thanked us for putting on this warm, family-friendly celebration."
"I proud of the work our small committee was able to achieve. The Aztec dancers, ballet folklorico and singer Sienna Coward made for very engaging entertainment," Castillo said.
Castillo said she hopes next year even more people will want to create altars.
She also is hoping to find a way to offer food items at some of the booths.
"Food is always a tricky thing to negotiate in our downtown but it would be great to get some traditional food during the event," she said
She credited Barbara McDough and her daughter, Libby, for running "an amazing raffle" that let ticket buyers have a chance to take home artwork and contributions from downtown merchants. "Those funds help pay for the entertainment and (promotional) materials." She also praised Langley for coordinating the related library events.
"I feel overwhelmed by the love and support from our community. It's very clear to me that this event brings healing and joy for so many people," Castillo said.