By CHARLIE JARRETT
Martinez News-Gazette Contributor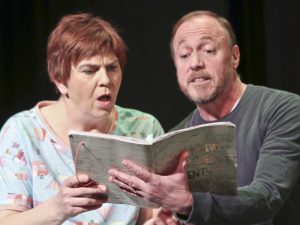 "Fuddy Meers" is a remarkably well written, very dark comedy, which the B8 Theater company opened in Concord this past week. The story centers around Claire (Jan Lee Marshall) a psychogenic amnesiac, who wakes up every morning with no prior memory of her past. This rare occurrence happens where and whenever she goes to sleep. This play was written by David Lindsay-Abaire and first work-shopped at the Eugene O'Neill Theater Center in Waterford, Connecticut in 1999. Abaire is a highly regarded American playwright, lyricist, and screenwriter. He received the Pulitzer Prize for Drama in 2007 with his powerful play about a family surviving a major loss, entitled Rabbit Hole. In addition to notable theater works, he has also written for the movie industry, including "Shrek the Musical", "Rise of the Guardians" and "Good People", among many others.
The play opens in a bedroom as Claire awakes and sits up in bed. Our first impression of Claire is that of a woman who has just awaken from a good night's rest as she opens her eyes, but appears curious and confused as she stretches and looks about the room. This morning, like all mornings, as we later discover, she wakes up in a blank state. Her husband, Richard (Stephen Rexrode), enters the room with a cup of coffee and tries to dispel her concern as he explains to her, her strange condition. He hands her a book he has created which tells her all kinds of pertinent information that she will need to know as she again starts a new day from scratch. This book tells her just about everything, except how she got this way!
Almost immediately after her husband leaves the room to take his morning shower, a lisping, limping, half-deaf man in a ski mask (David Ghilardi) mysteriously pops out from under her bed, claiming frantically that he is her brother, there to save her life. He cajoles the bewildered woman into leaving the house with him and they subsequently drive to her mother's country-home, where he claims she will be safe. The play becomes more confusing as her mother (stroke-impaired with a speech impediment), Gertie (Maureen-Theresa Williams), resists her daughter's entry with the man whom she knows to be her daughter's dangerous ex-husband. The chaotic and harrowing nightmare further evolves as Claire's present loving husband attempts to find his wife, accompanied by Claire's own stoner teenage son, Kenny (Jack Isaacson-Brewster), and a kidnapped Policewoman, Heidi (Briel Pomerantz). They pursue Clair to her mother's house where they also encounter a simple man with a foul-mouthed but informative puppet, Millet (Terry Tracy), who joins them on this hilarious upstairs, downstairs rollercoaster ride through uncharted territory. Through each bend of this wild ride, little bits of her past history begin to come back to her. This story culminates in a very clever ending that finally starts to make sense, but still it leaves us wondering about the future.
Director Max Minton whips-up the insanity and comedy into an almost laugh-a-minute whirlwind of confusion with a terrific cast who each contribute electricity and excitement in just about every moment of this excellent production. Costumes are under the artful design of Liz Martin, who's great little Pink Depford Design Studio is located in Martinez, where my wife and I have even rented costumes for Halloween parties. Fuddy Meers continues Friday and Saturdays at 8pm with Sunday matinees at 2 pm, now through March 2nd. Call (925) 446-8035 for more information or go to https://www.brownpapertickets.com/event/3599748 to order tickets. Tickets are more than reasonable at $15 (military) $20 (Students & Seniors) & $25 each (General Admission). The theater is located in a former bank building and the address is 2292 Concord Blvd. in Concord. The theater is only a 5-minute walk from BART in downtown Concord. Unfortunately, this theater company is losing this theatre venue as the City of Concord is tearing down the building to put up a parking facility. I have been raving about this little company so this is your last chance to see them at this convenient, easy to reach location, just a couple of blocks from Todos Santos Plaza. This is definitely a "Do Not Miss" production!