Gerald "Jerry" St. Ores Andersen
Sept. 23, 1934 – Nov. 22, 2018
Resident of Oakland, Calif.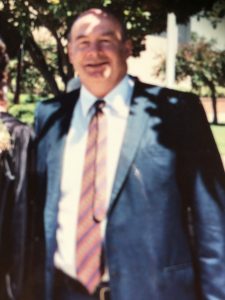 Jerry was born in Chadron, Nebraska to the late Paul and Mabel Andersen, and passed away in Oakland after living at Mercy Retirement and Care Center for many years. He was preceded in death by his sister and brother-in-law, Pauline and Don Johnson, and sister Arlene Cole. He is survived by his daughter, Jacqueline Andersen, and three grandchildren, Christopher Andersen Tower, Miranda Andersen, and Jillian Andersen Tower; brother-in-law, Henry Cole, nephew Matt Cole and niece Marina Cole; nephew Dana Johnson (Jenny); and niece Jackie Molloy Nichols (Bill); as well as several cousins.
Jerry attended Encinal High School in Alameda, and then UC Berkeley, where he graduated with a degree in Electrical Engineering. He married Sheila Molloy (Nichols) in 1958 and they were married for 10 years. In 1963, he delighted in having their niece, Jackie Molloy, live with them for a year. Later in 1964, their only daughter, Jacqueline Lee Andersen came along. 
Jerry valued his family very much, and had extra special memories of his time in Italy with his parents and youngest sister, Arlene. He enjoyed being a sports fan and played football in his younger years. He also spent a treasured summer working in Oregon for the Forest Service. He spent the majority of his career as a math teacher at Alhambra High School in Martinez.
He was extremely proud of his daughter and three grandchildren. He encouraged and supported their love of Disneyland, was delighted that they visited his beloved Italy, as well as their various educational pursuits. He expressed that he felt "very blessed to have such a beautiful family."
Family and friends are invited to attend the Graveside Service on December 15 at 2:00 p.m. at the Santa Rosa Memorial Park, 1900 Franklin Ave., Santa Rosa And a Memorial Service on December 30 at 1:00 p.m. at Northbrae Community Church, 941 The Alameda, Berkeley, CA