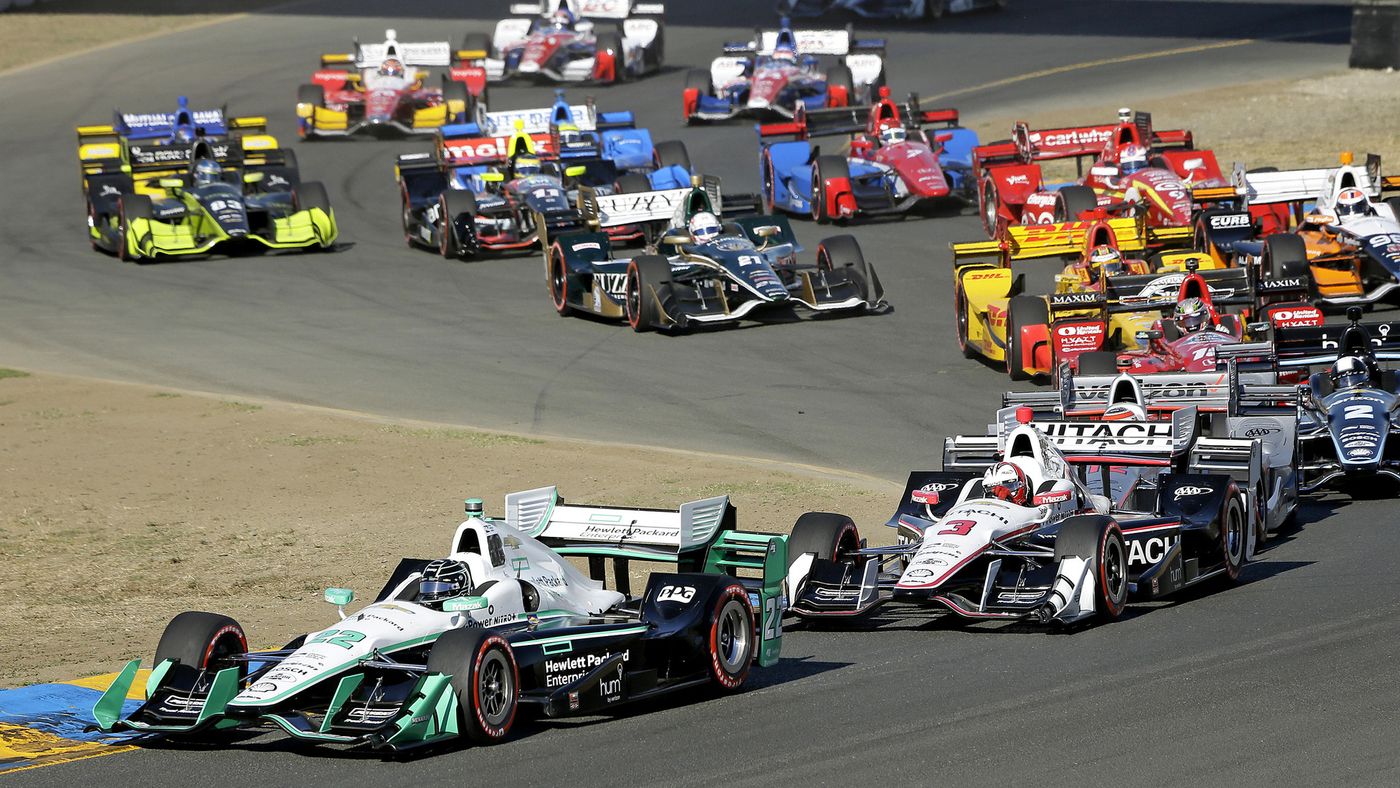 When the checkered flag flashes later today at Sonoma Raceway, the winning driver of the Grand Prix of Sonoma will have earned fans' cheers. In addition, the 2018 Verizon/IndyCar series champion will be crowned at the conclusion of the race.
After today, those ceremonies are going away for the foreseeable future. In July, the series announced a three-year agreement that moves the series finale to Laguna Seca in 2019.
Since 2005, IndyCars have run at Sonoma Raceway, and since 2015, the Grand Prix of Sonoma was the final contest on the schedule.
And today's celebration is all about race fans going to Sonoma Raceway, which has packed a full schedule for its visitors.
Not only will there be excitement on the track, but there is plenty to do in the main paddock, where attendees can visit the IndyCar Fan Village; the Sonoma Raceway Kids Club Zone, where youngsters can build a gravity-powered race car to compete against other kids and meet track mascot Burnin' Bovine; and the Sonoma Raceway/Tito's Stage, for live entertainment, autograph sessions, driver interviews and interactive games.
At the Ticket Pit Stop visitors can obtain event information, take free photographs and buy 2019 race season tickets. At the Speedway Children's Charities booth, buy $5 drawing tickets for a chance to win a "Let's Go Karting" day.
Gates open at 8 a.m., with pace car rides and IndyCar Experience rides starting afterwards. The Historic Trans Am Grid Walk starts at 10:30 a.m. before its warmup at 11 a.m.
The Sonoma Backfire Drumline will perform at 10:30 a.m., and Porsche GT3 Cup Challenge drivers will be signing autographs at 11 a.m.
The second Formula Car Challenge Race of the weekend will start at 11:30 a.m.
At noon, Historic Trans Am drivers will participate in a question-answer session, after which special guests will be interviewed for the Marshall Pruett podcast.
The second Porsche GT3 Cup Challenge Race will start at 12:15 p.m., and the third Historic Trans Am Race of the weekend will start at 1:30 p.m.
The grand Prix of Sonoma trophy photograph session will take place at 2:15 p.m., and its other pre-race ceremonies will start at 2:30 p.m.
Fans will see the Patriots Jet Team air show, a 25-minute production, after which Verizon/IndyCar Series driver introductions will begin. The National Anthem will be accompanied by a large American Flag detail and Team Fastrax Skydivers will arrive on the track from above.
The green flag will drop for the 85-lap IndyCar Grand Prix of Sonoma at 3:30 p.m., and the championship celebrations will start about 6 p.m.
Past Champion Scott Dixon goes into today's race as points leader by 29 points. But he's facing competition from California native Alexander Rossi, who has an Indianapolis 500 victory under his belt; Will Power, who is the 2018 Indianapolis 500 winner, and defending IndyCar champion Joseph Newgarden.
Each of those drivers have earned three wins this year, and because the Grand Prix is a double-point race, the championship may not be decided until the final lap.
Tickets to today's events start at $39 for adults, and are free to those 12 and younger. Those interested may call 800-870-7223.
Sonoma Raceway is at 29355 Arnold Drive, at the intersection of California Highways 121 and 37. Motorists who can avoid the area are being asked to do so, and those traveling to the track are being advised that traffic can be sluggish as the highways become more congested on race day.
Those with other questions may visit the website https://www.sonomaraceway.com/track/guest-information.