By ANNA MARIE BEAUCHEMIN
Martinez News-Gazette
With the summer solstice just behind us, we take a moment to honor the beginning of summer and the end of spring. The seeds of the season to come have been set, and all that's left to do is sit back and watch them grow. While the days may shorten, the sun's fiery beams will continue to shine down upon the earth, heating and drying the land below.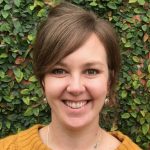 With its Mediterranean landscape, California summers are warm and arid, and the only plants to thrive are those that require little water to survive. Our native summer plants often have a tougher and sometimes waxy exterior, creating a protective layer to keep the heat out and the moisture in. Plants such as sage, oak, and bay all do well in our climate. As temperatures rise – our summer medicinals begin to thrive.
Just like the plants who know how to protect themselves from nature's blazing heat, as humans, we too must learn how to care for ourselves when things warm up. By staying hydrated and being mindful of our time in the sun, we can learn how to stay healthy in this sometimes-challenging season. During the summer I employ the help of plants that are traditionally thought to be beneficial for the skin. By using herbs that have an affinity for protecting and nourishing this vital part of the body, I rest a little easier knowing that I am doing my best to care for myself as the sun gets stronger.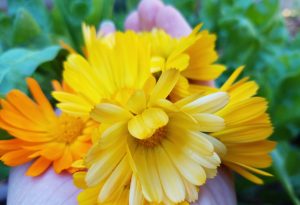 While research shows that some level of exposure to the sun is good for maintaining healthy levels of Vitamin D in the body, it is essential to protect ourselves from overexposure as well. When summertime hits I make sure to monitor the amount of time I spend in the sun, invest in a good hat, stock up on toxin-free sunscreens (my favorites are usually mineral-based), stay hydrated, and keep a steady supply of herbal infused oils on hand that are good for the skin.
Which herbal oils do I always have in my medicine chest? My favorites are calendula, chamomile, and rose hip – which I apply to the skin after an intense session in the sun or if I am feeling dry and warm. All this combined with a tall glass of cooling herbal iced tea, and I know that I am doing the best that I can to stay mindful and healthy during this hot season.
To learn more about DIY skincare for summer sun exposure, check out my free workshop at Harvest House in Concord on Sunday, July 8th from 11-12.
Note: The information presented in this article is for educational purposes only. For more information about local, seasonal, herbal remedies and regional botanical information, check back on the first Sunday of every month for the Hometown Herbalist column.
Anna Marie Beauchemin is a trained Clinical Western Herbalist and Biologist. Born and raised in Martinez, California, she is passionate about sharing her craft with her community and helping people to find balance and wellness in their lives. She runs her practice in downtown Martinez – offering herbal consultations and custom formulations, herbal education, product development and consulting, and community herb walks. For more information about her services visit her website at eastbayherbals.com, or follow her on Facebook and Instagram @eastbayherbals.