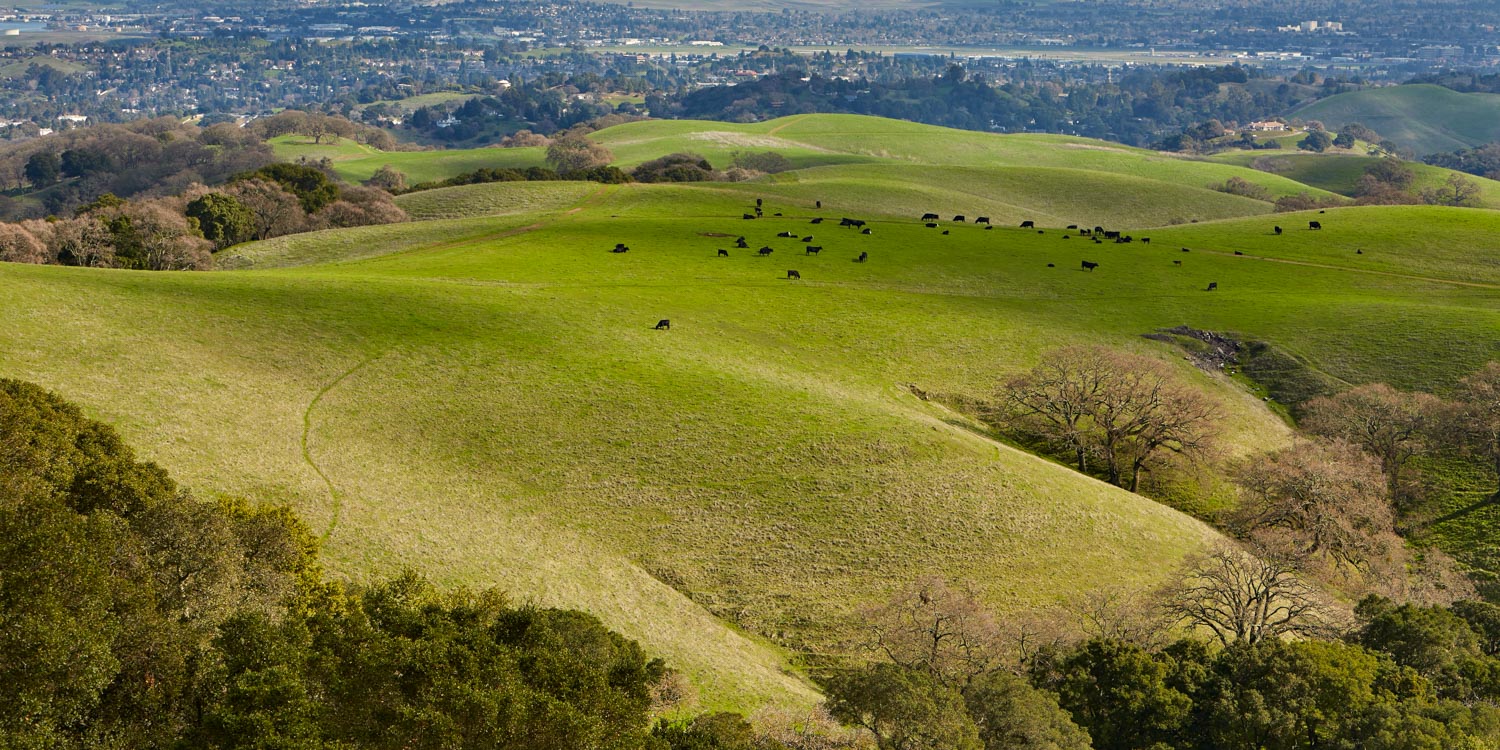 John Muir Land Trust wants Almond Ranch, calling it the "missing" 281 acres that would connect several other open-space pieces of land the organization has preserved. (COURTESY OF ADAM WEIDENBACH)
MARTINEZ, Calif – John Muir Land Trust wants Almond Ranch, calling it the "missing" 281 acres that would connect several other open-space pieces of land the organization has preserved.
The trust began around a kitchen table in 1989, when some residents sought to prevent development of a 150-acre open space area called Stonehurst.
Once that was accomplished, the organization continued to acquire properties, from the West Hills Farm where John Muir and his two daughters once walked, to Mount Wanda which had been part of Muir's landholdings, to the 247-acre Pacheco Marsh the Trust is restoring to a natural tidal marsh state.
Some of those 13 preserved spaces are large. Carr Ranch near Lamorinda is 604 acres of wildlife habitat and watershed. Fernandez Ranch, south of California Highway 4 off Christie Road west of Martinez is even larger – 1,185 acres with trails and ridgeline views of the San Francisco Bay.
Others are smaller. West Hills Farm, which the Trust recently donated to the John Muir National Historic Site, is only 44 acres. The Contra Costa Goldfields are 30 acres of wildflowers north of Highway 4 and west of Martinez.
Margaret Bodfish donated her 7-acre property as a preserve and permanent park. Even smaller are the 4-acre Community Gardens, sponsored by the Trust in partnership with the city of Martinez within Hidden Lakes Park, where residents and elementary-age pupils can learn to grow fruits and vegetables.
South of California Highway 4 are Mount Wanda and West Hills Farm to the east and Stonehurst to the south. Beyond that lies Briones Regional Park. Northwest of those places are the Gustin, Dutra and Sky ranches.
But there's a gap that if filled, it would link these preserves together – Almond Ranch, a cattle ranch since the mid-1800s. That is why Jay Dean, creative strategy director of John Muir Land Trust, calls that land "the missing piece. "
"That's our project in Martinez now," he said. It will simply take money – plenty of it. So the John Muir Land Trust is seeking contributions.
Almond Ranch has been the targeted for conservation by open space advocates for three decades. As an indication of how united others feel about the project, East Bay Regional Parks District has donated $1 million toward the property's acquisition. The Bay Area Ridge Trail is promoting the project, although that agency is unable to give money, he said.
It's going to cost $4 million to save the land from development, and John Muir Trust has until Dec. 31, 2019, to raise the money, Dean said. That would be during the Trust's 30th anniversary year.
During those three decades, the Trust's mission has been "filling in the pieces," Dean said.
"That's what we'll be talking about next year (during the anniversary celebrations), when we'll look 30 years forward." And he and others are hoping part of that conversation will be about Almond Ranch.
Lying on top of Franklin Ridge, Almond Ranch would give visitors panoramic views of the Caruinez Strait area bays and the delta as well as Mount Diablo and farther east, the Sierra Nevada. Its tallest peak is 300 feet higher than Mount Wanda.
It also would connect the Radke Martinez Regional Shoreline, the Carquinez Strait Regional Shoreline and Briones Regional Park, and the Franklin Ridge Wildlife and Trail Corridor, part of the East Bay Regional Park District territory.
Once added to the Trust, Almond Ranch would provide a significant connection to the Bay Area Ridge Trail, a 550-mile loop that meanders throughout the San Francisco Bay Area except for the breaks that Almond Ranch would fill.
Saving it would give visitors to Mount Wanda and the John Muir National Historic Site additional places to explore. It would preserve habitat for two threatened species, the Alameda whipsnake and the California red-legged frog, as well as safe places for mountain lions, American badgers and gray foxes on the ground and golden eagles, white-tailed kites and various hawks in the air.
As the site of the Strentzel Creek headwaters, Almond Ranch's preservation would keep the land as an important part of the Franklin Ridge's Alhambra Creek Watershed.
The San Francisco Bay Area is unique, Dean said. "It has a red-hot economy, and developing and unique challenges."
There's pressure to build more houses, some of which comes from a growing population that can't find reasonably-priced or affordable homes as well as new, stricter mandates from the state to coerce cities to encourage home construction.
As the economy has grown, the housing market also has heated up, making land for development more valuable. "There's pressure for land," Dean said.
The John Muir Land Trust doesn't oppose development, he said. "We support development in the right places. But we want to protect the hills for generations to come – for our grandchildren."
He said the Trust, headquartered at 921 Main St., is carrying on a tradition that was started by Muir, who is considered an early land conservationist as the father of the national parks system and the cofounder of the Sierra Club.
"He started it all," Dean said. Born in 1838 in Dunbar, Scotland, Muir later moved to the United States and died in 1914 in California and is buried with family members in Martinez.
Carrying on in his tradition, conservationists in California began saving wilder parcels as the state's population grew, Dean said. "They created places we take for granted," he said, such as the Golden Gate National Recreation Area.
"Marin County is a miracle," he said. "There are lots of these stories. We're very lucky to live where 100 years ago, people had the foresight."
Part of the motivation was the way water "works" in California. Dry for much of the year, the state counts on winter rains and melting snows for much of its water supply.
Parks were built to protect the watershed as well as reservoirs – Carr Ranch among them, Dean said.
"It's vital for the watershed. It would have been a shame to develop it. We are so fortunate to have the water system we do. Our water quality is exceptional," Dean said, adding that few even think about how the protected lands in turn protect water. "We have wonderful reservoirs. All the work protects the watersheds."
A Martinez-area example of how water influences land protection is Pacheco Marsh, near the Suisun Bay east of I-680. Walnut Creek flows north to that marsh before entering the region's bay waters.
At one time, marshes were considered inconvenient swamp land, prime for draining and filling. That attitude has changed. "We have learned the importance of water flowing into the bay," Dean said.
Pacheco Marsh is one of the few saltwater tidal wetlands that remain in the Bay Area. The 247-acre site has been preserved through a 2001 partnership with the East Bay Regional Park District and the Contra Costa County Flood Control District.
It once was diked, preventing wildlife from reaching the channel waters that at one time brought them nutrients as well as water. Currently undergoing restoration, the marsh is not open to the public.
Once work is complete, the Trust expects such threatened birds as the California black rail and clapper rail and the Suisun song sparrow to return, and for Forster's terns, willets and long-billed curlews to return to nest or forage there.
The place could become an idea birdwatcher's destination, with migrating northern shovelers, northern pintails, white pelicans, least and western sandpipers, dunlins, American avocets and black-necked stilts coming to visit.
The marsh, like the Goldfields, wouldn't be suitable for pet visits, Dean said, although most of the parks open to the public allow dog walking and play, and some are ideal for horseback riding. Places where bicycles won't cause erosion are open to those riders, too.
But these are passive areas – don't look for tennis courts or ball fields that are more suited to urban parks. Instead, you might see cattle. Some of the acres governed by the Trust are leased for grazing, Dean said.
As the Trust looks to the future – the immediate drive to buy Almond Ranch as well as the next 30 years – it faces financial challenges as land prices rise but past funding sources decline.
"Twenty years ago, there was more money at the state and federal level," Dean said. "A lot of that has disappeared."
Fortunately, Californians voted in June to pass Proposition 68, the $4 billion California Parks Environment and Water bond measure, he said. "That was a huge victory for conservation. It's one of the few ways new money is created to buy land."
The Trust, a registered nonprofit organization, seeks donations of all types, from grants to large contributions from charitable foundations to individuals' contributions.
"We are more dependent on donations from individual people," Dean said. "There are many foundations that support conservation – I just wish there were more."
One of the big events for the Trust takes place next month. That is Twilight at Fernandez Ranch, which began as a stargazing event that has grown into a family outdoor occasion with nature tours, several presentations and chances to see such animals as llamas and reptiles.
Of course, telescopes will be set up to let attendees view the skies in an area that isn't as contaminated by city lights. "It's dark – perfect for stargazing," Dean said.
John Muir Land Trust is taking advantage of modern technology, and gradually is creating smart phone tours that will let people use their electronic devices as personal tour guides. "As you walk a trail, information pops up," Dean explained.
Many people don't use paper maps anymore, he said. "We're trying to reach kids in their medium of choice, and we have plans to do more."
The Trust may be seeking donations, Dean said, but its preserved areas also contribute in tangible ways to the health of the Bay Area economy.
He cited the East Bay Regional Park District, itself created in 1930 by Frederick Law Olmsted and Ansel Hall, released a study in 2017 that showed the benefits to residents, businesses and visitors total about $500 million each year, with a 400 percent annual return on investment and the generation of nearly $200 million in East Bay economic activity that wouldn't happen if that district weren't in place.
There are intangible benefits, too, Dean said. Its wildlife habitats also provide recreation to people, who get healthier physically and mentally for the long walks in nature. The wilder areas help clean both the region's water and air, another well-being benefit.
By putting the pieces together, by filling in the gaps such as through the purchase of Almond Ranch, the Trust is able to create protected wildlife corridors, adding from urban development and connecting those habitats together.
"Someone's got to do it," Dean said. "That someone is us."
Those interested in learning more about John Muir Land Trust may visit the website https://www.jmlt.org/. From that site, people can learn about individual conserved land sites, subscribe to the electronic newsletter, download maps and make online donations, including contributions to the goal of purchasing Almond Ranch. Donations also may be sent to John Muir Land Trust, P.O. Box 31, Martinez CA 94553.