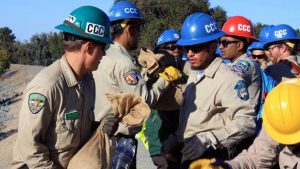 After a summer of non-stop fires, the threat of heavy winter rain poses a risk to California communities. State agencies warn charred landscapes could leave neighborhoods vulnerable to heavy rains and mudslides. When and if those rains hit, the California Conservation Corps is prepared to be the state's "boots on the ground" to respond to mudslides and floods.
To prepare, more than 200 Corpsmembers and staff assembled in Stockton this week for a massive three-day exercise. Corpsmembers practiced tactics to protect homes, shore up levees and reduce erosion and possible mudslides.
"We've done fires where we're in camp all the time, now we're actually on the front lines," said Chico Center Corpsmember Tanner Taylor. "This exercise will definitely help the crew out. It's a good thing to watch all the crews figuring it out together."
Taylor knows better than most Corpsmembers what a real flood emergency is like. The Magalia native was among the dozens who responded to the Oroville dam emergency in early 2017. He not only got his fill of filling sandbags, but witnessed the impact the CCC makes through protecting communities.
"Seeing the evacuees, you realize that you're out there trying to save everything that they love, it's definitely a humbling experience," Taylor said. "We did sandbagging. We also took care of all the evacuees. We made sure everybody had cots and food."
CCC Corpsmembers regularly respond to flood emergencies. In 2018 it was the mudslide in Montecito. The year before, dozens bolstered levees around Grizzly Island with sandbags. Whether in the Sacramento-San Joaquin River Delta, along a neighborhood creek or in the middle of a major highway, Corpsmembers know they will be called to fight floods again.
"When levees breach, mudslides swallow neighborhoods, and homes are submerged, the California Conservation Corps will be there to help," said California Conservation Corps Director, Bruce Saito. "Every Corpsmember is trained to respond to flood events, this exercise provides them a chance to put their skills to the test. It's also a way to assure our neighbors, the CCC will be there to help when called upon."
Joining the Corpsmembers and CCC staff along a levee in Stockton's Van Buskirk Park this week were staff members from the Department of Water Resources which often calls upon the CCC to assist filling sandbags and protecting people and property during a flood.
Just last week, DWR warned California residents that this year's wildfires will increase the risk of flooding, especially to communities and homes downslope from burn areas. If mudslides or flooding occur, Corpsmembers will call on the skills they practiced in Stockton this week such as laying sandbags to divert water and mud flows, and covering burn scars with plastic.
"This is why the CCC regularly conducts these large-scale training exercises," said Director Saito. "Californians should expect the real possibility of a major flood, even after a year of little to no rain."
The CCC Flood Fighter Exercise also fulfills a federal requirement for emergency response agencies to conduct drills. Most importantly, the exercise gives the newest Corpsmembers the hands-on training and a sense of familiarity they'll need when called to a real emergency.
"I've learned so many different things from different supervisors," said Placer Center Corpsmember Raquel Velasquez. "You get taught how to tie the knots on the buttons, which we use for the visqueen. Communication is another big one. We're letting each other know when sandbags are coming, so it's not just flying at him or her."
Velasquez and her Placer Center crew rolled yard after yard of visqueen, a plastic water barrier, to simulate levee protection. She also learned how to mitigate levee erosion caused by a mix of animal burrowing and heavy rains.
"They're ready to go, ready to come out and fight floods if we have an emergency," said CCC Delta Center Conservationist Supervisor, and exercise commander, Jeremy Edwards. "This shows off what we can do. And this is just a small number of the crews that could respond if an event were to happen."
Corpsmembers in the exercise tent camped at the new CCC Delta Center in San Joaquin County just as they would during a real flood emergency. The Delta Center is the CCC's designated flood response center and can house, feed and support up to 500 Corpsmembers in the event of a disaster.
For Corpsmembers like Taylor and Velasquez, they know their work fighting floods will help make a difference in their communities and they're grateful for the chance to put their skills to the test.
"It definitely shows us that we're doing something big for the community and statewide," Velasquez said. "If there are floods where people are losing their lives and their homes, we've learned this and can go and help them out."