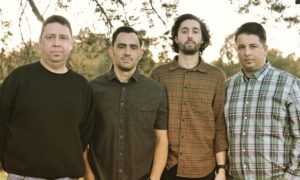 MARTINEZ, Calif. – While volunteers and team members take laps at the Martinez Junior High School during the Relay for Life of Martinez, they'll be serenaded by a local rock and roll band whose music will keep them energized.
The band is Dorothy Lane, formed by two brothers-in-law, Nick Knoblock and Lorin Holmen discovered they both enjoyed playing music with each other.
The pair began performing together at family parties or gatherings where guitars or pianos were available.
In early 2015, the two men found themselves without their individual bands, and decided to form a band together.
Drummer Neil Parish learned from a friend that Knoblock aned Holmen needed a drummer, and by 2015, the musicians had formed a band.
But that incarnation didn't last. Holmen moved to Portland, Ore., and the band dissolved on friendly terms.
Within the year, Holmen was back, and the bandmates decided to re-form Dorothy Lane, named for the street in Vine Hill where the band originated and practiced during its first few years.
They immediately picked up recording their "Cut & Dry" EP, which is available on streaming platforms and at CDBaby.com.
Another brother-in-law, Tony Giuliano, had been learning guitar, but joined as a bass player – a new experience, since he had neither played bass or been part of a band before.
He had just two months to learn the band's song and his role as bass player before the band's next show. Fortunately, he nailed it.
The band is no stranger to the Martinez event that will raise money for the American Cancer Society July 28-29 at Martinez Junior High School.
"We Played Relay for Life in 2016 and absolutely loved it," Knoblock said. "We had a great time and we were happy to be part of such a great local fundraiser." This year, the band will play about 2 p.m. July 28.
It's more than just a gig to Knoblock. "I lost both my grandparents to cancer and have a few close friends that have won their battle with cancer," he said.
Relay for Life of Martinez will start at 9 a.m. Saturday, July 28 at Martinez Junior High School, 1600 Court St., and will last 24 hours.
Those interested may visit the website www.relayforlife.org/martinezca and the Facebook page www.facebook.com/RelayForLifeMartinez.
Dorothy Lane's website is https://dorothylane.bandcamp.com/, and the band has a Facebook page, https://www.facebook.com/dorothylanemusic/.