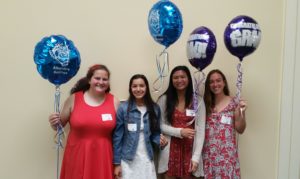 At our Pleasant Hill-Martinez AAUW (American Association of University Women) June Brunch, scholarship awards were presented to local High School Seniors and middle school girls. College scholarships were awarded to five students from local high schools, and five girls from local Middle Schools and Junior High will attend our AAUW Tech Trek camp. Each recipient was honored by members, family, and friends.
Five very deserving High School Seniors were recognized for excelling in their high school years, not only with excellent grades, but also in community service and leadership ability. They were each awarded a $1,000 AAUW scholarship in recognition of their achievements. This year's recipients of Pleasant Hill-Martinez AAUW Scholarships are Isabelle Ariana and
Kianie Ramirez from College Park High School, and Lizet Magana, Hayley Ward and Julia Quontamatteo from Alhambra High School.
In the Fall, Isabelle is going to UC Irvine with a major in Kinesiology/Exercise Science, and Kianie is headed to Tufts University majoring in Anthropology. Lizet will attend UC Irvine and will be studying criminology. Hayley is off to Southern Missouri State University, majoring in pre-med and Julia will attend UC University of Nevada, Reno, with a major in Nursing.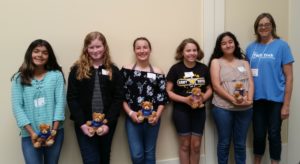 Our branch is proud to award these young women our 2018 scholarships. Our branch strongly supports the Local Scholarship Fund in many ways. Two of the fundraisers were A Salute to Spring and our Silent Coffee Klatch.
Tech Trek Science and Math camp for girls, a program of AAUW California, was started 20 years ago and aims to encourage girls who will be entering eighth grade in the fall to consider careers in science, math, engineering, or technology. It features hands-on activities in math, science, and related fields. All sleeping, eating, instructional, and recreational facilities are located on a university campus where camps are held. Campers will be exposed to evening programs in fields such as astronomy, engineering, chemistry, marine biology, and environmental studies to enhance their learning experience and introduce the students to a variety of potential career areas.
We have chosen the following girls from our local Pleasant Hill and Martinez schools: Kenzie Kirshen, Andrea Maldonado-Rojas, and Molly Skinner from Martinez Junior High, Annika Nelson from Sequoia Middle School, and Victoria Umana from Valley View Middle School.
Our Tech Trek program is supported and funded by our members and local organizations. Shell Oil and the Martinez Kiwanis Club have given us grants, as well as fundraising from A Salute to Spring, Bowling Blast, and Painting with a Twist.