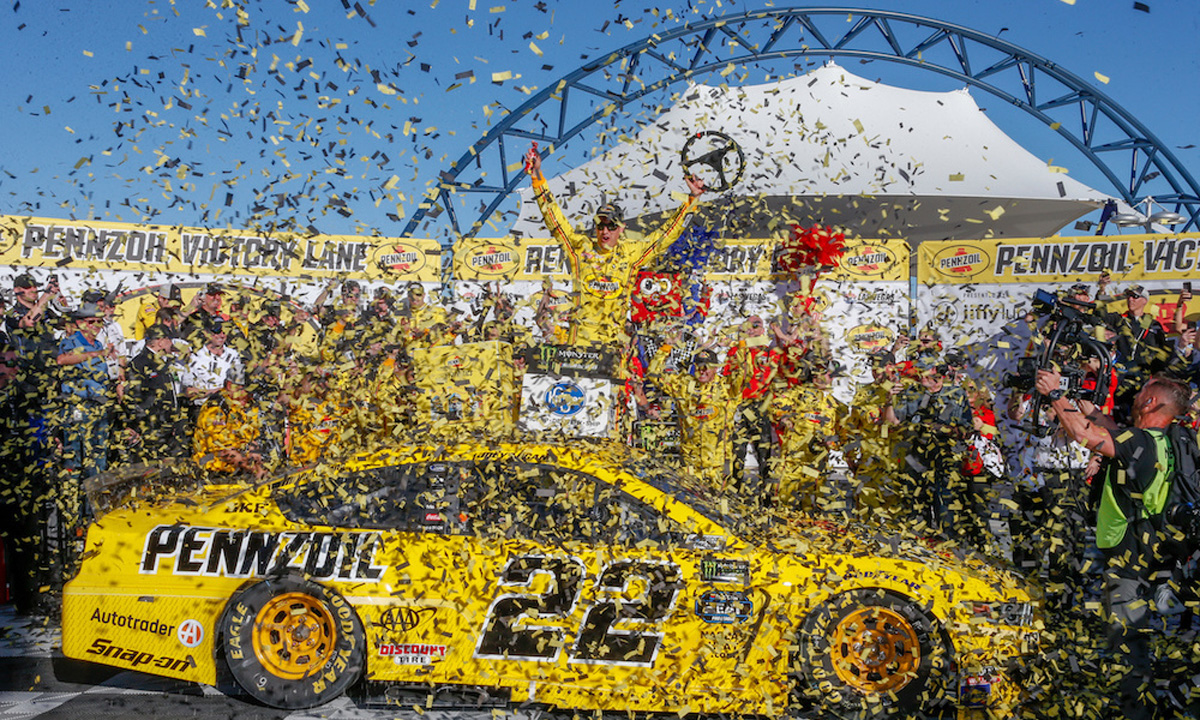 "Finally! I got a win here!" a jubilant Joey Logano shouted over his radio Sunday after beating his Penske teammate, Brad Keselowski, to the finish line in the Pennzoil 400 at Las Vegas (Nev.) Motor Speedway.
It's his first win of the new season and the 22nd in the career of the Monster Energy NASCAR Cup series.
Logano didn't worry his biggest challenge came from his teammate.. Nor did team owner Roger Penske discourage the two from dueling it out – his drivers nailed a 1-2 finish for his race team.
"He said race," Logano said. "Brad and I were so evenly matched and the way the draft is, you couldn't drive away."
Logano was second behind Kurt Busch at the final restart of the race, at the conclusion of the second stage.
He put his car in front of Busch's briefly, but Busch fought back to retake the lead. Logano dropped low, but found himself slipping back to third behind Bakersfield native Kevin Harvick.
Keselowski was coming up fast, and Logano slipped in front of the teammate, hoping that as a pair, they could challenge the front line.
Meanwhile, Harvick and Busch were having their own duel until Logano managed to chase them down. But the race wasn't over. Kyle Busch, Kurt's brother, caught the leaders and took charge on Lap 2019.
After a round of green-flag pitting, Logano and Keselowski had command of the race. Logano appeared at first to gain a comfortable lead, but suddenly Keselowski was on his tail. He dipped low on the last lap, hoping to make a charge to the front. But Keselowski just couldn't catch his teammate.
The victor said it was hard to withstand Keselowski's challenge, and he nearly hit the wall before the checkered flag dropped.
"It was so close at the end," Logano said. It was a lot of fun – my heart's still running!"
Keselowski said he would have liked to have seen what one more lap might have wrought. "I passed Joey in lapped traffic, then lapped traffic cost me the lead. I was too nice to him!" he said after settling for second place.
Kyle Busch was third, followed by Harvick, Kurt Busch, Ricky Stenhouse Jr., Aric Almirola, Martin Truex Jr., Chase Elliott and Denny Hamlin to round out the top 10.
Of other Californians, Elk Grove's Kyle Larson was 12th; El Cajon's Jimmie Johnson was 19th and Grass Valley's Matt DiBenedetto was 21st.
"We were wide open," Kyle Busch said about his car, but admitted he didn't have enough speed. He also incurred a pit road speeding penalty that set him back in the pack, and admitted that was his fault.
"We don't have a trophy – (on to) next week," he said with disappointment.
Harvick said his car's handling declined during th3e second half of the race. "The last two weeks, we've been just way off, not even in the ballpark." Although he qualifies well and has good first-half racing, his cars become tight, "and we can't get it out."
Kurt Busch said once he got into clean air, "it changed the complexion of the car." But his car goes from one extreme to the other. "I gotta get where it balances evenly," he said. While he's glad to have two top five finishes so far, "we've got to get the job done."
Racers are driving a new car package this year, and Ford drivers such as Logano and Keselowski are in Mustangs for the first time.
Cars were redesigned in hopes of making races more exciting to fans. "I thought the racing was awesome," Logano said, noting that fans saw lead changes and passing during the contest.
"I don't know what else to give you if you didn't like it. The racing is close, you're side by side, , there's aggressive blocks and big moves and bumping and banging. That's NASCAR, baby!"
NASCAR Executive Vice President Steve O'Donnell said fans saw two different races, with Stages 2 and 3 showing a contrast to the first stage.
"What we said from the beginning was we wanted the best cars still win," O'Donnell said. He said leaders faced challenges, and those in second and third place had shots at taking over the front spot.
Although he said he's still not satisfied, he added, "I'm a race fan first, and liked what I saw, but I think there's also more to come."
Drivers next go to Phoenix, Ariz., for the TicketGuardian 500 at ISM Raceway. Broadcast is at 12:30 p.m. Pacific time Sunday, March 10, on FOX.